The Heart of the Great Alone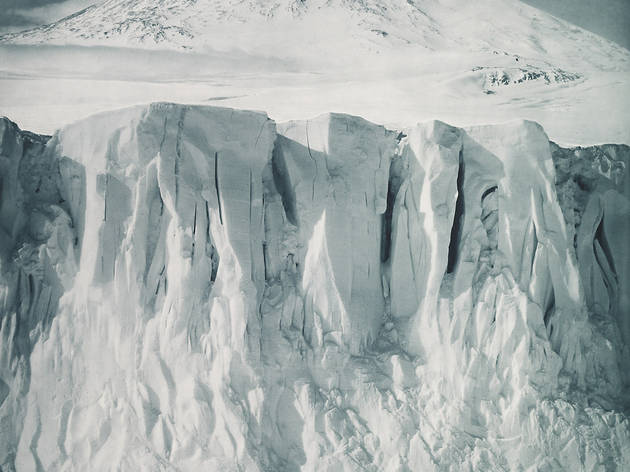 The rivalry between polar explorers Robert Falcon Scott and Ernest Shackleton is a century old and still as frosty as ever. In life, they tussled for primacy possibly as early as 1901, when Scott led – and a sickly Shackleton prematurely quit – the Discovery expedition. That, their only joint venture, was a firm 1-0 to Scott but from there it got complicated. Scott pipped Shackleton to the South Pole in 1912, but he died there. Shackleton's attempt, two years later, to cross the Antarctic failed and his ship was crushed by ice, although he rescued his stranded men. Their reputations have been playing tag ever since.
So who is the hero? In this spectacular exhibition, the answer is clear: Scott. Both men took talented photographers along, but Herbert Ponting's images, which play expertly with the contrast between the men and their surroundings, have a breathtaking grandeur that Frank Hurley's smaller, crisper photographs of the ill-fated Endurance journey to Antarctica in 1914 can't match.
There's an icy clarity to Ponting's pictures that could send you snowblind, were they not overlaid with a smoky patina of imminent tragedy: just as he can't convey to us the Antarctic's blues, greens and purples, we can't view his images unclouded by our knowledge of what came afterwards. Not that this detracts from the experience, because the pictures are incredible. Ponting was at least as intrepid as the men he monumentalised or reduced to specks against giant white ramparts. He hauls his tripod across glaciers and up storm-twisted riggings, and also offers intimate glimpses of Scott's hut; the furs are drying with comic domesticity, above their owner, who is writing the journal that will become his testament. Hurley's photos are accomplished and occasionally moving – as when the men contemplate their disintegrating ship – but he can't compete. Nobody could.
After that first roomful of Ponting, of healthy men shrinking into desperate, frost-crusted scarecrows, battling towards second place and ensuing death, you will be drained, thrilled and devastated. At which point, I advise you to make the only choice these men found unthinkable: place discretion above valour, pack up and go home.