The Mystery of Appearance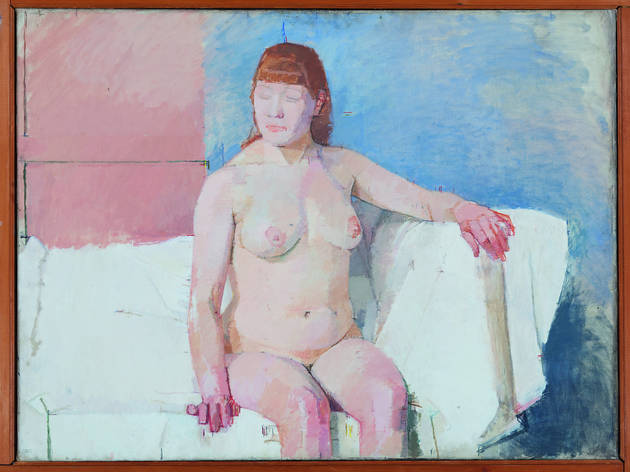 Many of the best artists working in Britain after the war ploughed what must have seemed like the loneliest of stylistic furrows. Figuration – the depiction of bodies, faces, likeness and place – was in the doldrums, while abstraction was taking off in Paris and especially in New York, where Abstract Expressionists such as Jackson Pollock and Mark Rothko were about to be elected mayors of a newly anointed capital of the progressive art world.
A reactionary, but bullish riposte was formed in this country around the so-called 'School of London', which included Francis Bacon, Lucian Freud, Frank Auerbach, Leon Kossoff and Michael Andrews, a loosely-grouped painterly phenomenon that an ambitious exhibition aims to blow apart. 'The Mystery of Appearance: Conversations Between Ten British Post-War Painters' at Haunch of Venison doesn't quite fall at the first hurdle, but in its attempt to stage something that our major institutions have so far failed to mount, it might have needed to think more like a museum, rather than a commercial gallery.
For starters, the intriguing title isn't explained until you get to the final room; so let me fill you in. We have Francis Bacon to thank for the full quotation, printed on the wall at the top of the stairs: 'To me, the mystery of painting today is how can appearance be made. I know it can be illustrated, I know it can be photographed. But how can this thing be made so that you catch the mystery of appearance within the mystery of making?'
The ten artists gathered here indeed shared a burning desire to figure out how to make art about something seen – art that would represent the visible world anew with an urgency to match the vigour and freedom of international abstraction. But in truth there was no concerted effort: no major critical call-to-arms or any CIA-funded cultural revolution (if you believe that the Abstract Expressionists had such secretive backing). The School of London was little more than a marketing tool to suggest a united front where there was none.
Instead, Haunch's show, curated by ex-Whitechapel director Catherine Lampert, asserts that it was personal and fleeting connections between artists that fostered a mid-century flowering of figurative art. The old guard, in the form of teacher and life drawing expert William Coldstream, passed on its knowledge to less disciplined students such as Lucian Freud, who in turn influenced the likes of Richard Hamilton into stretching and testing realism to near-breaking point.
The first room of 'Conversations' features nudes that have been accurately squared-up, by Euan Uglow for example, or split apart, in two of Hamilton's 'reNude' studies, or else splodged in, by the thick impasto strokes of Auerbach. As if to try and prove the continuation of these shared trains of thought, along come a number of compositions inspired by old masters (Bacon's version of Velazquez and Kossoff's ode to Rembrandt) and landscapes taken from urban contexts. But the links soon become tenuous and forced, mainly because much of the work is, necessarily, for sale and not necessarily hung in support of the theme.
Although it's not the best possible illustration of Bacon's problematic poser, 'The Mystery of Appearance' does include some neat juxtapositions and a few genuine double-take moments (alas, a naked reclining nude by David Hockney is, again, left to the final rooftop space, despite being the spitting image of a couple of earlier pieces). Still, the overriding sense is of a series of disjointed, half-overheard conversations, which form at best only a partial take on the state of our nation's tangles with figuration.
For a clearer picture of post-war painting, you'd need first to travel to Oxford, to catch the superb exhibition 'Graham Sutherland: An Unfinished World' (until Mar 18 2012). Yet to see just these spiky Welsh landscapes – certainly examples of capturing the 'mystery of appearance' – and not also his often psychologically probing society portraits, might be to relegate Sutherland's stature to that of a romantic outsider. One who, like Stanley Spencer toiling away in Cookham, remains intensely unfashionable when compared with contemporaneous Londoners Freud and Bacon.
And what of figurative sculpture? Did our painters not also have 'conversations' or even disagreements with sculptors? 'Exorcising the Fear' at Pangolin (until Mar 3 2012) includes pieces by the 'geometry of fear' sculptors, so-named by critic Herbert Read for their spiky imagery of 'excoriated flesh, frustrated sex… vicious teeth and claws.' Whether in bronze or in paint, the last century's continuation of the figurative traditions can be seen as an almighty struggle, rather than a series of polite, ongoing conversations. It wasn't a movement, but it wasn't a shared whim either. The drive to depict reality is indeed a mystery, but one of carnal, primal urges and any argument to the contrary misses this essential vitality
Rating Breakdown
5 star:

1

4 star:

0

3 star:

1

2 star:

0

1 star:

0
Some good work from Hockney Hamilton and kossoff rest was ok Thy could all draw shame only most of them couldn't use paint and colour