The Pavement and the Beach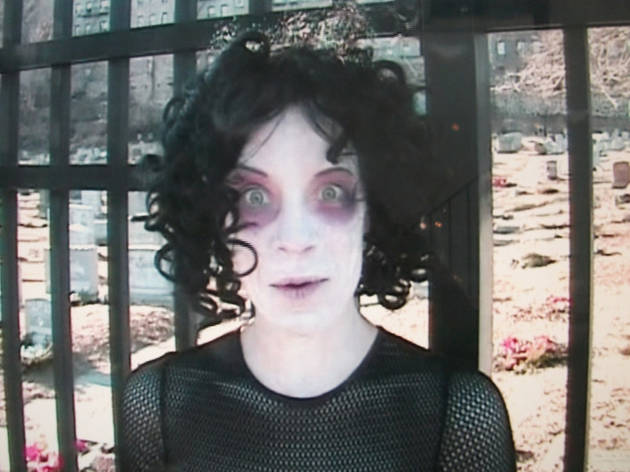 Time Out says
The 'edgy' summer group show is in many ways hard to differentiate from its more conventional sibling. The walls still tend to teem with small, more-or-less covetable art works. Often, a seasonal theme extends to the installation as a whole – in this instance, the rear portion of the ground floor space has been covered with sand to become a makeshift beach. But, temperamentally at least, there can be seismic differences between the two, and following the roar of rowdy seaside cheer comes the realisation that this lot are a mardy bunch.
Taking its title from the Situationist slogan 'beneath the pavement, the beach', with its links to May '68, the exhibition, curated by Mick Finch and Guillaume Paris, is a scattershot examination of the ways in which artists might take up the baton of dissent these days while negotiating a perilous path between the failures of radicalism past and the pillars of capitalism ever present. There are obvious targets, and blunt laughs to be had – notably Steven Le Priol's sub-street-art image of Bernie Madoff as a cock-nosed vampire.
More complex are Jeremy Hutchison's 'Incorrect Products' – an array of objects commissioned from factories around the world with the proviso that each should contain a fault. On display are unwearable sunglasses and shoes, a trumpet with a section missing and so on, their status as failed consumer items of course only upping their value as bespoke art commodities.
Clunie Reid's shimmering image/word associations and Diann Bauer's overlaid wall texts dramatise slippages of meaning and point to potentially liberating new interpretations of the information that assails us. Ashley Bickerton's painting of Bali boho deadbeats, meanwhile, is such a monstrous vision of 'emancipated' beach life that you'll be decorously scattering sand as you retreat to the dreary certainty of the pavement.
Details
Users say