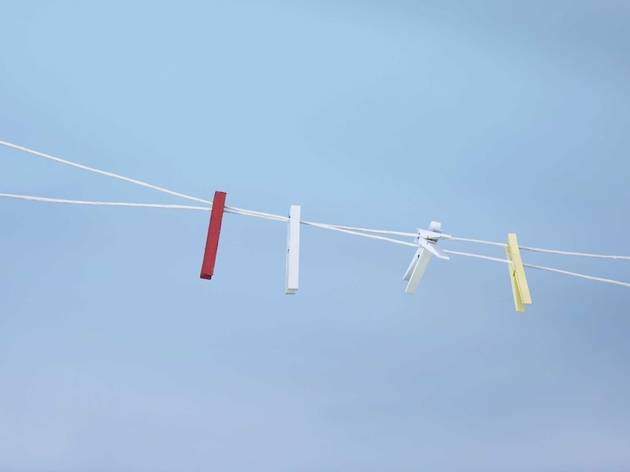 The locations in Thomas Demand's photographs have always been a matter of make-believe. That's to say, the rooms which the German typically depicts – always iconic or culturally significant, such as the Oval Office – are actually elaborate fabrications: scale models which he meticulously crafts from cardboard and paper, before photographing and then destroying. The final work conveys a kind of exquisite, playful paradox: undermining the apparent truth-value of photography, while simultaneously affirming its documentary capabilities.
In his current series, though, he moves away from showing specific, identifiable locations. Instead, his photographs of paper constructions replicate the brief, anonymous sights of everyday life: clothes pegs on washing lines; a scrap of rubbish wedged into a pavement-grille; a do-not-disturb sign hung on a hotel door. The overall effect is to accentuate the inherent tension in his project, with the final images looking as utterly, astonishingly 'real' as always; but, since their verisimilitude isn't verifiable, their sense of reality becomes more obviously a kind of projected fantasy on the part of the viewer – an act of faith and wistful wish fulfillment.
The works' title, too, suggests notions of fantasy and projection. 'The Dailies' refers to the daily rushes of film – most of which inevitably end up on the cutting-room floor. So it's a sort of joke: emphasizing the images' apparent disposability, their snapshot quality, as opposed to the actual labour involved in their manufacture. Not just the laborious set-construction, but also the printing of the photographs, which uses a complex process of dye-transfer – one that's virtually extinct in today's age of effortless digitization – to create a shadowy, moodily retro look. Kudos to Demand for helping conserve an, as it were, dying art. Yet in this context it feels slightly distracting – the sheer luxuriousness of the final, physical photographs detracting from their sense of darting, teasing contradiction.