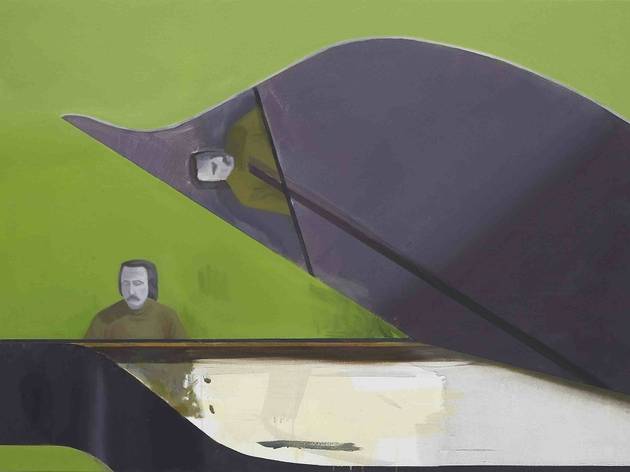 Thomas Eggerer's paintings dramatise an ongoing, unholy alliance between figuration and abstraction. The New York-based German artist populates backgrounds built from broad, loose brushstrokes with figures that enact scenarios of work and leisure, often in the same frame. 'Yellow Harvest' and 'The Street' are hot colour fields inhabited by labourers and layabouts. The works gives off mixed messages, a sense of order undermined by partially filled-in figures and stuttering repetitions that suggest transience, isolation or incompleteness.
These are paintings that inevitably give rise to thoughts of identity, authority, freedom and control. Perhaps, though, we're too used to the alienating world hinted in Eggerer's art for it to cause much anxiety. Even if, as the artist writes about the people in his work, 'a collective sense of purpose eludes us', the slippages and faultlines he paints are like those we negotiate without too much trouble on a daily basis.
He's at his best when focusing on the idea of performance – in art or life – as a series of gestures and mannerisms to be decoded. Upstairs, three paintings derived from video stills, show the pianist Arturo Benedetti Michelangeli during a recital. There's a subtle contrast between the casualness of the pianist's attire – a 1970s-looking rollneck sweater – and the formalism of the image (with its nod to Matisse's 'The Piano Lesson'), accentuated by the diagonal of the raised piano lid. Instead of revealing hammers and wires, it opens up a near-abstract territory of marks. Representation's staccato matter-of-factness gives way to painting's melodious indeterminacies, foregrounding sensory rather than societal considerations.