UnfinishedŠ Works from The Courtauld Gallery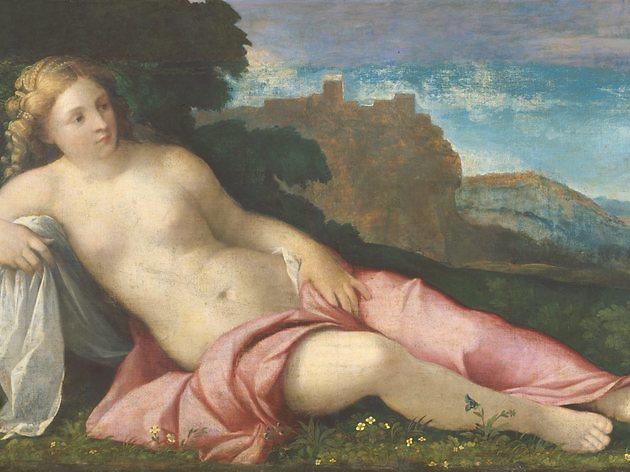 1/8
Palma Vecchio: 'Venus in a Landscape', c1520. © The Courtauld Gallery
2/8
Paul Cézanne: ' Turning Road (Route Tournante)', c1905. © The Courtauld Gallery
3/8
Honoré Daumier: 'Don Quixote and Sancho Panza', (1869-1872). © The Courtauld Gallery
4/8
Rembrandt Harmensz van Rijn: ' Artist drawing from the model', © The Courtauld Gallery
5/8
Edouard Manet: 'Au Bal - Marguerite de Conflans en Toilette de Bal', 1870-80. © The Courtauld Gallery
6/8
Perino del Vaga: 'Holy Family with Saint John the Baptist', 1528-37. © The Courtauld Gallery
7/8
Edgar Degas: 'Lady with a Parasol', 1870-72. © The Courtauld Gallery
8/8
Philip Alexius de László: 'Portrait of the Viscountess Lee of Fareham (recto)', 1912. © The Courtauld Gallery
This small but fascinating exhibition contains 19 works from the Courtauld's collection that have all been deemed, at different times and for different reasons, unfinished. Not that nowadays you'll necessarily be able to notice, particularly when looking at the more modern pieces.
Paintings of fishing villages by Matisse and Derain were deliberate experiments, and patches of bare canvas are all part of the works' sensuous, shimmering appeal – though at the time such apparent mistakes led to the pair being ridiculed. And with earlier impressionist works, the notion of completion is even more difficult to grasp – for what better captures that sense of a brief, glimpsed impression than a work whose very forms appear unresolved?
Manet's quick oil sketch of an elegant woman is a masterpiece of economy and suggestion – this is portraiture by the barest possible means. And Degas's 'Woman at a Window' – her silhouetted shape collapsing into sketchy abstraction – was later considered his 'finest work' by nineteenth-century painter Walter Sickert.
With the older paintings in the exhibition the issue is more clear cut. Backgrounds might be unfilled, or alterations left visible, or figures left unfinished – most strikingly in Perino del Vaga's 'Holy Family with St John the Baptist', where the infants are exquisitely realised while the bodies and faces of the surrounding adults are left in roughly drawn guidelines. Yet from the Renaissance onwards, such works-in-progress became valued as symbols of creativity and artistic process, sometimes even being used as teaching aids. A half-blank, half-meticulous etching by Rembrandt, for instance, reveals the magisterial precision of his technique.
Still, the real gems of the show are those pieces whose unfinished state inherently deepens their meaning, such as a Turner watercolour of a sea storm that's spotted with real raindrops (perhaps telling us why he had to abandon it). Or Daumier's depiction of Don Quixote, whose muddy, scrubby featurelessness seems more tragic and ghostly than any finished version could ever be.
Gabriel Coxhead