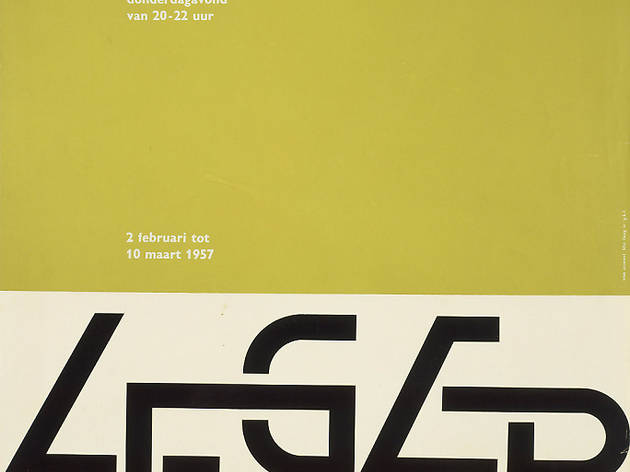 Wim Crouwel: A Graphic Odyssey' opens with a ridiculous photograph on a silver foil-blocked wall of the Dutch designer and cult-hero of typography dressed as if ready for space flight, in white futuristic 'Star Trek' garb, armed only with his black portfolio bag. This was the crazy 1960s after all, but in reality there was very little whimsy to Wim's carefully considered work. Indeed, the rest of this taut graphics survey is clean, quiet and ordered – apart, that is, from the cheeky capital letters 'C' plastered in vivid colours all over the museum façade.
To my mind, the 82 year old is simply the king of exhibition posters. His minimal, legible and highly memorable designs for exhibitions at the Van Abbe and Stedelijk museums from 1955-85 employ beautifully crafted letterforms with only the rarest incursion of imagery. Jean Dubuffet's name flickers down one poster like frames from a film, while Henri Michaux is blurred and fuzzy round the edges, in homage to the French artist's illicit drug dalliances.
Crouwel's legendary skills with text didn't arrive fully formed, although there's no evidence of his formative period as an abstract painter here. Instead we see him learn his rigour from exhibition design and Swiss typographers who employed the grid structure before him. The agency he co-founded in Holland, Total Design, was also based around an existing model, this time from over here, where the groovy London triumvirate of Fletcher/Forbes/Gill ran a busy team based around individual creative heads of department. (Fittingly, this is perhaps the best graphics show staged at the Design Museum since 'Alan Fletcher: 50 years of graphic work [and play]' in 2006).
Forcing his fonts into strict submission occasionally led to awkward moments of failure: Crouwel's rectilinear New Alphabet of 1967 placed form above plain function, but at least prefigured digital leaps in font technology. Such seriousness, executed without an ounce of egotistical flourish, is rare in today's flattened world of uniformly shouty visual communication and Crouwel's odyssey to pare down the hierarchies of graphic design to its purest elements was merely followed by its descent into psychedelia and postmodern mush, an ignominious orbit the noble art still can't seem to break away from.