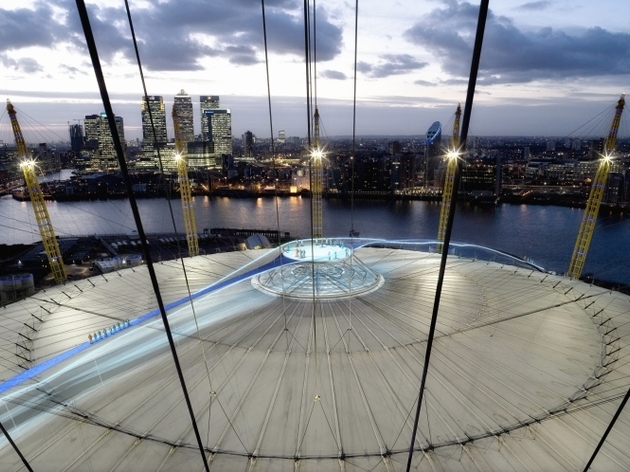 1/19
© Matt Chisnall
Up at the O2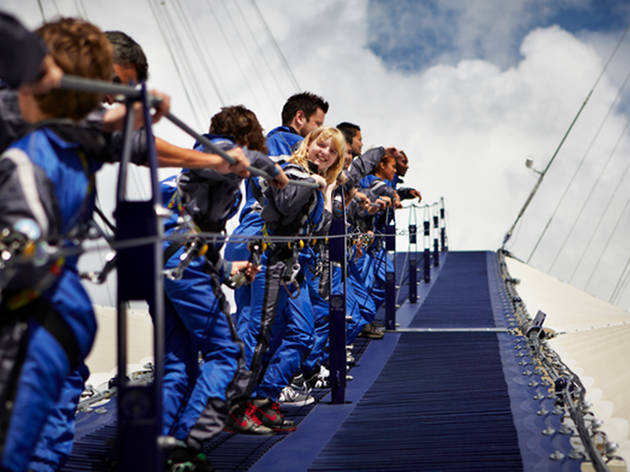 2/19
© O2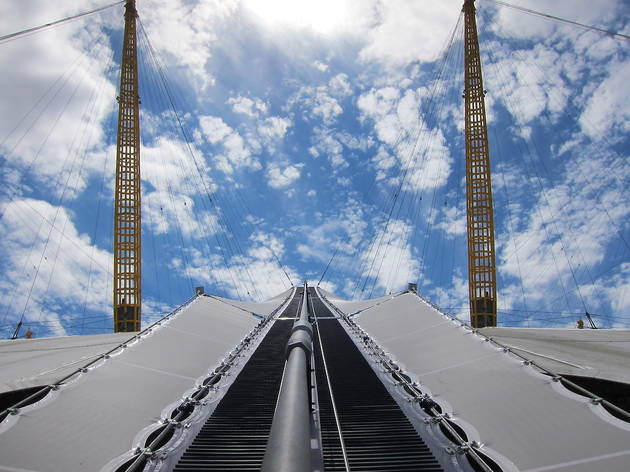 3/19
© James Dillon
Up at the O2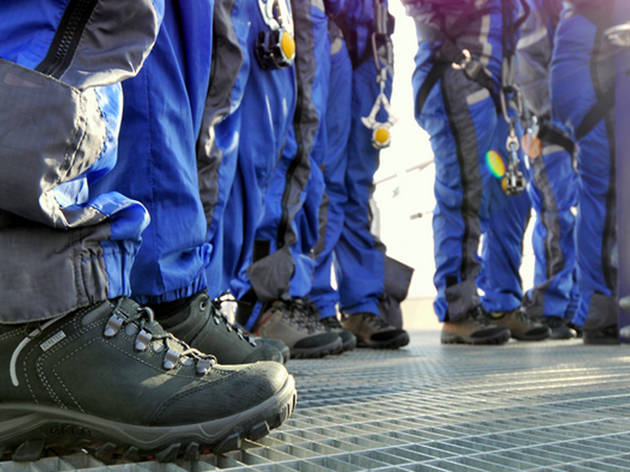 4/19
© O2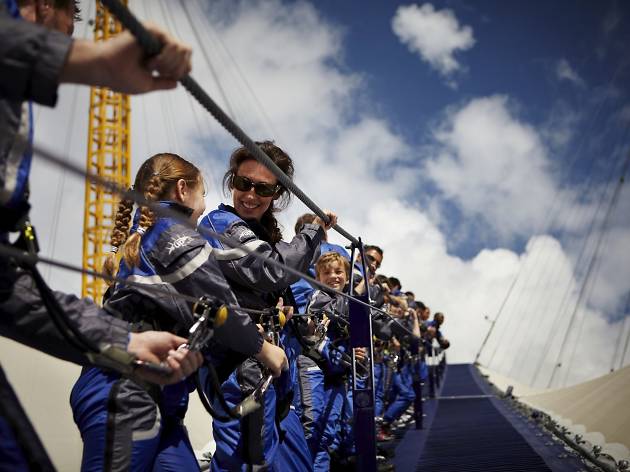 5/19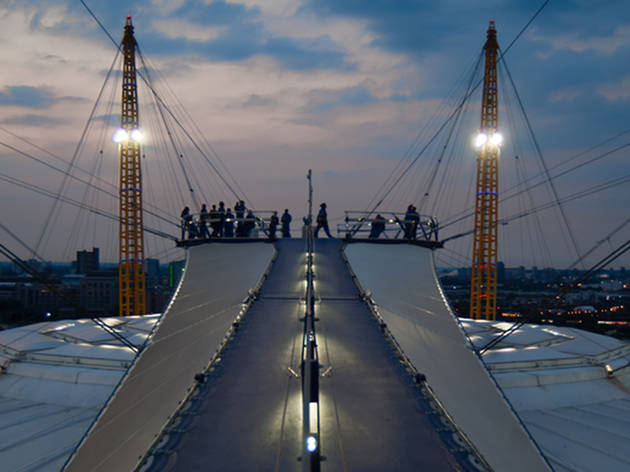 6/19
© O2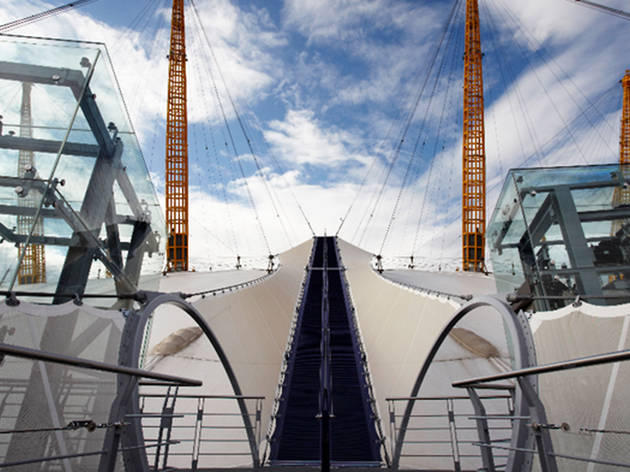 7/19
© O2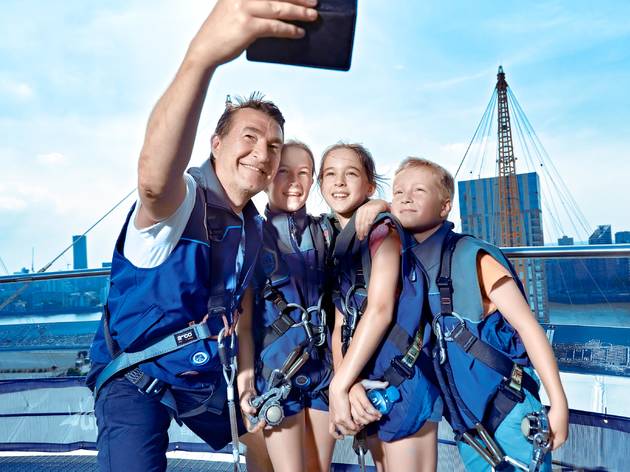 8/19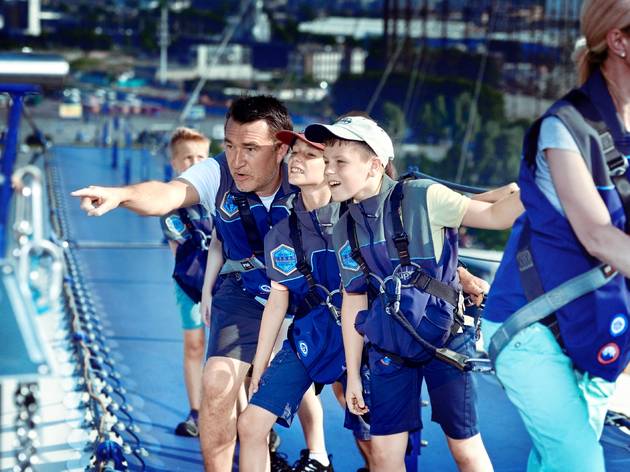 9/19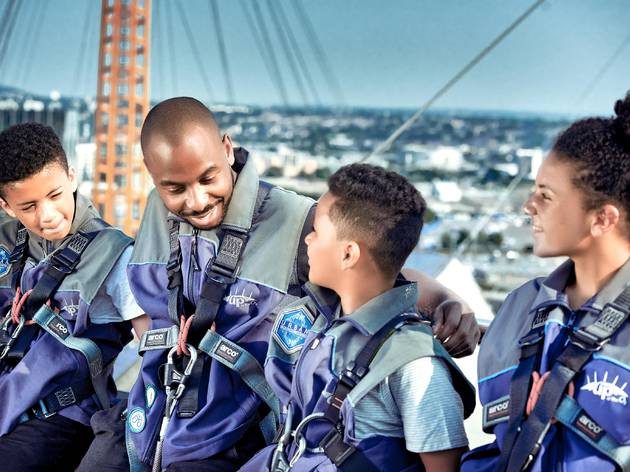 10/19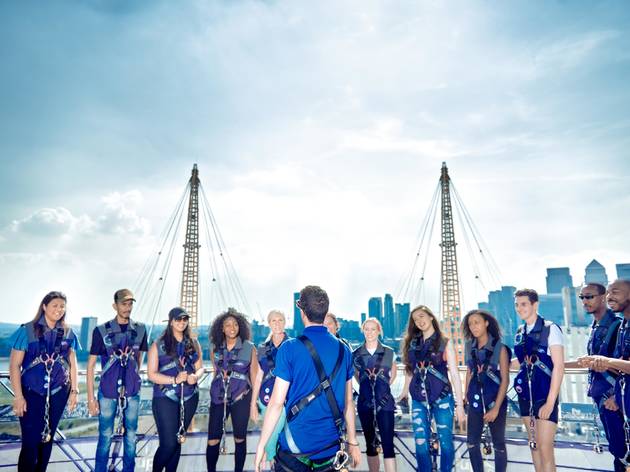 11/19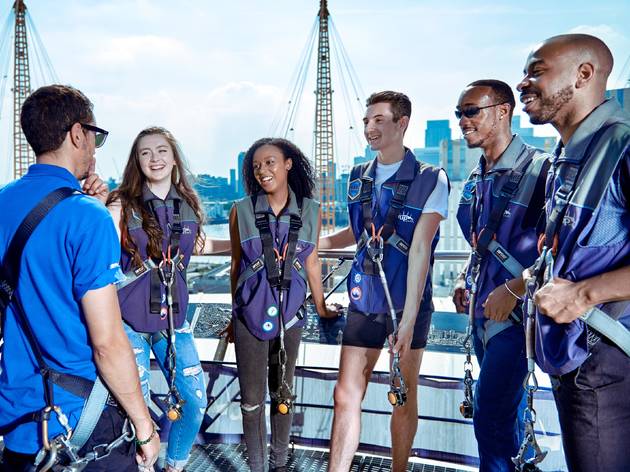 12/19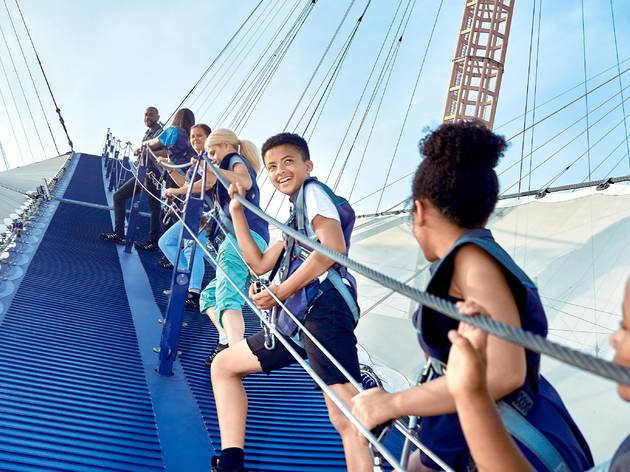 13/19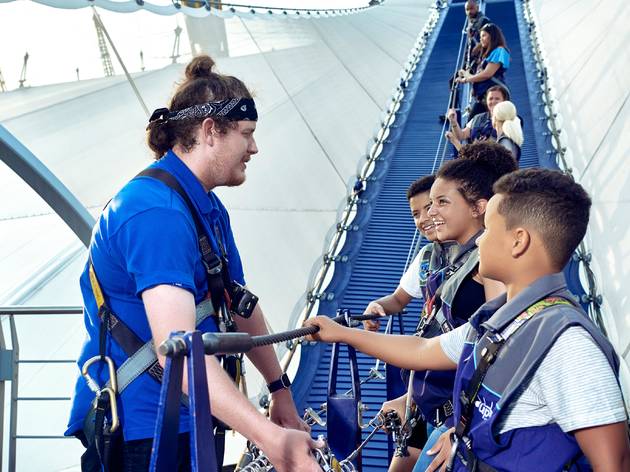 14/19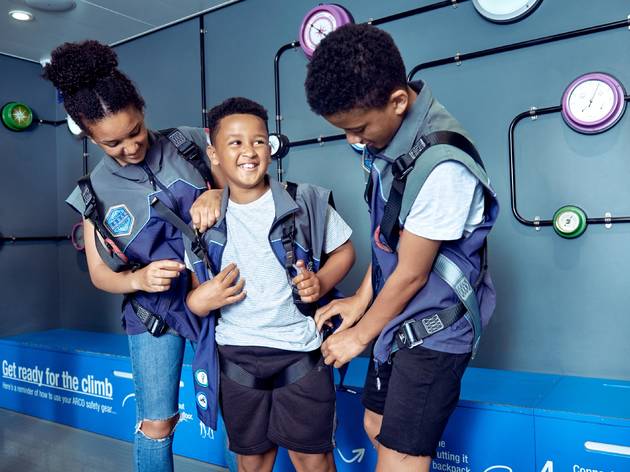 15/19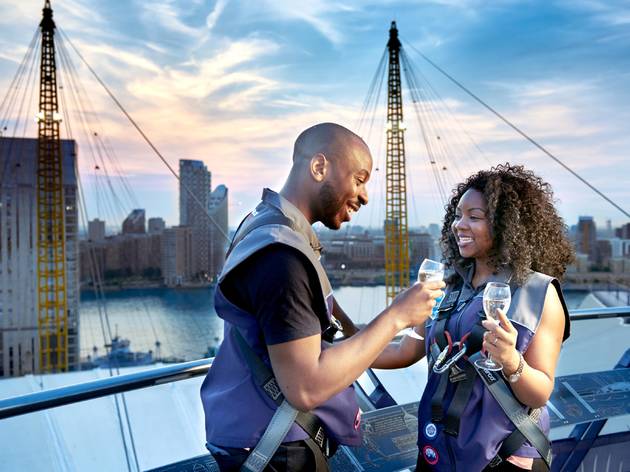 16/19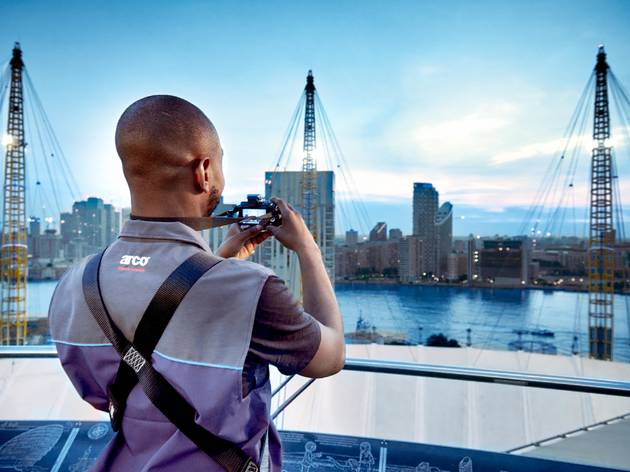 17/19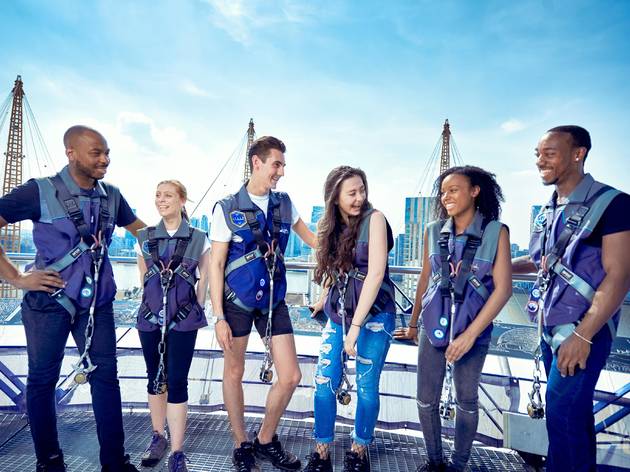 18/19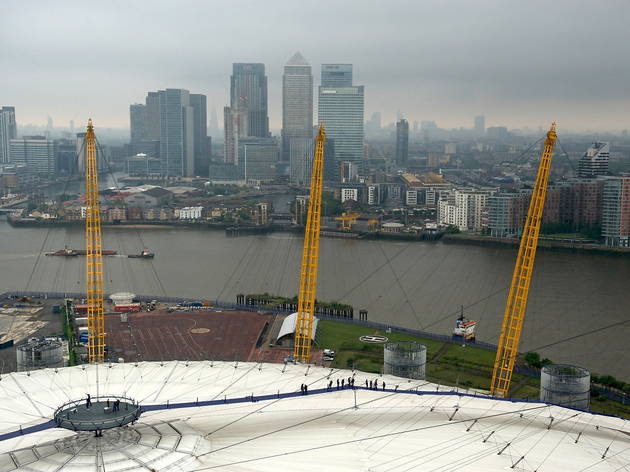 19/19
© O2
Ever wondered what London looks like from 53 metres above North Greenwich? No? Bet you're wondering now! You can find out with a ticket for Up at The O2, which is the ultimate AAA pass and gains you access to the roof. From there you'll be able see across the capital, spotting famous sites like the Olympic Park, Thames Barrier, The Shard and Canary Wharf.
You're probably raring to get up there now, but hold your horses because, well, safety first. There will be a couple of videos you need to sit down and take in beforehand, but don't sigh just yet because they're genuinely entertaining. After that you'll strap on the relevant gear: boots, suit and harness, all of which is supplied. Then – and only then – you can begin your ascent. One of The O2's guides will lead you along the springy walkway all the way to the top, where you can breathe in the fresh air, take a selfie or two and discover some facts about London's landmarks before heading back down. It's worth noting that the descent is much steeper than the climb up, so if you've got bad knees this isn't the attraction for you.
Up at The O2 is suitable for ages 10+ and at least 1.2 metres tall; and accessible tours for those with disabilities, including wheelchair-users, are also available. Oh, and one piece of advice? Don't forget socks!
VIDEO: Here's what it's like to tackle the climb
Venue name:
Up at The O2
Contact:
Address:
The O2
Peninsula Square
London
SE10 0DX

Opening hours:
Daily from 10am
Transport:
Tube: North Greenwich
Price:
From £26
Do you own this business?
You may be interested in:
Average User Rating
4.2 / 5
Rating Breakdown
5 star:

7

4 star:

14

3 star:

2

2 star:

0

1 star:

0
Fantastic. I don't like climbing, I don't like heights but I loved this. My son dared me to do this with him for his birthday. The instructions and safety talk at the beginning are well done but slightly frightening. You feel like you are climbing up a trampoline and the bouncy surface helps you along. The sights at the top are great and a perfect opportunity for a Selfie. It really isn't hard to do you need basic stamina and fitness levels. Do it - Challenge yourself you will have fun and be proud of yourself at the end!
OK, fact fans here's one for you - I don't do heights. Never have and never will. I was offered the opportunity to do a similar climb over the Sydney Harbour Bridge when I was Down Under and the very thought of it made me nearly pass out. The big difference is that someone like me looks at the Bridge and thinks 'Meccano' but the O2 is different. For those who can remember back to the turn of the century the O2 was the Dome and that's the key word, as for those of us of a vertiginous persuasion, it offers all of the climbing with none of the long way down. On arrival you check in and go into the briefing room where you sign away your life on a series of disclaimers and then are treated to a quite frankly cringe worthy briefing video that even the staff were apologetic about. Then to business - the suits are optional but help with making you feel part of an extreme activity and it was early enough in the morning even in Summer that they didn't make us hot. With straps and harnesses all in place our leader took us to the point of embarkation. At this point he mentions casually that the walk way has been designed to replicate the surface of the dome itself and is slightly bouncy. BOUNCY! No one said anything about bouncy until I'm stood there trussed up like a Christmas turkey with an excited missus and a dozen other people primed to go. So with an audible gulp I clipped my harness to the rail and off we went. And do you know what? I flipping loved it! The bounce was minimal the slope gentle enough for someone of reasonable fitness and the wind in your hair makes it a far more energising than the rather tame Shard we did later that day. You genuinely get a sense of height without the drop - perfect for wimps like me. There is just about adequate time on the viewing platform although we did have to move on as the next group was approaching. The climb leader took loads of photos of me and the good lady and there were some good views to be had. It's a bit of a shame that the buildings of Canary Wharf block the view of some of the city's more iconic landmarks. Perhaps the highlight was noticing that in the guide that runs around the platform, which is incidentally cast in stone, the Gherkin has been spelt as the Gerkin. Must have been an interesting team meeting in Quality Assurance that day! And so the descent begins and, like a kid on a ride outside a supermarket, as soon as I came to a halt I wanted to start again. Sadly there was neither time nor disposable income for that. on a day that I was generally quite high up (this, the Emirates Cable Car and the Shard) this was the undisputed highlight. You should do it!
I can just recommend this! If done it last weekend and it is an amazing experience! The wind up there and the view was really exciting! But it is quite expensive though...