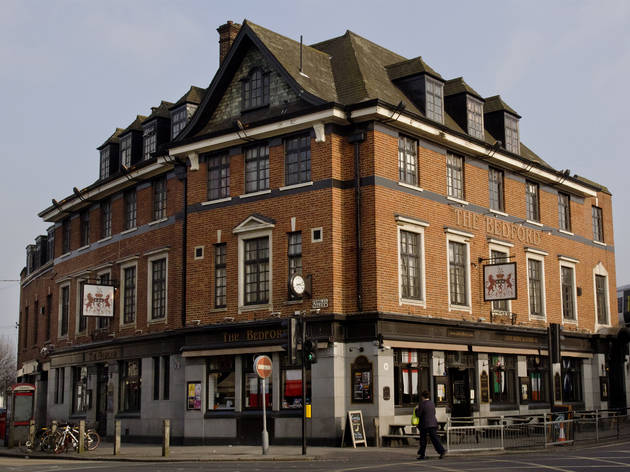 1/5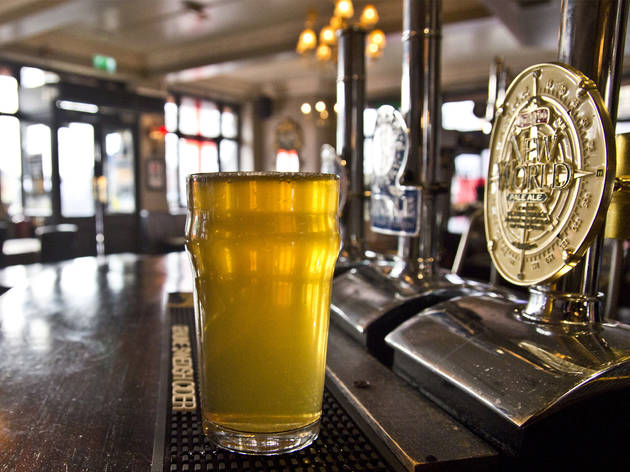 2/5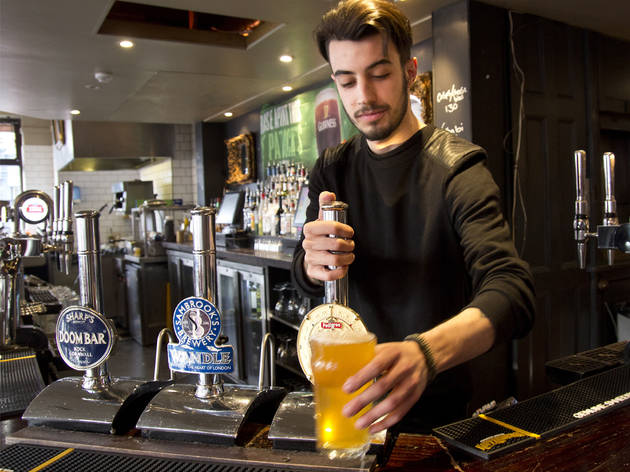 3/5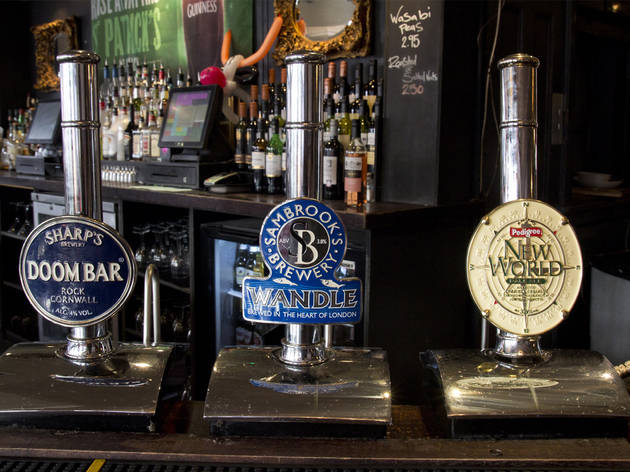 4/5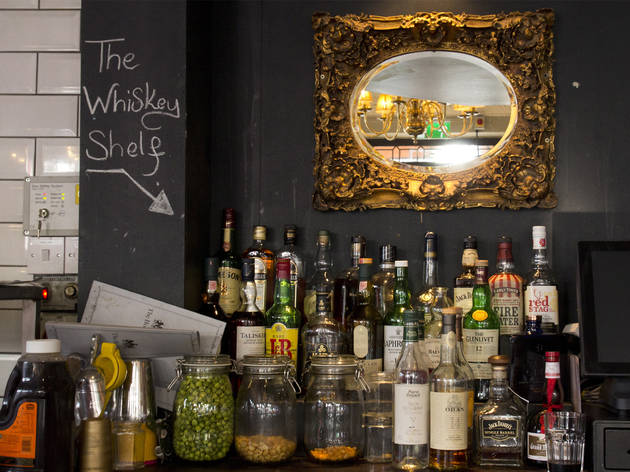 5/5
Don't be put off by the unremarkable drinks selection, or the clashing patterned carpets, gaudy booths and floral wallpaper. The real joy of drinking in the Bedford lies in stumbling across the improbably big and bonkers mock-Tudor 'Shakesperean Globe Theatre' at the rear of the pub, featuring black-painted wooden pillars so old they look like they could have been installed at the behest of Cardinal Wolsey and a cavernous domed ceiling so strewn with wooden heraldic shields and canvas hangings you feel like you're in a 'Game of Thrones' battle tent.
There's free live music (of varying quality, which is all part of the fun) Monday to Thursday, and on Friday and Saturday nights, the Bedford plays host to brilliantly intimate comedy night Banana Cabaret. It also knows how to cater to Balham's yummy-mummy crowd: babyccinos for 50p and monthly 'family fun' raves for parents and kids.
Venue name:
Bedford
Contact:
Address:
77 Bedford Hill
London
SW12 9HD

Opening hours:
Open 3pm-midnight Mon-Thur; 2pm-2am Fri; 11am-2am Sat; noon-midnight Sun. Food served 6.30-10pm Mon-Fri; noon-9.30pm Sat, Sun
Transport:
Tube: Balham tube/rail
Menu:
View Menu
Do you own this business?
Average User Rating
3.4 / 5
Rating Breakdown
5 star:

3

4 star:

5

3 star:

2

2 star:

0

1 star:

3
Bad food! Had to return the first version of my burger as the meat was completely burned/black from one side. The second version was missing the cheese usually found in a CHEESEburger. The fries were just barely cooked through. No condiments on the table. The meal looked like it had been prepared without care whatsoever, which didn't make the experience any better. For a typical London price, def. not worth the money!!!
Has literally everything you want in a pub. Always full, good beers, never a long wait for the bar, and one of the best comedy venues in London.
I love the Balham for its eclectic entertainment that is often free and always of high standard.
Came here on visit to London with some friends after reading some pleasant reviews on tripadvisor, unfortunately this was not the experience me and my friends had. I order a English Rib Eye steak rare, firstly the steak was overcooked to a medium well, which is not a good thing but no big deal, this a pub not a fine steak house, the problem is that the meat tasted like plastic, literally like plastic, my soulmate order a risotto poorly cooked and mushy, the beers were excellent tho so was the waitress very pleasant and polite. The worst was yet to come after asked to speak to a manager we were told manager was not able to see us, too busy with paperwork ( wow paperwork seems to be more important than those who pay for you salary!). I hope you see this as a constructive review and please get a new manager, as a business owner like you, this would not be tolerated!


Crap service! Dirty chairs! Yuck all round.
A legendary pub, amazing live music four nights a week, one of the longest running (and friendliest) comedy clubs at the weekend, and the only dancefloor til 2am on Fridays and Saturdays for miles around, with DJs playing house, disco, R&B and club classics. Always a great atmosphere, always a great night out.
The Bedford is a true community hub, with lots for everyone: great music, great venue for local groups, great dance lessons, not to mention the friendly atmostphere and drink!
amazing pub - great comedy nights and always a good vibe. Need a good garden though and we'd visit more for sure!
Doesn't look that great from the outside but always have a great time here with its friendly atmosphere - if you can book to see some comedy at the weekend as it has a massive theatre which you wouldnt know was there

I hosted my birthday party there just a month ago
The Platters they served where really good and value for money (bit more healthy food required perhaps.
The staff where helpful and they really made the night there was no cost for the room (virtually unheard of these days) and we where able to play our own music very easily, would definitely recommend this place to a friend.
and my wife goes there with our baby to a soft play thing they have on in the week too, good idea guys as Balham is full of mums.
I visited here with my girlfriend on New Year's Eve to attend the comedy club we had heard so much about. A word of warning, The Bedford proclaims to be a comedy club and a specialist in this area - in reality they don't care about their customers at all, you are a walking wallet they want to exploit for the most money. Before the last act had even left the stage on New Year's Eve the bouncers were already out stalking each table you had paid more than good money for and shouting on you that it has to be moved. Why you're thinking? Because they want to clear it as soon as they can so they can host a 'disco' in the area for all of the drunk punters from the main pub to encourage as much alcohol to be consumed as possible with little regard for their 'comedy' night or those who have paid money to see it. The last act was walking off the stage when the bouncers emerged, my girlfriend was in the toilet at the time having made a dash as the last act finished. I was told directly by the nearest bouncer to get off my table as he was clearing it away, no manners here. I did so standing there in amazement as he did the same to everyone else in attendance no matter if they were just finishing their drink or not. He then came to the chair I had moved out of his way with my girlfriend's coat on it. Shouting that I had to move the coat "now", I dared suggest that if he gave me a couple of minutes my girlfriend would be back from the toilet and we could check it in. A reasonable request not delivered aggressively or drunkenly as we had been out for dinner before and shared one bottle of wine that night. He responded by grabbing my arm, forcing it behind my back and marching me out to where all of his other bouncers were stood outside in an act of physical violence I've not experience before by people professing to be 'security'. Whilst doing this he felt the need to tell me that he "knew exactly what I was - trouble", he was "the authority around here and made the rules" and finally that "nothing you say goes because you're drunk and I know the police". In others words a complete abuse of power by a man who doesn't understand that customer service and help is in his job description. To say I'm disgusted is an understatement, I had to call my girlfriend at 11pm to say I had been kicked-out an hour before New Years Eve, and that she needed to get her coat from the chair - he he given up on it by then funnily enough. If you want to be treatment with contempt and like an animal by bouncers thirsty for a fight go to The Bedford, if not go to somewhere else that has more respect for the customers that keep their establishment going.