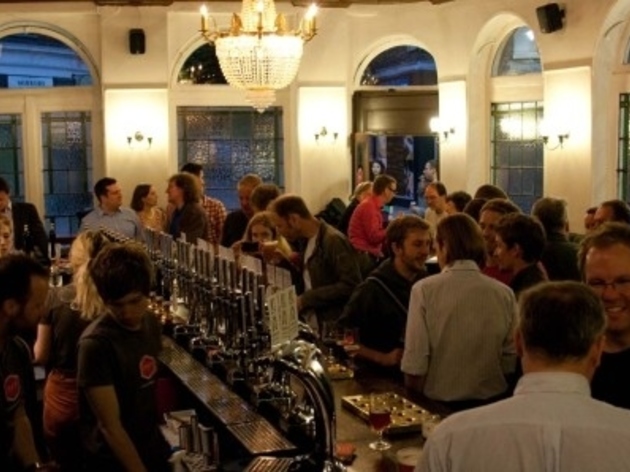 Something is most definitely brewing in London – beer is making a quiet and classy comeback. Usually synonymous with long-established locals and males of a certain age, real ales and proper lagers are finding their way into cooler quarters.
In the last year or so, London has seen a bevy of new specialist boutique bars open, including Mason & Taylor in Shoreditch, the Draft Houses in south London, The Southampton Arms in Gospel Oak, The Euston Tap located just outside the train station and, in Pimlico, The Cask Bar and Kitchen.
The last of these now has a bigger sister pub in Leather Lane, occupying the old Clockhouse pub in the Hatton Garden jewellery quarter. Spread over two floors, it's a diamond-looking drinker with ornate mirrors on the ceiling, stained glass windows, a long wooden bar and a sparkling central chandelier.
That said, efforts to freshen it up have left a just-finished feel to it. The walls are stark white, the lights are far too bright and the fixtures and fittings – especially in the toilets – lack something. It needs cosying up and a bit more character – which could come with time.
On a Friday evening, the pub initially drew a mixed clientele which thinned out into a mostly male crowd, at whom the basic menu of pork pies and snacks is clearly aimed.
But you come here for the beer, not the decor or food. It really does have a quite extraordinary array of beers – the venue boasts that it has London's biggest selection, and it may well be right.
In a marked departure from how most pubs operate, the owners here deal directly with domestic brewers, or else import their own beers from abroad rather than rely on the work of wholesalers. By forging strong links with individual, artisan ale-makers, it's able to source suds that you simply can't get elsewhere.
There are 37 beers on draught (yes, 37) – consisting of 16 cask ales sourced from independent British breweries, a stupendous selection of unpasteurised lagers and keg-conditioned ales from the US, Belgium, Scandinavia and beyond.
Meanwhile, the elusive, exclusive and out-there can all be found among the 300-plus bottles in the fridge.
The menu is a seriously bulky bible that will no doubt leave beer boffins breathless. But there's almost too much choice – the uninitiated may struggle to know where to start.
Our ale adventures took in the citrussy and spicy Amarillo from Crouch Vale in Essex; a rich and smooth American-style stout brewed in Denmark, called Barack; Kernel IPA from London, and the house lager from 'cuckoo' brewer Mikkeller.
The beers are certainly not cheap – £3.50 for a pint of cask ale and around £4 for a pilsner. The more exclusive ales are even dearer and are priced in half-pints ranging from £3 upwards – the equivalent of £7 or £8 a pint.
That may rankle with those used to Wetherspoon prices, but it's worth remembering that these beers are some of the best in the world, authentic artisan ales brewed by independent breweries with integrity and quality ingredients.
Why should they be cheap? Their equivalents in the wine world would require you to re-mortgage your house.
Venue name:
Craft Beer Company
Contact:
Address:
82 Leather Lane
London
EC1N 7TR

Opening hours:
Open noon-11pm Mon-Sat; noon-10.30pm Sun
Transport:
Farringdon tube/rail
Do you own this business?
You may be interested in:
Average User Rating
4.5 / 5
Rating Breakdown
5 star:

10

4 star:

1

3 star:

3

2 star:

0

1 star:

0
Fantastic range of beers, knowledgeable and friendly staff. The Craft Beer Co. bring a veritable beer festival to Londoners every day!
A dizzying array of great beers from around the UK and the world, with occasional exclusives and tap takeovers from some of Britain's finest breweries.
Amazing group of pubs, this being the first. Back when it was still hard to find a decent beer in the pub this place was showing how it should be done. Recently refurbished and looking more amazing than ever. Feel very lucky having this place near where i work. New Manager is a really top, friendly guy who has added even more charm to one of the best pubs in London hands down.
Great quality craft beers.. great to be there....
Craft beer is a safe place to go in London if you are serious with beer.

Some beers are a bit overpriced though, so check the menu before you order. Here you can get beers from most of the London breweries such as BeaverTown, Brixton etc.

A bit crowdy on weekends, but ideal for a Wed or Thurs night
How can this get three stars? Because the prices are crazy high- there are other craft beer places in London with wonderful beer who don't feel the need to capitalise as much on the growing demand- and much better atmosphere. Also, how about something to eat for people who don't eat pork? I would give it two, but the people who work there are very nice and helpful.
What criteria do you use for your ratings? 3 stars for one of the few genuinely world class pubs in London really undermines your integrity as a critic. What do they have to do for the extra stars?
If you're looking for quality beer, this is the place to be.
Place to go if you love great quality beers. 10/10 craft hoppy amber and bavarian weizen. Thick black ball porter. OMG, I have to go back!
Cracking little place. Beers superbly kept. Friendly and knowledgable staff. Really enjoyed it and recommend to any one who appreciates a good beer.
How on earth this place got only 3 stars I'll never know. It's fantastic. The beer is well-kept, the staff are knowledgeable, engaged, adept and kind, and the atmosphere is wonderful. Get amongst it.
Head and shoulders above every other pub in London.... Stunning place with one of the worlds best selections of beer. Nice mixed bunch of customers, friendly efficient staff. Not to be missed.