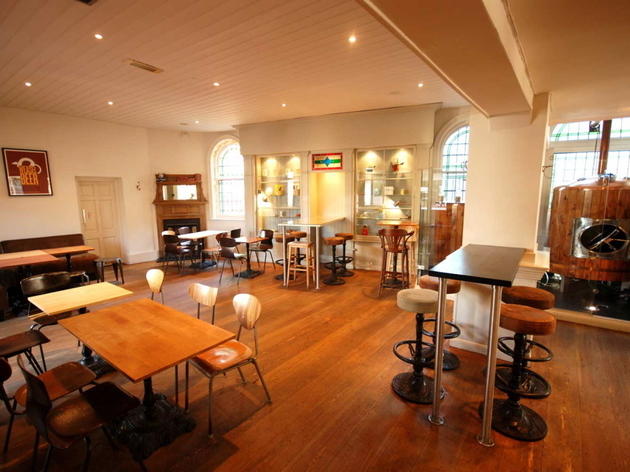 That the people behind the light, modern Florence care about beer is obvious from the phenomenal range on offer and the helpful tasting notes on all the pumps. In fact, as the copper vats just beyond the main bar show, they care about it enough to brew their own, and their fruity Dam Tasty Beaver and Bonobo beers are in no way overshadowed by the competition at the bar (Meantime Pale Ale, Duvel Green).
A regularly updated menu (slow-roast lamb, white bean chilli and the like) is well matched by an imaginative wine list. Past the vats, a roomy conservatory with a table football table and an open kitchen leads to a capacious decked terrace and a separate children's and garden room. Popular with all ages, and deservedly so.
Venue name:
Florence
Contact:
Address:
133 Dulwich Road
London
SE24 0NG

Opening hours:
Open 11.30am-midnight Mon-Thur; 11.30am-1am Fri; 11am-1am Sat; 11am-midnight Sun. Food served noon-10pm Mon-Sat; 11am-9.30pm Sun
Transport:
Tube: Herne Hill rail
Menu:
View Menu
Do you own this business?
You may be interested in:
Average User Rating
3.3 / 5
Rating Breakdown
5 star:

4

4 star:

3

3 star:

4

2 star:

1

1 star:

3
Great variety of ales, excellent sunday lunch and very friendly staff!
With a makeover and change of staff and menu, it's on the up :) super child friendly
Very poor service tonite at the shiny & new Florence.... We are on management change three to four from memory including several menue changes over the last six months. Duck fillets are now fully established and they got rid of any decent pub food.
I've been a local at this place over the last few years. I've had poor service a few times but have stuck with it as I could see and feel the staff were not happy with the countless changes in new management.
At this point I would like to point out that the prices here are usually the same if not above central London prices for food & beverages. Which the local community of SE24 doesn't mind paying if it's delivered correctly with good service...
Despite the glossy new appearance the service was extremely poor tonite. Sorry guys just not what I what I expected.
Basically a miss communication from the bar staff to the kitchen tonight resulted in a fellow customer eating my food and actually consuming two portions of the same food sitting right next door to me ... Btw this was with the same bar staff serving at all times? How does that happen exactly?
I waited patiently for 40 mins for "simple bar food" to arrive having paid upfront ... to then be told after 45mins that the customer sitting next to me had eaten both orders and that the kitchen was now closed at 20:30 on a Sunday evening and that that was that and that was the end. I would also like to add that 5 mins to receiving this news I had watched the second portion of food served to the customer beside me... So the kitchen had closed 5 mins previouse....
The Florence was one of the first pubs in the area I visited on moving here three years ago but to be brutally honest now appears have gained a really bad reputation from fellow locals in the area....
Before this incident I've listened to a string of complaints and excuses as to why fellow local people didn't want to meet up here for drinks....
Just really poor tonight even on a Sunday night with hardly anyone there?
I'm not a pub goer to really miss the place however felt necessary to provide honest feed back on tonight's service.
Greta place to eat and drink. Also has a big refurb coming up which is going to make it even more amazing then it currently is!!
great for everyone - brilliant kids area, beer garden, late night drinking, beer selection and decent food.
I love this pub - great atmosphere, great staff, and a foosball table! Also the house red is delish.
Pram Central. All right for those with small children, a bit of a nightmare for the rest, at least in daytime.
I'm personally not a fan of their in-house ales, and there's not a great selection of non-mass produced guest ales.

Haven't be to the florence for a while but popped in for dinner yesterday afternoon. One of the reason I stopped going was the menu was always the same. Now there a lot more on offer and very tasty!! I will return.
What a shame! This used to be our favourite local and now we no longer feel welcome. The website claims this pub is dog friendly - and while that has certainly been our experience with all of the wonderful bar and waiting staff - the new manager is not of this opinion. I hope he learns quickly before he turns away many regular customers.
I have been there today with a friend and my 2 tods! Service is very poor. I have asked the waitress to change the slice of orange for my coke with a lemon slice...she digged her hand in my glass, took the slice and brough back by hand the lemon one! Kids menu was not great...fish fingers and fries came with ONLY 1 bourne fish finger and fries for 4 pounds!! Burger was not great too! I found the place dirty + the play area is separate at the back so you cannot see your kids ...and I didn't feel safe to leave my 3 yrs old there to play! Very disappointed...will never go back.
Walking in you could see they knew Something about Beer at the Florence. Three sides of the bar had pumps on, all different. Tried the beaver Ale and it hit the spot. Tasted fresh and clean even though it was cloudy. We decided to get something to eat, it being 8pm on a Sunday the roasts were finished so I went for the chickpea and beetroot burger. As I so often do, I messed with the menu and asked for veg rather than fries but the broccoli was finished so asked for salad, also said no to the goats cheese. I got the fries and the cheese plus salad. The burger itself was nice though once I'd scraped off the cheese. My partner ordered the Haddock and chips and got his mushy peas handed to him half way through the meal by the half apologetic waitress. When he paid, the barman that took the order, asked if the order was right, unfortunately not and we mentioned the 3 mistakes. With this he humbly took 25% of the bill. Beer and food it fine here but a bit over priced maybe. but the service is letting it down by a few careless members of staff. It wasn't like it was busy.
House white Wine taste like potato. Taste like cheap £2 a bottle crap not impressed