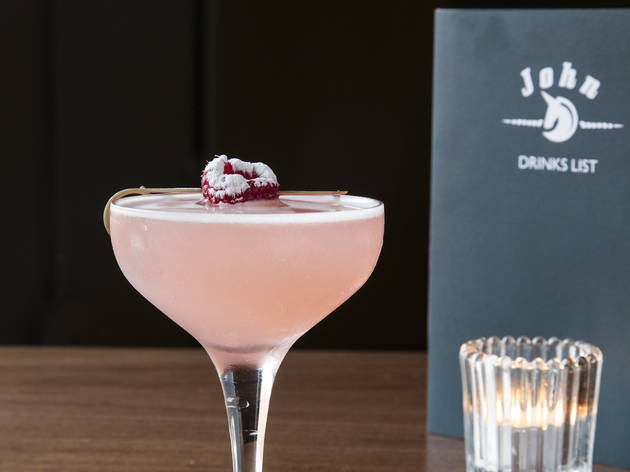 Time Out says
A spacious Peckham pub serving craft beer and cocktails.
The arrival of a whimsically named bar serving craft beer in the middle of Rye Lane – the noisy epicentre of SE15's African immigrant community – was always going to cause a stink. While similarly hip hangouts have arrived discreetly on side-streets off the main drag, John the Unicorn passes on subtlety, its metre-high signage doing nothing to play down its undeniably irritating name. It's little wonder windows were smashed and anti-gentrification graffiti daubed before the place even opened.
Context considered, it's surprising to discover that, inside, JTU isn't the nightmarish hipster utopia it might have been. The tiled walls are quaintly knackered and the furniture is all fire-sale chic, of course (this is an Antic pub, after all), but beyond a few lightboxes of multi-coloured geodes hanging on the wall, there's mercifully little of the overbearing theming of nearby Antic ventures like Knowles of Norwood or the Sylvan Post.
What it does have is space – two floors of it, with a third to come – neatly divvied up into quieter nooks and DJ-facing benches. With a late licence (open until 1am on Fridays and Saturday) and a Turkish restaurant opposite, this is clearly pitched as Big Night Out territory. A handful of mainstream brews aside, London beers rule the bar, with Orbit (Kennington) Five Points (Hackney) and Gosnell's Mead (literally round the corner) on keg and The Kernel, Beavertown and Brew By Numbers in bottles. Cocktails are all eight quid, wine starts at £14.95 a bottle, and until a proper, in-house menu launches, food comes from a changing line-up of street food traders.
So between the on-trend consumables, the gently buzzy atmosphere and the dialled-back décor, John the Unicorn delivers everything you'd expect it to. None of this will do anything to win over those put off by the lack of tact, of course. But we're not ashamed to admit that we've got the horn for John.
Details
Best selling Time Out Offers