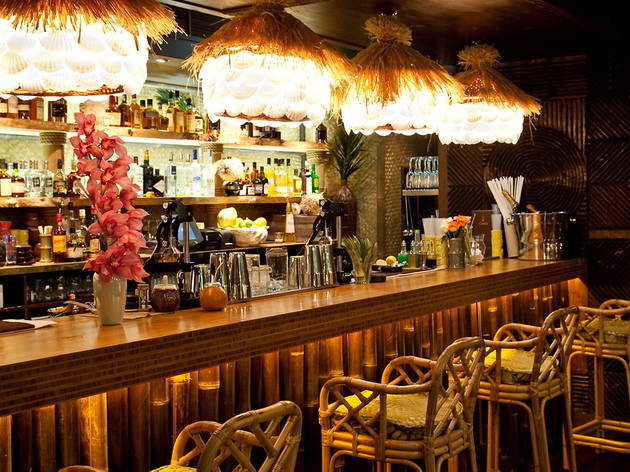 The cover of this tiki bar's menu promises 'fanciful drinks and exotic concoctions'; inside, cheery illustrations depict kitsch Polynesian-themed cocktails and punches, served in suitably outré vessels.
Coconuts are filled with tequila, orange bitters and a hot sauce, while a Krakatoa (wasn't that Indonesia?) comprises a mini volcano of Kanaloa Grog (overproof and caramel rum blends) and sundry, inappropriate fruit juices. Those of a macabre bent may enjoy a Dead Man's Chest (£100, serves eight), a coffin brimming with Seven Tiki white rum, maraschino cherries and claret.
It's all complete nonsense, of course, but bags of fun on the right night and in the right company. Stave off inebriation with dim sum, lobster tempura or salt and chilli squid.
Venue name:
Kanaloa
Contact:
Address:
18 Lime Office Court
Shoe Lane
London
EC4A 3BQ

Cross street:
Hill House
Opening hours:
Open/food served 4pm-3am Mon-Fri; 9pm-3am Sat
Transport:
Tube: Chancery Lane tube
Menu:
View Menu
Do you own this business?
You may be interested in:
Average User Rating
2.1 / 5
Rating Breakdown
5 star:

1

4 star:

2

3 star:

2

2 star:

1

1 star:

8
Wow, I should have read these reviews before booking to go here! Shocking service doesnt even begin to describe what we experienced here on the night of my wife's birthday celebration. Our pre-arranged free entry was not honoured at the door because they said we arrived after 11. The fact that we arrived at 10:45 and they made us wait 20 mins to get in didnt seem to matter to them! Then they harassed us while we were there! I eventually paid for the whole group to get everyone in so that my wife's night was not ruined, thinking I would be able to talk some reason to the management of the club on Monday. What an expensive mistake that was - these guys dont give a crap about their customers - only their money. I dont think it will last is this continues.
One star really is too much. No customer service what so ever. The majority of the staff were incompetent and insolent, including the so called 'manager' with the light coloured hair. Had to wait over an hour for our drinks and hardly any of the food advertised on the menu was available. There aren't enough adjectives to adequately describe this dump. Don't waste your time or money in this hole, if you want a real tiki experience then head over to Mahiki.
What a horrible experience!! We decided to do my cousins 21st bday here. We booked a table and put a deposit to secure our table. We all arrived about 9:45 to the venue and upon standing in line the bouncer asked us if we had a table. The birthday girl said yes and began speaking to him. The bouncer then told her she needed to go around the corner and sober up and handed her a bottle of water. Which she wasn't even drunk but he wouldn't listen and she went off to do what she was asked. He let a few more of us in and when the next person asked if everyone else was getting in a bouncer inside the door said he was too drunk as well and he couldn't come in. While this was happening the original bouncer at the line was checking IDs for 4 more to come in. We began walking in past the ropes and he turned around upset we had passed and began to tell us to step back in a loud voice and put his arm out to push us back almost knocking us over. He then pointed me out and said I needed to step to the side. I began to ask why and he told me I wouldn't be let in that I could leave. For what reason who knows?! Again on assumption I was drunk? My sister then asked him if he was going to let any of us in at all whether we waited 15,20,30 mins and he said no. That no one was getting in regardless of us putting a deposit on the table. He yelled at her telling us to all just leave and because we already had 2 guests inside he refused to let us get them. The bouncer was rude and aggressive for now reason. When we asked his name he refused to tell us and let alone let us speak to a manager about the situation. I can't believe how rude and horrible they were and completely ruined my cousins 21st bday. We will NEVER come back here again!!!
What a NIGHTMARE club! I have never been treated so appallingly by a venue in London. We came here for my 30th birthday with a party of over 32 people. We booked free entry with Design My Night but when we arrived at 10:50 we were made to wait in the queue with the door staff then telling us at exactly 1 minute past 11 that we now needed to pay £10 each to get in. They had stalled us in the queue and then were completely unwilling to check the list for our names or confirm with anyone inside that we had in fact arranged to get in for free. The whole reason Design My Night had suggested Kanaloa was for the free door entry as there was such a big party of us we would be guaranteed to spend substantially at the bar. We were so looking forward to spending an evening in what promised to be a fabulous venue. It was basically a case of a severe lack of common sense, professional behaviour and customer service on the door staff's part. I specifically want to point out the tall doorman with an Afro who had a seriously bad attitude and was completely unwilling to negotiate or handle the case professionally, arguing with us over the fact that we were in the queue and were going in at 1 minute past 11 so we had to pay. We were then also harassed once IN the club-girls being made to go outside as they were apparently 'too drunk' (what bouncer throws a single girl out of a venue on her own?), girls being searched for drugs very obnoxiously, people being pushed around. It killed the mood of our party and made everyone leave earlier than we had anticipated. Words of advice-go read the reviews online-from TripAdvisor to Late Night London and everywhere in between you will see that the door entry scam is a regular occurrence and the poor treatment of customers by bouncers a constant. AVOID LIKE THE PLAGUE!
Awful night, £10 to get in (not bad for a club with interesting decor) only to be told no cloak room is available as it is full and to discover almost all seating has been reserved for those who paid for it. About £10 for a cocktail is not bad for a club, however the wait at the bar is awful and the drinks are full of ice. The crowd ranges from those that are out to have a good time (about half the club) and enjoy the good music and make the most of the sweat and heat, to the posers/out to be seen crowd who maybe can't afford Mahiki or something that stand around eyeing up the opposite gender the entire time.
I actually love this place, not cheap at all but the right crowd and really good drinks. Happy hour was pretty worth it, and staff was nice enough !
So it's fair to say that I will NEVER return to Kanaloa. As an Events Manager you expect good service and acknowledgement when things may have been presented slightly incorrectly... well, for a frankly Z list venue this place has outdone itself in the 'we don't give a toss about our customers' stakes. We booked a table for 14 people for work - as a birthday celebration on Thursday 29th November. We pre ordered food and paid a £25 deposit. However on arrival - after being draped in delightfully tacky plastic necklaces, we were seated at our table. Literally... one table, or base table as they like to call it!! Turns out we had four seats and one table for all 14 of us. Apparently this is what you book - regardless of the number of people. At this point we complained and said that we had booked for 14 people - not 4 plus 10 standing! And had not at any point been told that this is how they operate. Notes – the only bar in London who does!! So we agreed with the waitress that we would occupy the table next to us, baring in mind we still only had seats for 8 of us. This seemed to dull the aggravation and we continued our evening, with our best efforts in place to enjoy ourselves - already having decided not to return. The 'general manager' then waltzed up, who quite frankly, looked like he had just walked out of his GCSE exams and thrown on an oversized Armani (if only) suit. Full of abuse, incredibly rude and a look that said I don't care who you are. We were then told we had to decide to either move from the second table or... not. They were the choices! Once we had complained yet again and explained that we had booked for 14 people, had paid for the table and food and drinks (at this point) and reiterated that at no point had we been told that to book any kind of table at the venue you are only getting one 'base table' and anyone else has to stand. We promptly demanded a refund finished our drinks and left. Kanaloa is quite possibly one of the most stuck up, pretentious 'little' wanna be celeb bars I have ever been to. There is no such thing as customer service and once you're in and spending your money they don't care!
Bags of fun? It's expensive to book a table which then turns out to be too tiny for the group you booked for at which point the staff turn nasty and don't give a damn if they are ruining your night out. Truly a shocking place, avoid.
More venues
Sponsored listings