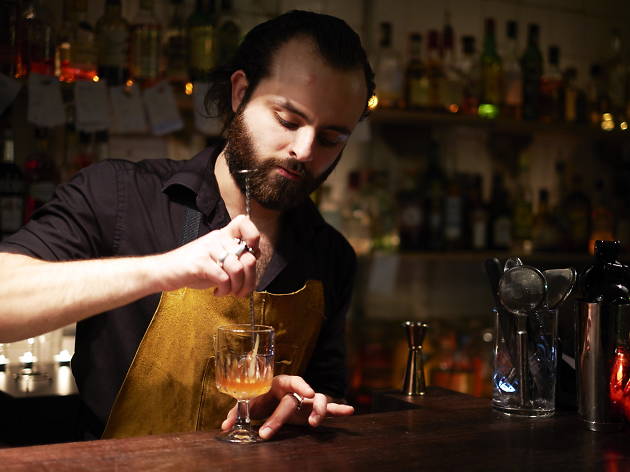 1/9
© Kim Lightbody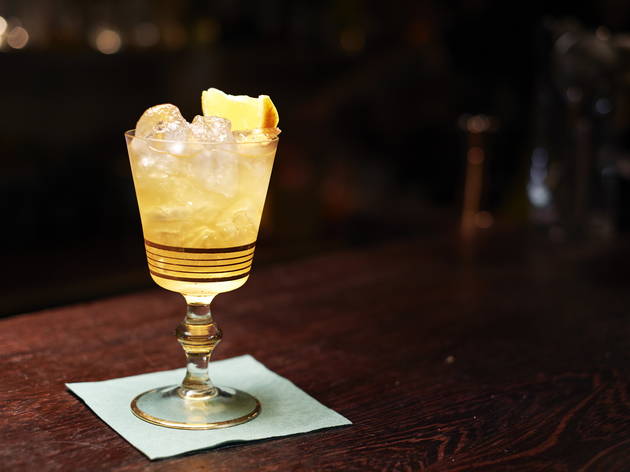 2/9
© Kim Lightbody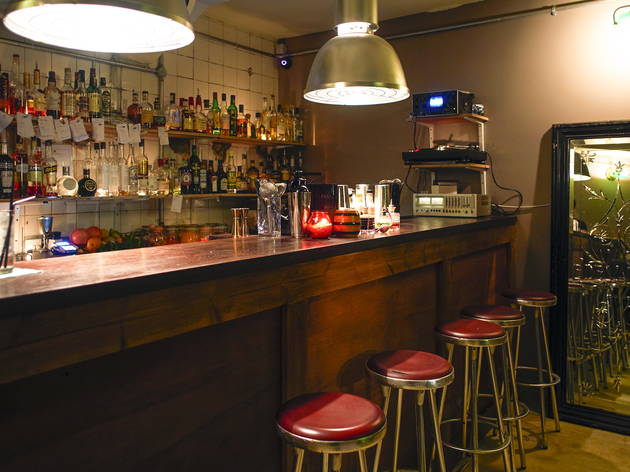 3/9
© Kim Lightbody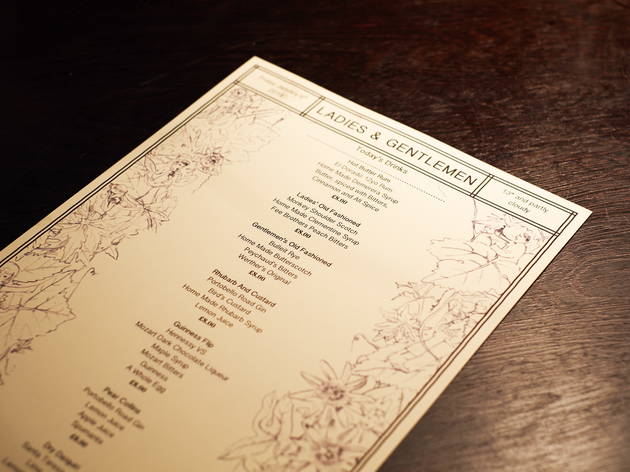 4/9
© Kim Lightbody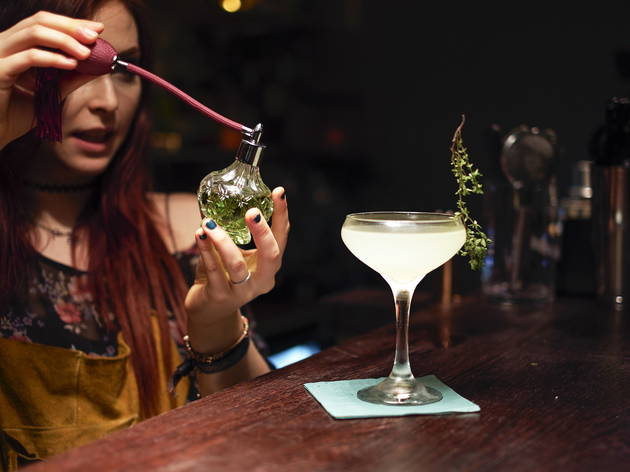 5/9
© Kim Lightbody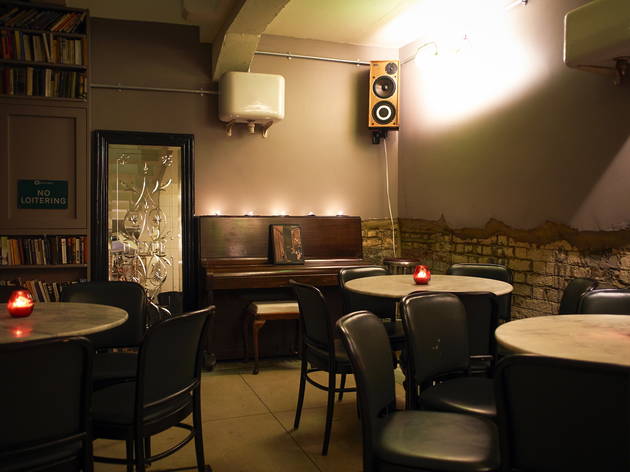 6/9
© Kim Lightbody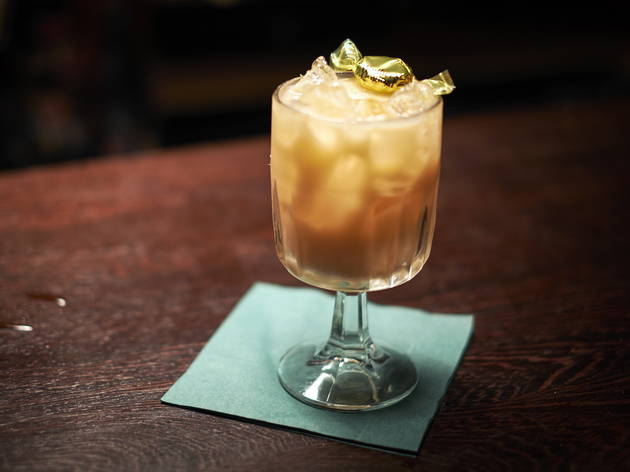 7/9
© Kim Lightbody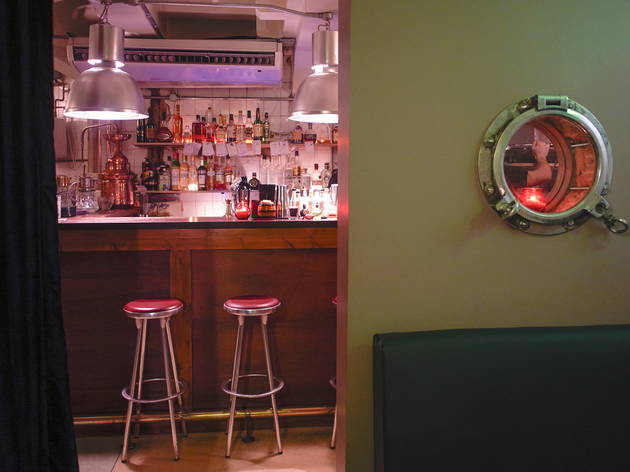 8/9
© Kim Lightbody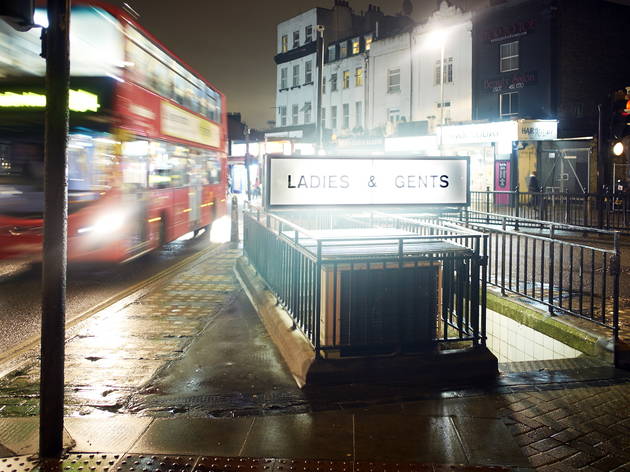 9/9
© Kim Lightbody
Time Out says
A lovely cocktail bar (with good retro music) housed in a former underground toilet in Kentish Town.
Revellers departing two of Kentish Town's most cherished venues – the late, lamented Bull & Gate and the still-jumping Forum – have long noticed the disused underground lav at the bottom of Highgate Road. And many wish the local convenience was still in operation.
Well, it's back in business now. Though not in its original form. William Borrell, of the family that owns Vestal Vodka, has reopened the public loos as a cocktail bar.
Ladies & Gentlemen makes the most of its unusual space: two moodily underlit rooms (one seriously tiny) at a V-shaped angle to each other, with a small bar at the point of the V. There are a few seats at the bar, but mostly it's table service – delivered with a smile and loads of enthusiasm. The soundtrack is Manhattan cocktail-lounge material, mostly mainstream jazz vocalists such as Ella Fitzgerald when we were there.
The cocktails are generally £8-£9 and the quality (on our visit) was mixed. A Martinez was well made and the Rhubarb & Custard cocktail (gin-based here) was nicely balanced. A Martini wasn't quite cold enough, however, while a Pear Collins (gin-based with a top of fizzy wine) lacked the zing that makes Collinses so refreshing. There is also a changing roster of 'boilermakers', an American invention: shot of whisky, beer chaser.
The drinks may not equal those at nearby Knowhere Special, but Ladies & Gentlemen is already popular: when we tried to go back at 9.30pm on a Friday (no bookings taken after that time), it was impossible to get in. They have a doorman, and some very amusing signage, at street level.
L&G deserves the popularity. It's an unusual bar in an unusual setting, and an extremely pleasant place to hang out. A welcome addition to K-Town's burgeoning bar scene.
Details
Address:
2 Highgate Road
London
NW5 1NR

Transport:
Tube: Kentish Town
Contact:
Do you own this business?
Average User Rating
4.2 / 5
Rating Breakdown
5 star:

12

4 star:

3

3 star:

1

2 star:

2

1 star:

1
I went here last week and it was appalling. Last year it was 5 star but now it's overpriced and the cocktails tasted horrible. Would recommend going to the Cocktail Trading Co. instead as this has unfortunately gone downhill.
Bars are my thing and I always take pride in showing my friends something special. Asked if I knew a place around Kentish Town, I thought of the renowned Ladies & Gentlemen, with its original setting (yes, a Victorian public toilet) and reputation for good cocktails. I went early in the evening and the ten odd tables were mainly free. The waitress brought us the menu and came back to get the order less than five minutes later -- definitely not enough when you've got an elaborate offering with many original concoctions. The second time she came back, I was still reading through the ingredients and insisted to help us with the choice, but I insisted that I'd rather go through it myself. Instead, she could have poured us some water from the bottle she had previously left on the table, a custom that you often see in nice bars.
The cocktails we ordered (one with gin, strawberry and cream soda, and the other one with tequila and carrot juice) were heavily watered down and didn't show any character.
We left when the beautiful but really dark room became too busy and a larger party sat not far from us became too loud for us to hear each other.
Best cocktails in London, in a loo in Kentish Town!. A lovely atmosphere, they keep a strict limit on numbers, so t's never too noisy or crowded. Great sausage rolls too! A really special place.
Unique place for a top cocktail.
Amazing cocktail bar with fantastic drinks and service.
The cocktails are original and the staff are incredible friendly and make you feel part of the Kentish Town Community, whether you go alone or with friends. William Borrell, the owner, is the perfect mine host. A great night out.
Amazing drinks and lovely staff!
Super cool (but tiny) cocktail bar, with a great atmosphere. Had to wait a little while to get in, but it meant the place wasn't too crowded and there was quick, great service. The cocktails were delicious, a little expensive but to be expected. Definitely would recommend, would be a great date spot!

Great little cocktail bar with interesting cocktails and a good vibe
This bar has a rock and roll approach to most things. Great drinks, ace staff, in a Victorian toilet and makes its own gin.
Beautifully crafted cocktails. A perfect experience.
Awesome, quirky bar with friendly staff and amazing cocktails.
We visited this awesome bar in it's first week, after a gig at the Forum. The use of the space is so clever, drinks were great, staff friendly and the owner is an absolute gent. We'll be back (if we can get in)
Many thanks to Time out for taking time to review and for the useful feed back, only being open for 4 weeks when Richard came down means we can take his advice onboard for our upcoming spring menu.

We look forward to seeing you spend a penny with us soon.
www.ladiesandgents.co