Heads up! We're working hard to be accurate – but these are unusual times, so please always check before heading out.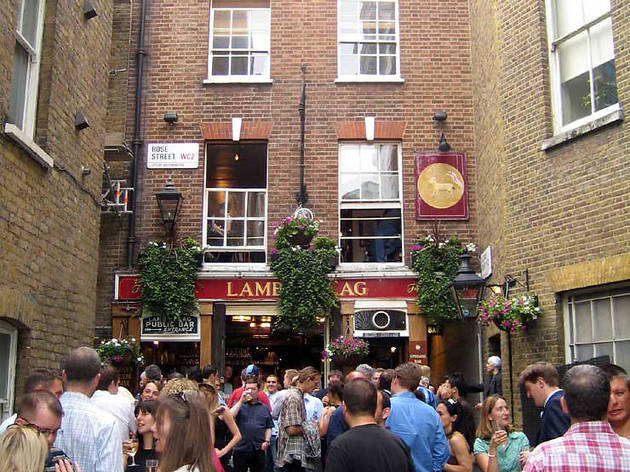 London's oldest pub
The debate about London's most ancient boozer is still raging in the twenty-first century. Time Out selflessly went out to judge their antiquity on your behalf
Age is always a thorny subject for conversation, and all the more so when alcohol is involved. So it's no surprise there is such contention over the sticky question of which London pub can call itself the city's oldest. There are as many candidates as there are criteria. Is it the Lamb & Flag (33 Rose St, WC2), which occupies a building said to date to Tudor times but has only (only!) been a licensed premises since 1623? Or the Cittie Of York (22 High Holborn, WC1), which has been the site of an inn since 1420 even if the building itself dates to around 1645 and was almost completely rebuilt in the 1890s, while the name was pinched from an older tavern that used to sit across the road?

The White Hart (191 Drury Lane, WC2) boldly claims to be 'the oldest licensed premises in London', despite scant evidence and countless refits. Then there's the Angel (101 Bermondsey Wall, SE16), which since the fifteenth century was a pub kept by monks at the nearby eleventh-century Benedictine monastery, but was rebuilt in the nineteenth-century. Such confusion of name, location, licence and architecture makes finding London's definitive oldest pub almost impossible, but it means a tourist will never be far from a claimant. When age and history become attractions in their own right, unscrupulous and enterprising landlords will always be happy to muddy the waters in a bid to gain custom.
Although London's history can be measured in both pubs and churches, it is in the former that the Londoner – native or otherwise – can most easily and enjoyably engage with the past. Have a pint at London's last galleried coaching inn, The George Inn (77 Borough High St, SE1) and you're drinking liquid history. Such pubs were a centre for London social life from the start – as reading Chaucer will make clear – and in the early fourteenth century, there were already 354 taverns in the city. These taverns and alehouses were low dens, places for gaming and cockfighting, fighting, thieving and drinking. Innkeepers were often involved in the chicanery that occured on their premises to the extent that in the fourteenth century, a law was passed which prohibited any landlord from retaining the belongings of anyone who happened to die on his premises.


Curiously, these taverns were also early job centres. In 'London: The Biography', Peter Ackroyd explains how 'for many trades the only employment agency was a specific public house… Bakers and tailors, plumbers and bookbinders, congregated in one place where masters arrived "to enquire when they want hands".' The tradesmen had pay tables at the same taverns, where the employees would receive their wage and promptly pour it down their throat while waiting for the next job.


London lost lots of pubs in the Great Fire – one of the few surviving timber-framed buildings is at 47 Aldgate High St, EC3; it was then a private house but became the Hoop and Grapes in the 1890s – which is why so many of the city's oldest pubs date to 1667 or thereabouts. In fact, Ye Olde Watling (29 Watling St, EC4) and Old Bell (95 Fleet St, EC4), both claim to be built by Wren himself, for the use of builders working at nearby churches. Another candidate for oldest pub, the Olde Cheshire Cheese (145 Fleet St, EC4), was built in 1667, but there was a pub here called the Horn in 1538 and the cellar dates to a thirteenth-century monastery: the church and pub entwined once more.

Away from the city there are further choice venues that ooze antiquity. Hampstead has anumber of ancient pubs, including the recently revamped Spaniards Inn (Spaniards Rd, NW3), possibly the most myth-saturated pub in London. It was built in 1585 – although it didn't become a pub for another 150 years – and Dick Turpin, John Keats, Charles Dickens, Robert Louis Stevenson, William Blake, Joshua Reynolds, John Constable, Mary Shelley, William Hogarth, Lord Byron, AE Houseman and Evelyn Waugh all have some association with the place. A pistol ball fired by notorious highwayman Turpin is framed above the bar. This is another way in which London's pubs hold on to their history, celebrating the past through enthusiastic displays of local ephemera with a panache that few museums can match.
Ten other pubs of yore
Old Bull & Bush
Built as a farm in 1645, became pub in 1721. Celebrated in an Edwardian music-hall song.
(North End Way, NW3)

Jamaica Wine House
London's oldest coffee house, dating to 1652 but rebuilt after the fire and recently refurnished.
(St Michael's Alley, EC3)

Seven Stars
Built in 1602 but unclear whether it remained a pub throughout its 400+ years.
(53 Carey St, WC2)

Red Lion
There's been a pub on the site since 1434. The current pub dates to 1733, and was remodelled in 1896.
(48 Parliament St, SW1)

Ye Olde Mitre Tavern
One of the hardest-to-find pubs in London. The first Mitre was built here in 1546, demolished in 1772 and almost immediately rebuilt.
(Ely Court, EC1)

Prospect of Whitby
Dates back to at least 1520, when it was known as the Devil's Tavern. The original building burnt down in the eighteenth century and the current Prospect went up in its place.
(57 Wapping Wall, EC1)

The Olde Wine Shades
Built in 1663, it survived the fire and following centuries almost intact – licensed premises the whole time.
(6 Martin Lane, EC4)

Anchor
Shakespeare's local, this is where Pepys watched the Great Fire, when the pub was already over 100 years old. The pub has since been rebuilt twice after fires – in 1750 and 1876.
(34 Park St, SE1)

The Guinea
A pub has been here since 1423. It was called the Pound, but changed its name to mark the new currency in 1663. Current building dates to 1720s.
(30 Bruton Place, W1)

White Swan
Waterfront boozer dating back to around 1700 that faces the magical Eel Pie Island.
(The Riverside, Twickenham)
Support Time Out
We see you're using an ad-blocker. Ad revenue is Time Out's main source of income. The content you're reading is made by independent, expert local journalists.
Support Time Out directly today and help us champion the people and places which make the city tick. Cheers!
Donate now