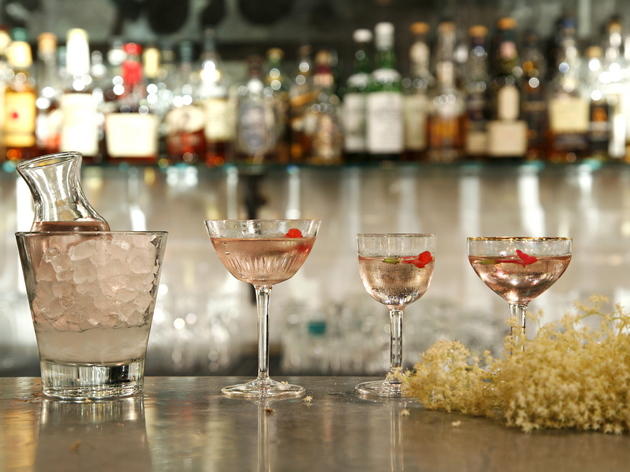 1/6
Rob Greig / Time Out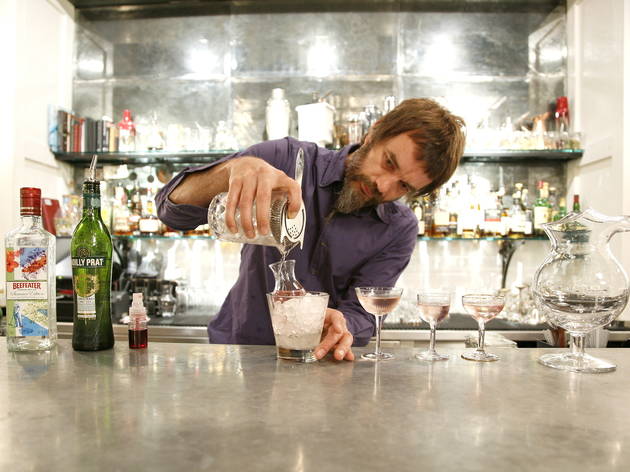 2/6
Rob Greig / Time Out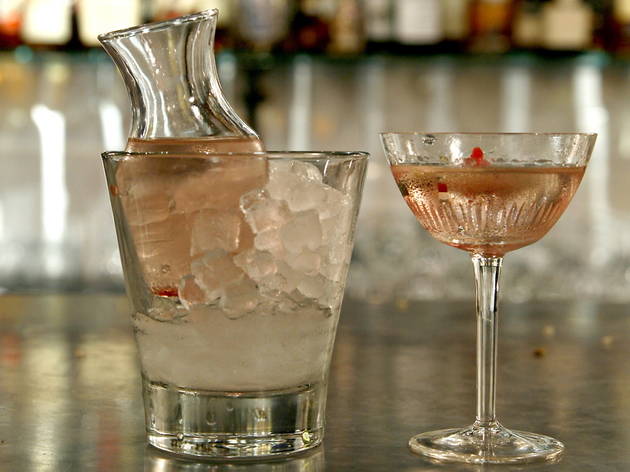 3/6
Rob Greig / Time Out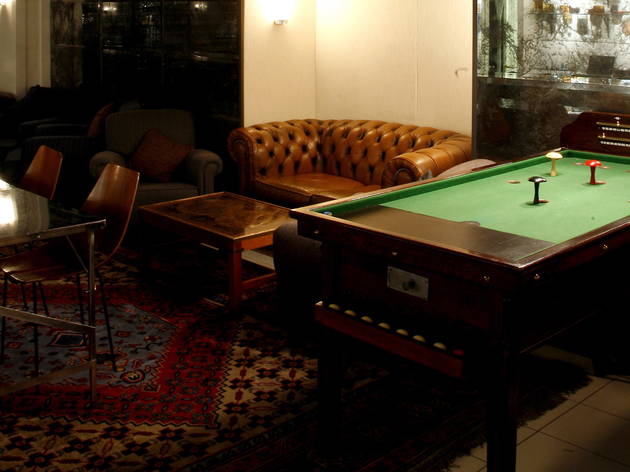 4/6
Rob Greig / Time Out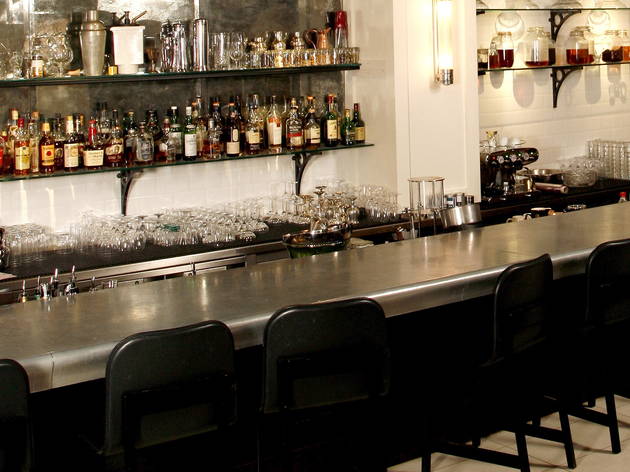 5/6
Rob Greig / Time Out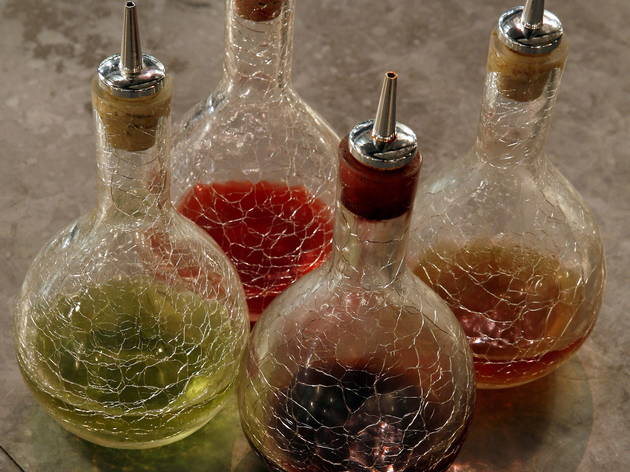 6/6
Rob Greig / Time Out
Time Out says
The basement of Hix Soho remains one of Soho's most popular cocktail haunts, and that's only partly because of its highly unusual drinks based on true-Brit recipes from years (and centuries) gone by. It's a subterranean haven, and a great place to have serious drinks alongside delicious bar snacks (substantial enough to make a light meal even if you don't follow them with dinner upstairs). Cocktails are king here, but the gin and scotch lists both repay ample exploration. Be warned that it can be hard to find space here, and it doesn't take bookings. But it's worth it.
Details
Address:
Hix
London
W1F 9UP

Cross street:
66-70 Brewer Street
Transport:
Tube: Piccadilly Circus tube
Price:
Prices vary
Contact:
Opening hours:
Mon-Sat 11am-1am, Sun 11.30am-12am
Do you own this business?
Average User Rating
2.9 / 5
Rating Breakdown
5 star:

5

4 star:

5

3 star:

1

2 star:

1

1 star:

8
Excellent drinks, great food, fun atmosphere, staff were really sweet, went the extra mile. Was surprised after reading the reviews below.
Love this place. An oasis of cocktail genius in beer swilling Soho. The guys at the bar always remember me, and know I'm up for one of their latest concoctions. They are artists, and are warm and inviting.
Rude staff. Lithunian waitress insulted one of our group calling them a donkey! Drinks overpriced. Don't go here!!
It's really unfair that some people who haven't even been before wrote 1-star reviews based on other reviews! I've been and had a very nice time. Staff were polite, drinks were good, spot was cosy. Would definitely recommend, especially considering it can be hard to find a decent place near Piccadilly.
I've been to Mark's bar a few times now and it's a great find! It's a little hidden gem in the basement of Hix with a great atmosphere and relaxing vibe. I've have always found the staff to be polite and friendly. My friends and I all met here for cocktails on a Sunday, there were probably about 15 of us and the staff were very welcoming and accommodating. A special thanks to Lucy for looking after us!
Poor Service and rude staff!
I was in london for work and it so happened that I was alone on a saturday evening. I decided to check out Hix , Mark's bar for some drinks before dinner. I was shocked when the manager asked me to leave and said there is a huge queue! The line had two couples before me so I know that wasnt true. I have been to many nice places in london before and never been asked to leave and not being allowed to even wait in the queue to get in. When i read the reviews below i know which place i should avoid for sure!!
Great place with brilliant cocktails and great staff....up to a point - the maître d'/bar manager can be incredibly rude and dismissive. If it wasn't for him it would be a 5 star place.
if you appreciate attention to detail when your drinks are being made, this is the place for you.
Awful customer service!!!
AVOID - appalling customer service. Seven of us we were there for 30 minutes when a very rude lady came over to us and demanded that we either split up the group up or leave as she didn't want a large group in the bar. I have never been asked to leave a bar before
I have experienced similar rudeness from the staff here on two occasions. The first time was with a friend and we were left speechless by the abrupt rudeness when we were asked to 'drink up' in order to make way for others. That kind of thing ruins your evening I'm afraid but I decided to put it down to being a one off. The second time I was enjoying an evening meal with a good friend and we were certainly happy to drop a fair amount of cash on several courses and drinks. It amazed me that when we were still eating and drinking that we were approached and told that we would need to 'hurry along' for the next sitting!! After we had finished eating and were enjoying the remainder of the bottle of wine we had ordered with dinnner we were made to stand at the bar where we were clearly in the way of the other staff. Lesson learned I'm afraid - I wouldn't recommend this place - the food is reasonably good but London has much better to offer elsewhere.
AVOID! I have never been spoken to so rudely in a bar before. We were sitting on a table on a fairly quiet evening, we had just received our 3rd round when a member of staff marched over and told us that obviously we were not aware but they had a group policy of only 6 people (there were 7 of us). She even more rudely suggested she could tell us where else we could drink in the area - which was her way of telling us to leave immediately. With all due respect - if this was a policy the waitress obviously wasn't aware of it - she should not have served us another round. We had just received our drinks so had to quickly drink up. Possibly the worst part was her telling us where else we could go - we know the area probably better than she does, she was incredibly patronising. She was also very angry at us which I don't understand as we were quiet and had caused no trouble. I don't expect to be spoken to in this way especially after having spent a considerable amount of money. Drinks are totally overpriced and service is beyond poor.
What started as a nice evening in Mark's Bar was sullied by a matradee that was not only one of the RUDEST people I have ever encountered working in a bar or restaurant, but anywhere full stop. Having sat in a quite corner, my group of 5 swelled to 7 following the arrival of my brother and a friend who just stopping by on her way to dinner elsewhere. Before they had a chance to order from the friendly waitress, the matradee approached us an stated word for word "you people may not be aware of our policy, but we do not allow large groups in here and I suggest you leave". We had been in the bar for about 90mins and had spent approximately £100. We were not made aware of their "group" policy and the waitress who was happy to keep serving us did not know of it either. Rather than argue the point we finished our drinks and asked for the bill, at which stage we had to argue (quite stongly) on why we shouldn't pay the service charge. Rude staff, overpriced drinks and more rude staff. AVOID, AVOID, AVOID ! !
Had a fabulous, impromptu, late evening in here. Busy Friday night, but staff went out of their way for us, having dined at Hix beforehand. Such a lovely atmos and great, classy service ......
Browsing for cocktail bars in London, after reading the reviews on this one I will be avoiding it.