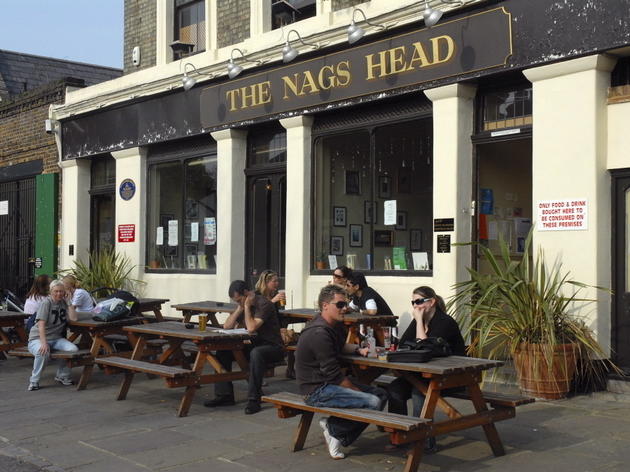 Time Out says
This bright, homely pub accommodates quietly spoken ale drinkers, well-meaning ladies of a certain age keen on self-improvement (classes here include Egyptian dance and pilates) and, crucially, cats and those who love them.
The place is dotted with images of the little darlings, refugees from a nearby rescue home; one of them, Tetley, 'the village cat', has a near-permanent place at one of the tables on the front terrace and in a lovely illuminated garden.
The beer-hunters eschew Tetley (and, for that matter, Tetley's) in favour of Landlord, Woodforde's Wherry, Mighty Oak's lovely Oscar Wilde Mild and Nethergate Itinerant, brewed in the cats' honour.
The Nags Head also offers jazz on a Sunday night, and gives house room to an art project investigating the origins of the Barbie doll.
Details
Address:
9 Orford Road
London
E17 9LP

Transport:
Tube: Walthamstow Central tube/rail
Contact:
Opening hours:
Open 4-11pm Mon-Thur; 2-11pm Fri; noon-11pm Sat, Sun
Do you own this business?
Average User Rating
2.6 / 5
Rating Breakdown
5 star:

2

4 star:

4

3 star:

2

2 star:

0

1 star:

7
Average pub, pretty beer garden, 'meh' food, but absolutely horrible people running it. Notorious throughout Walthamstow. What is with all of those rude signs? How unwelcoming is that? The turnover of staff is really high which tells you a lot.
I presume people without kids would also find it off-putting to see a grown man screaming at a young mother that she is a bad mother for not making her 2 year old sit on a wet chair in the rain, and seeing said 2 year old become utterly distraught with fear? I know I didn't fancy buying another pint after that and have never been back. Although if that doesn't put you off you are probably in good company with that pair.
They should maybe go and run a private prison or something and let somebody nice turn that pub into something we locals could be proud of.
Nice pub with a good selection of beers and wines in a great location. It's a shame about the negative personal comments about the landlady. She is NOT rude, just clear on the child policy, and why shouldn't she be? After all, this is a pub, not a kindergarten. If you love animals, particularly cats, and/or just want a relaxing environment to enjoy a drink and a chat with friends, this is a very welcoming and friendly establishment. Those people who are intent on inflicting the noise and other behaviour of their offspring on others without limitation, please stay away from this lovely pub and go to the Bell instead!
It is a lovely friendly local, with a Fabulous selection of really good Ales.
this pub could be really nice. Unfortunately it is run by over officious, rude staff. The food is ok, but overpriced. I have been three times now hoping I would be proven wrong but unfortunately they don't seem to care about much and shouldn't be in the business. Much nicer places to go in the area.
Really surprised at the reviews here. The service is fine, lots of good beers on tap, good atmosphere and it's a pub so no-one should be surprised if there are no children allowed after a certain time. My advice would be try it and don't listen to some of the reviews here which, as Simon said, don't review the pub, just the child policy. The food is quite average, in my view, but the pizzas are excellent. Certainly the match of anywhere else in E17, Pepe included.
In response to the many reviews below who comment on the Nags no children policy - it is a PUB and it is the landlady's choice! I personally enjoy the knowledge that I can go to the Nags and enjoy the company of friends without tripping over the numberous oversized bugaboo pushchairs that are to be found in all of the child friendly pubs and not having to listen to the screams of little Arrabella/Oliver is a constant joy on a trip to the Nags.Surely as a responsible parent you would not want to take you child to a pub where people might be drunk/loud/rude/aggressive? Unlike other comments I would like to actually review the Nags. It is a unique pub in a great location which sells a wide range of drinks, including a fantastic wine list which are all well kept. I have tried a number of items from the food menu which have been very good. The excellent garden in summer is a joy to be in and many a good night has been shared there with friends. For those that mention the landlady, she is there to be the landlady and not there to be your friend. I personally go to a pub and expect the staff to serve me food/drinks and do not expect the staff of a pub to suck up to me. For those that have labelled her rude clearly do not know and have obviously done something to offend her for example being in the garden with your child after 7.30 and as a lot of people have pointed out there are enough signs in the pub stating this so why were you still there?
I have a daughter who is 3 1/2 years old and my friend has a daughter of about 1 1/2. Every Friday I take my daughter out around London, we visit a whole host of places and we call it Fun Friday. From museums to walks to pubs for lunch, through the parks, canals etc. Generally all over the East End. We have been doing this for about a year and whilst London might have a reputation for not being the most friendly city in the world I can hand on heart say I have never experienced anything other than warmth and accommodation for a Dad with his Daughter. The stand out pubs have been the Palm Tree in Mile End, who know what my daughter likes to drink when she comes in the pub and all the pubs around the Victoria Park area. Pubs, cafés, restaurants. My daughter likes pizza and my friend suggested that we visit her part of town and she would take us to a pub that did a great pizza. The pub is called The Nags Head in Walthamstow. So, we leave home early, a cold November day and head for Bethnal Green to catch the overground train to Walthamstow Central. The train is about 20 minutes late and it's darn cold but eventually we are on the train and our friend is waiting for us on the platform at Walthamstow. We then walk about 10-15 minutes to this pub. My friends daughter is fast asleep in her pushchair and my daughter is hungry. What with the train, the cold and the walk, when we arrive at The Nags Head we are feeling a certain amount of relief. As we walk in I notice it's not particularly busy; a couple of old ladies sat at a table drinking tea or coffee and a couple of hipsters eating some lunch on sofas in a corner. My friend and I survey the area and find the most far away corner so that we are well out of the way of the main flow of this quiet pub. My daughter is asking me what food we will eat as she pulls her hat, scarf and coat off, relishing the somewhat cosy and warm environment. As we are pulling out our seats at a table to sit down a lone girl from behind the bar comes rushing over to us, mobile phone in hand as if texting someone and calls out "excuse me". We turn to her, thinking she is going to ask us if we are eating lunch and would like a menu only to be informed "sorry, children aren't allowed in here". To say I was shocked is an understatement. My daughter asks my friend "what did she say?" As I ask; "Oh really, not even for a quiet lunch out of the way?". The girl stands there with a look on her face as if to say I have told you once and I am clearly in the middle of a text message "sorry, children aren't allowed in here". At that I accept quiet defeat and say "ok, no worries, thank you". I notice my daughter has taken her coat off and try and put her coat back on. As I am doing this my daughter is a little irritated and asking "Why have we got to go, I am hungry?". I am on my knees trying to put her coat and scarf and hat on and she is obviously a little upset never having really experienced this before and having talked for about three days about the pizza lunch we will be having with our friend on Fun Friday. I can live with all this. What really irked me though is that the girl is now stood right behind me, on her phone texting but also close enough as if she is playing some security guard and making sure we are going to leave pronto. God forbid I asked if we could borrow the toilets for a second. I am trying to get the hell out of here ; I have no intention of staying where we are not welcome and my daughter is complaining her sleeve is stuck in her coat. I see the girl look as if to say "for gods sake just take the girl outside and put her coat on our there". At that point I turn to the girl, whilst picking my daughter up so I can make the final adjustments to her coat outside and say "I have lived in London over 15 years and we have walked about 15 minutes in the cold to get here. I see you are not exactly busy and we always find the quietest most secluded corner so we can have a bite to eat with the Kids and this is the first time I have ever been asked to leave a restaurant or pub for lunch purely because we have kids". She looks at me as if to say "I don't give a flying ****" and she holds her phone out as if to say "Dude I am busy on my phone". I inform her she might want to let the Management know that I will be heading home and when I get home I will be posting a little review of my experience at The Nags Head Walthamstow. It goes without saying, this is the first time I have ever experienced such a situation in a London pub. Very disappointed and I do hope the girl who was so quick to ensure we were booted out experiences the same situation when she had kids. I don't think anyone with kids would ever have done what she did in such a nonchalant, rude and somewhat imposing way. I wish you farewell The Nags Head Walthamstow, I will never be returning but I will definitely be spending a few minutes online to spread the love. Good day! Oh and for what it's worth we found a lovely Italian Reataurant just around the corner. Amazing lunch time menu, massive portions, completely kid friendly, they gave us an entire corner to ourselves and the services was perfect. As parents out with kids for a lunch we try and keep ourselves to ourselves. We keep the kids close by. We don't expect much, just a smile and somewhere warm to have a coffee and share a pizza with our kids. The Nags Head is NOT the place for that. I unfortunately cannot leave a zero star review so will have to suffice with one star. The only one the deserve is my one middle finger right up at 'em!
A nice pub with pleasant surroundings but a BIG shame about the lady lady...rude, unfriendly,... not sure why she is in hospitality AT ALL. She complained that our group took up too many tables even though everyone was eating and many on their laps.... she complained that the children should stay at the tables even though the other punters were friendly and chatting to them... a huge section of the garden was cordoned off to prepare for a barn dance scheduled for 8 hours later....what did she not complain about? Definitely will NOT be returning. Not being child friendly I can understand, but not being customer friendly....?
The staff and owners are family-unfriendly to a point I find depressing and plain weird. Case in point: my partner and I and two month old son in a pram were instructed to leave the front garden immediately ("I'd like you to leave now") for staying slightly longer than their 7.30pm cut-off. Strange thing is, this evening was a special celebration for a local cat that had just passed away, beloved of our family, and we'd popped down specially to have a pint. Surely a wake would be one occasion you'd think they'd let relax the rules by a minute or two just to let us finish out pints? Damn, you'd be wrong. It seems strange that the owners are more concerned about hustling kids in prams off the premises than nurturing good relations with the locals. We wouldn't have gone down if it wasn't for the special occasion, so as a point of principle, and to play along with what seemed to me a ridiculous rule, I wandered back on my tod and asked for the quid I'd put in the collection box back. The landlady calmly gave it to me and explained that she had to keep the ground rules so strict to stop people taking liberties. Understood, but if strict enforcement of the ground rules is more important than cutting local families an inch of slack, you have to wonder about their priorities. No wonder there's such a weird atmosphere in there. Beer OK, constant acid jazz/trip hop muzak, watch out for the rules on signs everywhere, and they put furry table clothes on the tables for some reason. I recommend The Castle in the Village for family-friendly service, each time we've been there, they couldn't have done more to accommodate us. Better music also.
AVOID AVOID AVOID! If you don't want children in your pub/garden then put signs up saying so. Signs as we entered told us children were allowed in garden until 7.30 and to leave pushchairs in the alleyway. We sat in the furthest most corner where the two 3year old's in our party played and laughed but not in an excessive manner as to disturb other drinkers in the garden. We were approached after purchasing our drinks by in my opinion the rudest landlord in London who demanded in a very angry, aggressive and nasty tone that he, and I quote directly " I don't want to hear your kid's laughing, I don't want them moving or talking. I don't even want them in my pub or garden. I want them quiet sitting down in a chair" After speaking to friends who've visited this pub they have had similar experiences with the landlord/lady. Several have commented on the managements weird and erratic behaviour and lack of social skills for people in there position.
not exactley child friendly. even though i didnt go there drink alcohol but go and look at a vintage fair, the pushchairs had to be left in a alleyway, one of the staff of the fair aloud me to come in with the pushchair, then to be approached by one of the pub staff very rudely told me that pushchairs are not allowed and to leave my pram in the alleyway in the rain, even though my 1 year old son was asleep, best thing i did was leave, never going there again is the fact the women was very rude, in telling me, and showing me up infront of friends and customers
Snap up exclusive discounts in London
Time Out's handpicked deals — hurry, they won't be around for long...