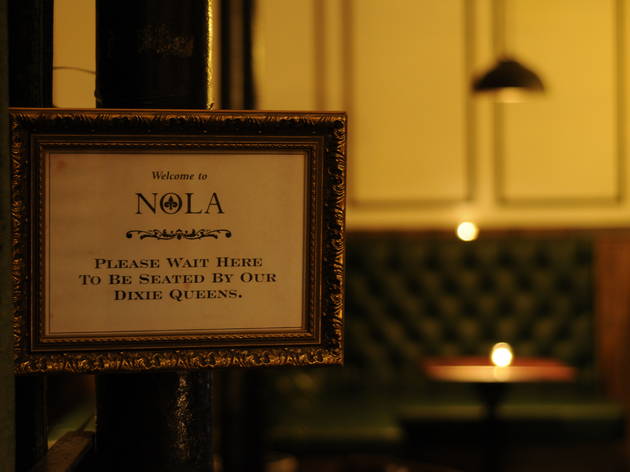 1/4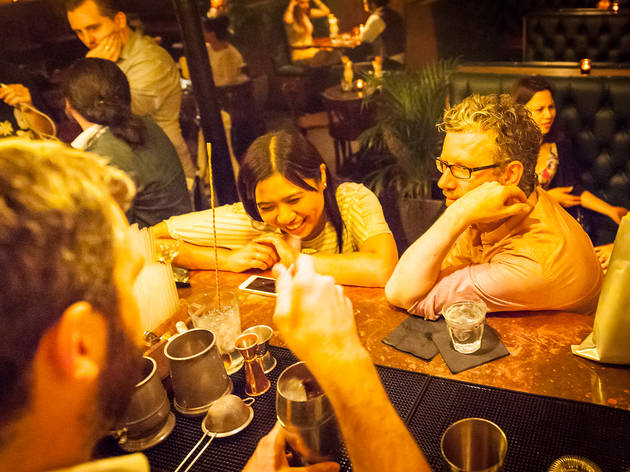 2/4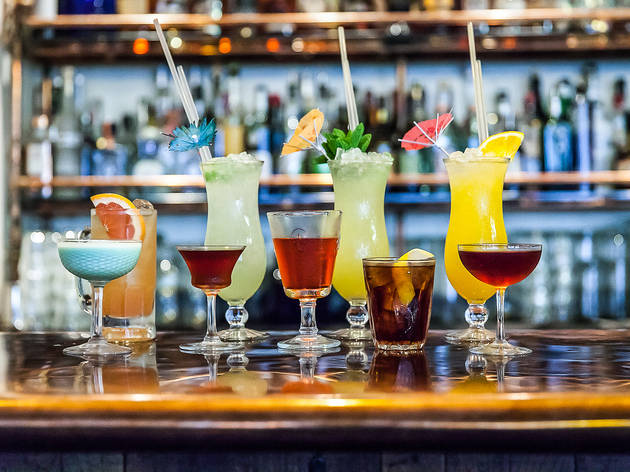 3/4
4/4
Please note, Nola has now reopened on Roman Road. Time Out Food & Drink Editors, 2018.
The name of this Rivington Street cocktail bar comes from New Orleans, Louisiana - a common abbreviation. The Big Easy influence doesn't stop there though, with a soundtrack of jazz, blues and rock 'n' roll alongside a cocktail list inspired by the city. They're the first bar outside of North America to be awarded the 'Seal of the Sazerac', in recognition of their efforts to honour New Orleans' official cocktail. Expect live music on occasion, too.
VIDEO: Inside the re-opened branch of Nola on Roman Road
Venue name:
NOLA London
Contact:
Address:
107 Roman Road
London
E2 0QN

Do you own this business?
You may be interested in:
Average User Rating
3.3 / 5
Rating Breakdown
5 star:

6

4 star:

1

3 star:

3

2 star:

1

1 star:

4
Lovely little hidden bar with amazing cocktails! My new favourite place. Grasshopper is an absolute must try.
Lovely staff, trouser-less Tuesdays(!) and amazing Sazeracs. Lovely atmosphere and tiny but cute roof terrace
As it was so busy I was asked to sit down after I ordered at the bar and they would bring me my drink. On delivery of the drink (of a distance of roughly 10ft), they promptly asked me for a service charge totalling £2.70. Service for what I might ask? The pricing ethos suits the pretentious environs of Old Street very well - you pay through the nose as a way of 'earning' the right to be there, then get moved off of an outdoor smoking table because what you are doing isn't expensive enough. Maybe I simply don't suit the type of place for people who like to burn their hard earned money.
Nice and cosy but a little bit overpriced!
Completely agree with Sarah M. Was here last week with 3 colleagues. They made a big deal out of getting us a table even though the place was half empty. We were then ignored for the best part of 30 minutes, and when we went to the bar, we were told it was table service only. The wait was 50 minutes in total before we got our first drinks which were fine, but didn't justify the wait. Seems the staff are too busy pulling each other's trousers down to do any serving. Shame as it's a nice little spot.
Nola looked a lovely but when we arrived to our booked table we were then ignored for half an hour before managed to get waitress attention to order drinks. Place wasn't busy at this time. I didn't like my cocktail, the first one on the menu. Left after one drink.
My friends has organised my birthday party. We went for dinner and then to Nola bar. That night Nola had a live band and pianist performing in the small room where we were sitting. At the entry we got masks and pearls to wear and we became part of the atmosphere. We had a great time. The cocktails were great same as service. I can highly recommend Nola bar as a great place to go.
I had great experience at NOLA. Really nice place to hang out with friends. Drinks were really good and the price. The most cool thing about NOLA is, inside the NOLA. Will recommend people to check it out for once with friends.
It is a very nice cosy place tucked away on one of the side street just above bedroom bar. A very nice relaxing environment with lovely live music playing in the other room. There is also a nice selection of cocktails and the service was prompt, prices are reasonable. There is also a nice little balcony for smokers which is handy. Other then that its a nice place to drink and worth the visit.
They are very pushy if you are a slow drinker. They wont stop asking you if you want another drink and get the bill as fat as they can. When you say you dont want another drink they literally bring the bill and put it on your table, which we all know what that means. I was there on date, and they ruined it by putting the bill on the table without asking for it and we had to leave. Drinks are overpriced, staff are rude. Very angry about what happened. There are definitely better places in that area you can go.