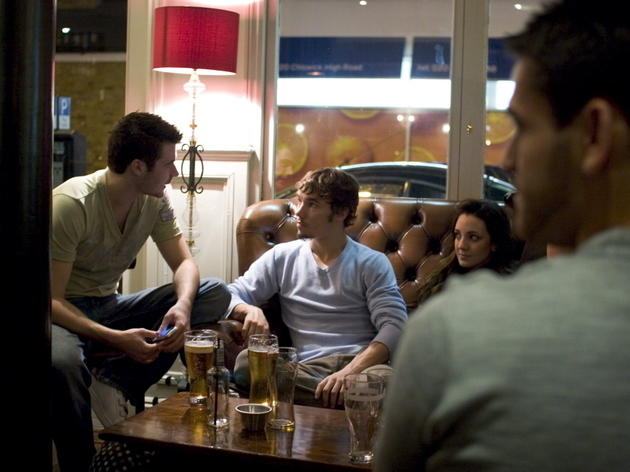 This escape hatch for staff from the Royal Free was given a facelift by Young's when they took over a couple of years ago: purple floral wallpaper, mirrors and '70s swivel chairs are paired with a grandly tiled fireplace and an old piano, though don't expect anyone to hammer out 'Knees Up, Mother Brown' around closing time.
The high arched windows offer a surprisingly leafy view of the hospital; alternatively, head out to the spacious paved garden, where there are barbecues in summer.
Emphasis has been taken off the cocktails and placed firmly on the four handpumps, with Waggle Dance, Bombardier, and Young's Special and Bitter now typical; there's also draught Peroni, Kirin Ichinar and Addlestone's cider.
The Tuesday quiz nights are popular, as are the Sunday lunches.
Venue name:
Roebuck
Contact:
Address:
15 Pond Street
London
NW3 2PN

Opening hours:
Open noon-11pm Mon-Thur; noon-midnight Fri, Sat; noon-10.30pm Sun. Food served noon-3pm, 5-9pm daily
Transport:
Tube: Belsize Park tube
Menu:
View Menu
Do you own this business?
You may be interested in:
Average User Rating
2.9 / 5
Rating Breakdown
5 star:

5

4 star:

0

3 star:

3

2 star:

4

1 star:

4
I can't believe these reviews are they talking about another pub. This pub is warm with lovely staff and management Sunday's are so busy (advisable to book) as the roasts ares simply the best in north London . Dog friendly lovely garden and they even have a private bar to hire! Food is really good quality couldn't fault this place!
Went in for some lunch and completely disappointed. Food was v poor quality- highly overpriced and chips were cold. Would never go here again.
Quite disappointed with this pub. We went yesterday for a bank hol pub lunch.. there was no atmosphere at all in the pub, and empty so really no need to book. After ordering our food at the bar, our food arrived at different times. My boyfriend had finished his food by the time mine came out and a friend's order didn't even arrive. Instead of apologising, the manager said it was because the pub was 'busy' and we put our order in at different times.. we didn't. She then half heartedly offered us free desserts but went to bring these out before I had finished my meal and my friend had even received hers. Very poor service - shame as the food was good!
Well, the burger was ok and best of all the beer is good - which is what you'd expect a Youngs' pub to deliver. The pub itself is nice. However, the Gammon steak, eggs and chips which I and my wife had was truly pants. The 'steak' was no more than a large bacon rasher - basically 1/3rd the size of a normal gammon steak you'd buy in a supermarket and much much thinner. When i complained the response i got from the waitress was less than helpful and so was that from the manageress. When i complained further the manageress offered to provide another steak. When that arrived it had been cut into two ie half each. It was quite clear what they had done. The gammon steak that we were originally served had been cut in half - normal practice the manageress told me; several times over. I made it clear that the pathetically small 'portion' sizes were not worthy of the the full price and that I expected a discount - after 5mins of arguing I got a concession. So, you can be assured me and my wife and especially my (who lives nearby) will not be going in that pub again.
Awful, pub - 4pm on a friday and they are blasting out Justin Beiber and euro-dance. Don't get me wrong, I understand euro bar staff aren't exactly going to be playing Vivaldi - but come on kids can't afford £4 pints so at least play something Beige like Mumford & Sons for the oldies. Actually thinking about it kids in Hampstead are probably too busy riding ponies or driving dad's Ferrari, btu the point remains - euro dance and pop music are not suited to pubs serving ale.
We waited 1hour for fish & chips and a burger! Apologies from the staff was not enough to come back to that place. It is a shame as decor is nice but the waitress attitude was not good.
what a fantastic pub!!! beautiful garden peaceful and tranquil met up with some friends for a birthday we were a party of 20 people the staff were amazing they really go that extra mile to make sure your experience is great. We usually go to the garden gate but no more this pub has it all i really recommend it. The garden is amazing and they even have a private bar which you can hire. My greatest love for this pub is its warm and fantastic atmosphere
WOW!!!!!!!!!!!!!!!!!!!!!!!!!!!!!!!! READ!!!!!!!!!!!!!!!!!!!!!! Best thing about my evening at the Roebuck was when we left. What an utter shame to see a great English pub in an old English village be totally ruined by unprofessional staff who clearly don't understand the words, manners, customer, service and possibly a few English lessons wouldn't go a miss. Food is tasteless. Overdone. Over priced and off an extremely low quality. Highly recommend not to eat , drink and even use there toilet .
In Hampstead your spoilt for choice, and with that I must rate this place as a relative dump. First, choose your crowd. As the area is filled with a mix of inhabitants, it's best to find your niche, and if you're looking for the after work hospital staff of frisky, chavish nurses with bad teeth and doctors who love the sound of their own voices this is your spot. The bar staff make zombies look good, and while the overall decour is quite nice it's generally the type of pub that leaves one feeling as flat and down as a 3 day old pint of stella.
Really cool place, horrendously expensive tho......
Service very quick. Too quick, though. Ordered off their hot dog menu with a side of chips. Couldn't go wrong with a hot dog. Came out very quick but was stone cold. They took the dog back but left the chips. Dog came back out and I had finished the chips by then. Hot dog was still only luke warm and IN THE SAME HALF EATEN BUN FROM THE FIRST EFFORT! Really?! Cheap skates and only a apology when we had finished. Lazy and completely not bothered staff. Not going back.
I booked an engagement party at The Roebuck. We had a fantastic time this pub really cares about its customers the atmosphere is fantastic. The Private room we hired was set up beautifully. The food was outstanding and my guest couldnt believe this pub existed in the area as they were living down the road. I would recommend this pub to anyone.
Sunday roasts spectacular the best in the area. This is a solid pub perfect for all occasions what a fantastic garden