The Four Sisters Townhouse
1/4
2/4
3/4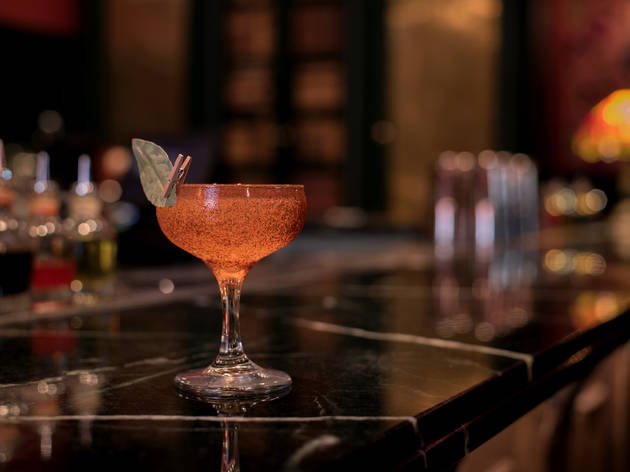 4/4
Time Out says
A quirky cocktail parlour near St Paul's.
Sisters doing it for themselves? Not really: this City cocktail bar was packed with beery blokes in suits when we arrived, crammed round delicate tables with big old pint glasses and plenty of boorish banter. It was a total surprise given the name, drinks and borderline chichi decor, but perhaps not the location – down an alley around the backstreets of St Paul's, among the age-old taverns. Luckily, the bar staff immediately clocked us looking all 'rabbit in the headlights' and ushered us in, clearing a table in minutes. The warm welcome didn't dissipate during our stay. Happily, the boozy bankers did, leaving a crowd of more discerning drinkers in their wake.
The theme and look of The Four Sisters Townhouse feels a little borrowed for anyone who's ever been to Zetter Townhouse Cocktail Lounge, with its quirky Georgian salon vibe. It doesn't quite reach the chic heights of that Clerkenwell staple, but the clash of fusty faux bookshelves with floral wallpaper and plush banquettes has its charms, as do the antique lamps and framed paintings dotted around.
Cocktails aren't as sophisticated, either – there's not a dry martini in sight – but they're all fun originals using premium spirits on a weekly-changing menu. On our visit, a Vive La France! with cognac, orange curaçao, lime and 'pineapple fizz' was an effervescent and impressive choice, bright yellow and just as bold on the tongue. The small selection of classics is diverse and interesting too, shining a light on an Old Cuban and a Hurricane instead of the likes of a mojito or a sazerac.
So while it's not tearing up the lookbook, this bar is definitely adventurous when it comes to cocktails. Time for those City boys to part with their pints.
The Four Sisters Townhouse says
The Four Sisters Townhouse is the Sisters' City of London residence, housing their various collections from around the British Empire. For our guests it's an escape from the world outside, a hidden gem, a home away from home. We serve seasonal cocktails, hearty lunch and evening grazing boards.
Details
Address:
5 Groveland Court
Bow Lane
London
EC4M 9EH

Transport:
Tube: St Paul's
Contact:
Do you own this business?
Average User Rating
4.6 / 5
Rating Breakdown
5 star:

5

4 star:

1

3 star:

1

2 star:

0

1 star:

0
I first fell in love with The Four Sisters Townhouse when my friend introduced me to it a few months ago, I loved the quirky, cosy, Victoriana interior, the music added to the atmosphere and the cocktails were just incredible and very reasonably priced. Hidden away down the tiniest of streets, it really is a gem of a place. So I recently hired it for my 40th birthday party. It was the perfect place for about 40-50 people, everything came together to create the perfect atmosphere, just big enough to mingle, chat, dance and sit down if you feel like it yet not too big that it feels cavernous. The decor like I say is quirky yet rich and sumptuous with bookshelves lining the walls it feels like being in a dark Victorian library but with delicious cocktails flowing and fabulous swing/jazz music playing.
The team there were amazing, they really couldn't have done enough to make my night special for me and my guests, they even created a series of bespoke cocktails just for me and wandered around all evening serving up delicious canapés. Several of my guests commented on how knowledgable the bar staff were about the cocktails and flavour pairings. The cocktails were quirky but delicious, they weren't in any way traditional but they could easily whip up a classic cocktail when asked.
As the night went on they were happy enough for me to switch the music from their sophisticated selection to my compilation of cheesy 80's/90's crowd pleasers, sure they regretted that later on!
All in all I would whole heartedly recommend this bar for a cosy catch up with friends during the week (be great for a date too). Or for private hire at the weekend. I can't wait to go back and sample more from their menu. Thank you again to all of the team there, you really did make my night :)
I've struggled morally with writing this review. It's rare I find somewhere in London I love so much that I don't want to share it with anyone, for fear that it becomes overrun with people and loses the essence of why I loved it in the first place.
This is one of those places. Hidden away off Bow Lane, in a part of London that for years I've struggled to find a bar fit for purpose when all I want to do is sit down and catch up with a friend over a few cocktails. It felt to me like one of those small hotel bars where you sit in comfy seats, staff are attentive, nibbles are brought, the outside melts away and you feel as if everything is civilised and right with the world. But without the price tag. Cocktails are around £9 a pop but are proper and you can actually feel the alcohol hit you with every sip, rather than just getting a sugar rush. There is a menu with their own concoctions - the few I tried were delicious- but the spirit menu is vast and they'll whip you up anything you desire!
There were a few local workers in there but mainly groups of girls huddled over the tables, keeping themselves to themselves. Unlike some other cocktail bars in the area it wasn't full of hipsters or suits. I feel like I've been looking for somewhere like this is the city my whole drinking life. 2017 you're looking good!
Went for drinks and a 'grazing board' in the evening and loved this interesting little bar. The drinks menu changes weekly so you'll never get bored of the same old cocktails and the interior has plenty to keep your eyes busy too with curious objects dotted around everywhere.
The drinks themselves that we tried were excellent.

It's a bit difficult to find but we quite liked that about the place, once you're in. Overall, highly recommended.