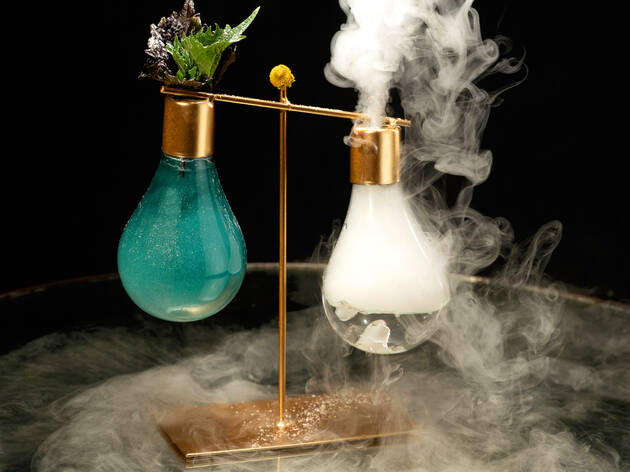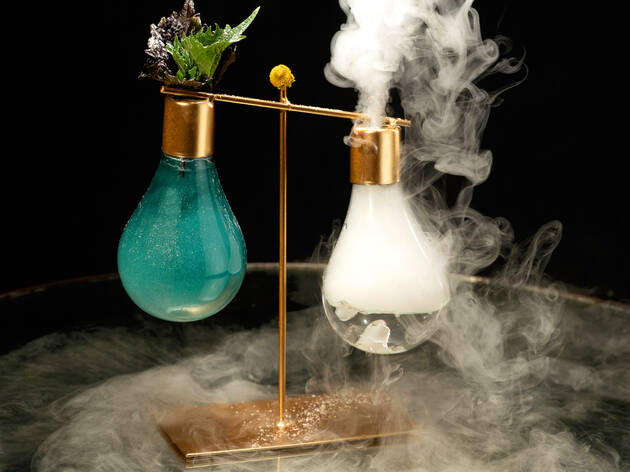 1/11
2/11
3/11
4/11
5/11
6/11
7/11
8/11
9/11
10/11
11/11
Time Out says
A vaguely prohibition-themed cocktail bar near Old St shaking knock-out cocktails.
The name of this Old Street cocktail bar may have delicate drinkers running for the hills, since a Gibson is also the name for a martini with a pickled onion bobbing in its depths. There's nothing inelegant about the setting though, a small space that's been given a 1920s look. Well, the Kirstie Allsopp version, with DIY lighting effects from decanters filled with tea lights and such. It's an attractive room, if not all that authentic.
But what is the real deal is the skill behind the operation, with bartenders having done their time over at prohibition-themed Nightjar down the road. And you can tell, with that vague '20s decor, a similar tome-like menu and flamboyant decorations on drinks. And there's table service from a flapper girl, which feels a touch unnecessary in a bar this size, especially when the barman can hear your pleas for recommendations (it really is a long menu). Thankfully, our flapper is unflappable, breezily rattling through our best options based on spirit and flavour preferences.
I opted for an Electric Earl (£11), which is a knock-out mix of gin, earl grey liqueur, grapefruit juice and a whole host of citrusy ingredients. They blend it with in-house bitters made from the 'buzz button', a flower whose bud has an electrifying effect on the tongue that lives up to the drink's name – my tastebuds were dancing for quite some time after each sip. A less classy version, The Great Japito (gin, tamarillo puree, Campari, tonka beans, pink grape soda, £11), was brought to my friend, filled with popping candy for a similar effect. It felt a little tacky for a joint done up so tastefully, but there's no denying – popping candy aside – the drink had a fantastic flavour, with a touch of the Parma Violets about it.
So, the theme may be borrowed and they may be doing a whole lot more than the name would have you believe, but drinks-wise, there's something for everyone in this little bar. But on a lonely stretch of Old Street that's far from both Shoreditch and Clerkenwell, The Gibson struggles to get people through the door (as has been the case for previous owners here). As such, you're unlikely to get that roaring '20s atmosphere. It's a shame, cause these drinks definitely had us in a flap.
The Gibson says
The Gibson is set to thrill discerning drinkers with its original creations, intimate shadowy ambience, glinting mirrors and patina of silver. The 35-cover, late-night bar is housed in an Edwardian tiled façade in Clerkenwell. The interior fuses old world art deco charm with a flourish of Adam Ant drama, created by concept designer Helen Calle-Lin.

Leading the menu is 'The Gibson' which is elegantly served in a signature, ice-cold, stainless steel martini glass. The Gibson is known as the classic martini of intrigue and was invented in the early 1900s. This gin and vermouth speciality now rides the decades like a time traveller, as Marian Beke and Rusty Cerven bring it bang up-to-date with twists of tingling pickled sweet-sour nuances.
Details
Rating Breakdown
5 star:

6

4 star:

2

3 star:

1

2 star:

1

1 star:

1
Will recommend people to check it out with friends.
Amazing looking cocktails not really all tasty.
Fabulous venue. Creativity and fantasy in every zip. Innovated and welcoming. There's nothing to be ignored about this wonderful and timeless jewel.
This bar is the ultimate in innative
The Gibson has a great ambience and unique drinks. However, both my girlfriend and I woke up incredibly sick the following morning from drinking the "Wizard of Oz" & Midnight Oasis drinks. She proceeded to vomit and I'm currently having my stomach churning for the entire day thus far with pain. I don't know what they did with their drinks, but proceed with caution on their cocktails. For the record, we each had only 2 cocktails that evening.
The Gibson is one of East London's most talked about additions. Created by two famous names in the bartender industry, the results do not disappoint. The bar itself is an intimate representation of a era gone by with Art Deco style and a quirky collection of vintage ornaments. Each cocktail is impressively creative in appearance, giving a real life character to its name. The Hummingbird, covered in glitter and topped with a peacock feather, is the most flamboyant. It really wouldn't have surprised me if it had burst into birdsong.
On my last trip to London I was determined to have a Gibson (as a Gin-lover, having read about it I thought I had to have one) - and after leaving the 2nd restaurant where they did not even know the drink, I googled for it and to my surprise found out that there even was a specially-themed restaurant for the drink - so I went off to the tube, got there and spent the last hours of the day @ The Gibson with a Gibson and the Electric Cocktail which I both enjoyed very much. Will definitely come back next time and can not recommend enough to got there before wasting your "gin-capacity" (well, there's only so much you can take in on one evening ;.-)) with something else!
I must admit that I do not know many London bars - but after knowing the Gibson it's going to be hard to win me for anything else!
The Gibson is one of the best bars I have been to in London, the smaller space only adds to the atmosphere and personal touch. The bartenders are world-class and the drinks are all so well crafted and unique.
One thing is for certain; if you love artisanship and well crafted drink then this is the place to visit.