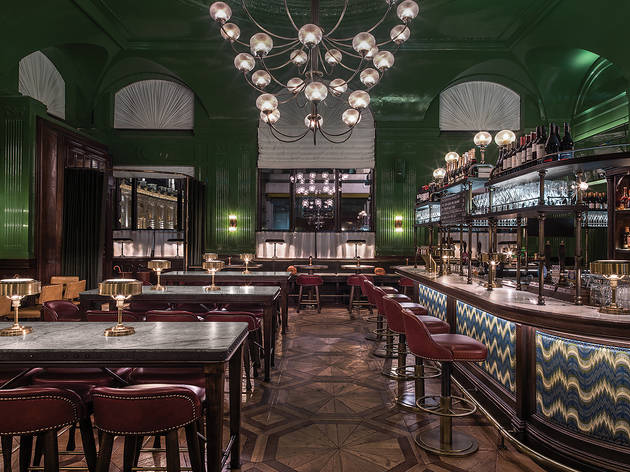 1/12
michael weber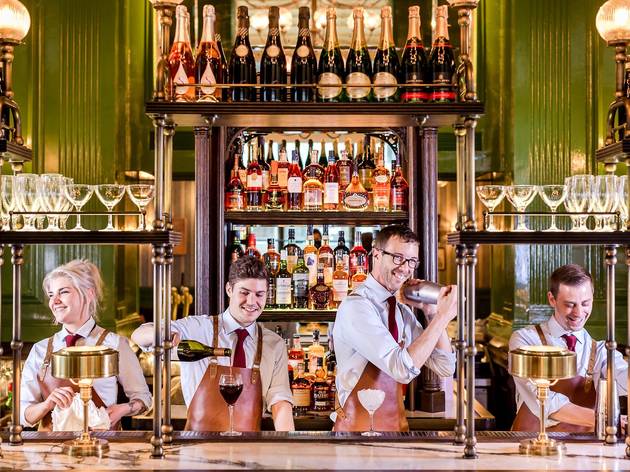 2/12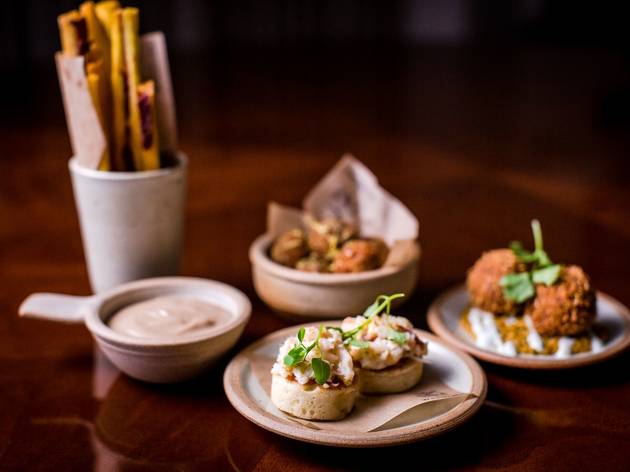 3/12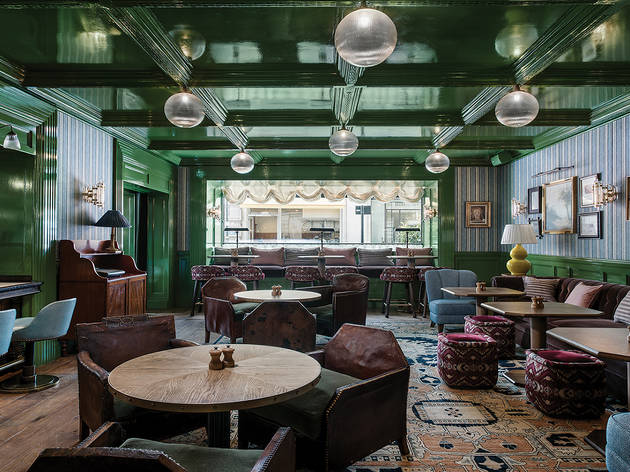 4/12
michael weber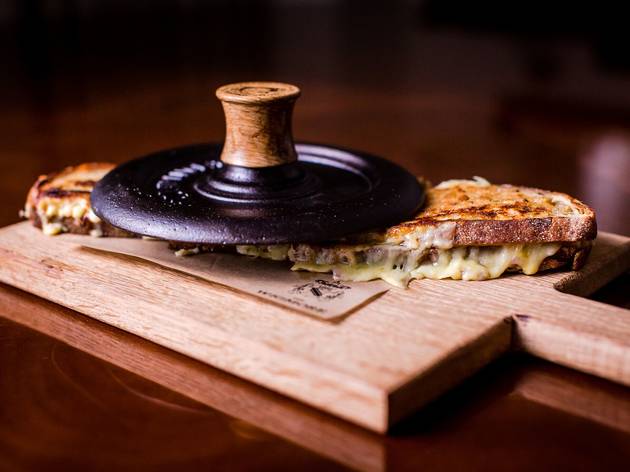 5/12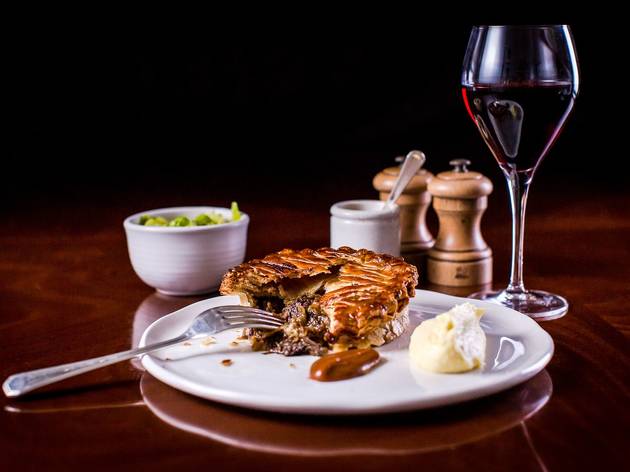 6/12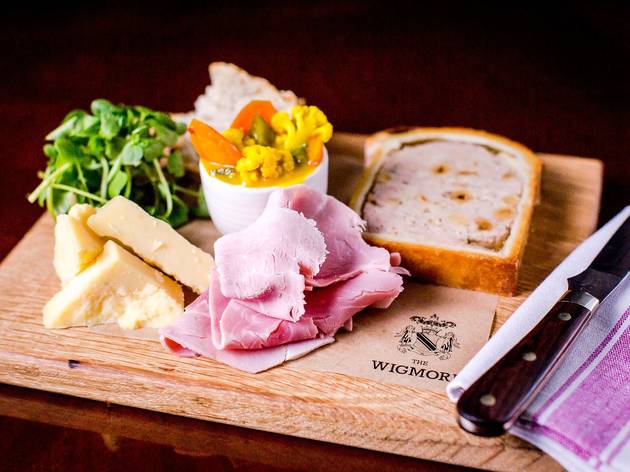 7/12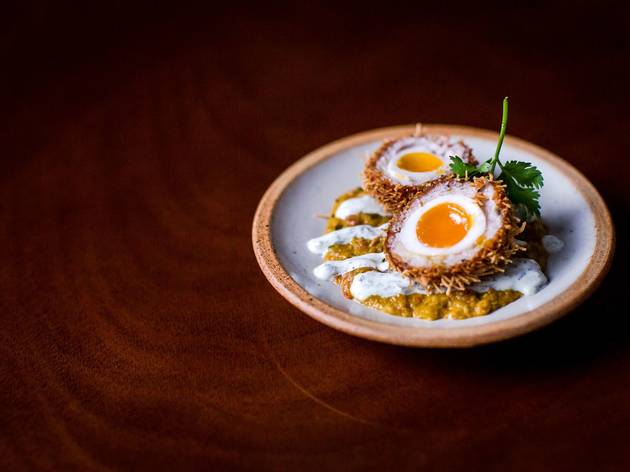 8/12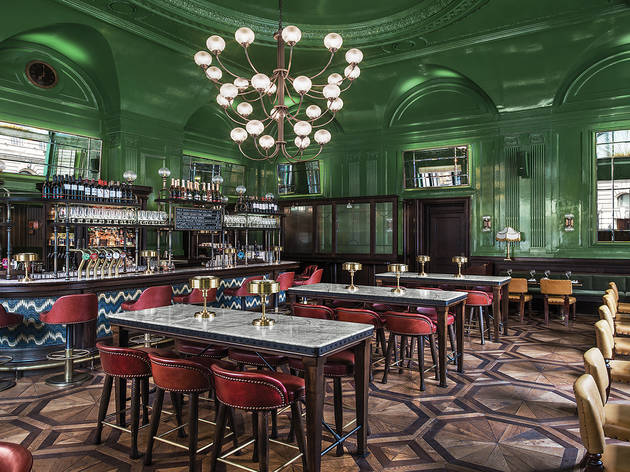 9/12
michael weber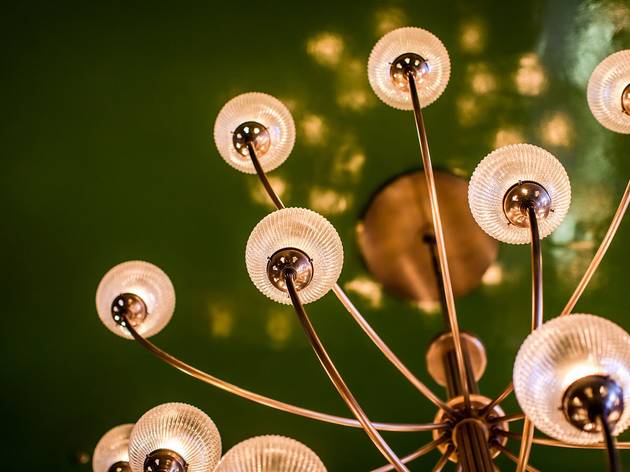 10/12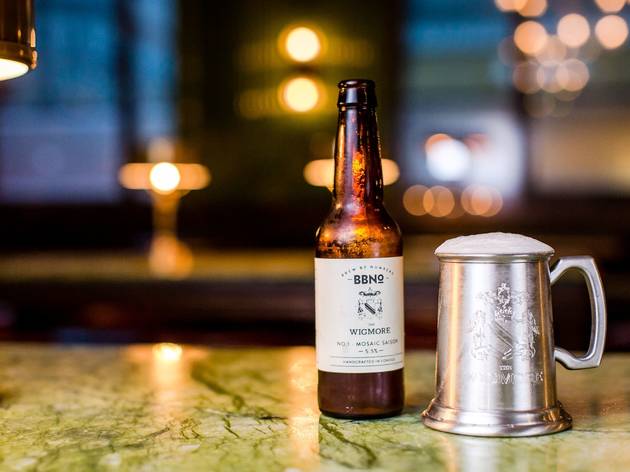 11/12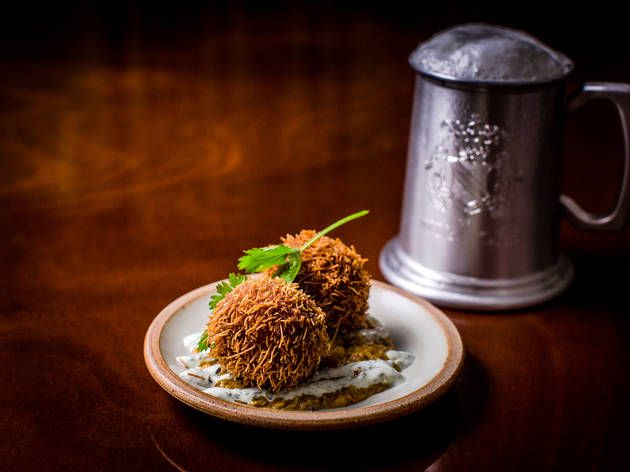 12/12
Venue says
A modern British tavern now open on London's Regent Street. Expect great wines on tap, cocktails, cask ales and craft beers.
Time Out says
A luxe pub at The Langham with a Michel Roux Jr menu.
Forget Filet Mignon. Michel Roux Jr has turned his hand to pub grub at The Wigmore, a self-styled 'modern British tavern' at The Langham Hotel said to mirror public houses of the past. It may sound contrived, but high-end design suits this former banking hall kitted out with globular lights, gloss paint and fabric-clad walls. Toto, we're not in 'Spoons any more.
Despite Roux Jr's billing, the place was packed to its poshed-up rafters with a crowd on the lash. Prices are refreshingly on a par with other pubs in the area, so punters were drinking £5 pints of cask and keg beer; look out for The Wigmore's collab with Bermondsey's Brew by Numbers. There's wine on tap – including a minerally Bacchus from Sussex – and an enticing menu of London-born cocktail classics. Unfortunately my raspberry champagne cocktail was as flat as a pancake.
The same disappointment applied to bar snacks which just didn't live up to the 'MasterChef' hype. The most exciting thing about the XXL cheese toastie was its size: over a foot long and ideal for sharing (instead of KP nuts). The masala scotch egg, with a deeply spiced dahl, was much more impressive. As it was plonked down on the table without cutlery or napkins, I finally felt like I was down the pub. Otherwise, make no mistake, this is a fancy bar. But one that seems a good fit for the area's execs come 5pm.
The Wigmore says
A Modern British Tavern now open on London's Regent Street. With drinks from the team behind Artesian and food overseen by Michel Roux Jr, expect great wines on tap, cocktails, cask ales and craft beers.

Taking inspiration from the great British public houses of the past, The Wigmore is opening as a social drinking, eating and meeting place with a luxury accent and a continental feel reflecting the distinct history of the British tavern, where everyone is welcome.

When it comes to food, The Wigmore will offer a menu of hearty British fare with dishes that include a raised veal and ham pie, devilled lamb's kidneys and paprika-glazed short rib with bone marrow crumb.
Details
Address:
15 Langham Place
London
W1B 3DE

Transport:
Tube: Oxford Circus
Menu:
View Menu
Contact:
Do you own this business?
Rating Breakdown
5 star:

3

4 star:

0

3 star:

0

2 star:

0

1 star:

0
A few weeks back, I got the opportunity to try out the Wigmore, an opulent British Tavern, sitting off Regent's Street. Honestly, the interior is absolutely beautiful with alluring painting leather upholstery and emerald green interior, this is one elegant tavern, that screams of British authenticity.
I am still doing dry January, so I opted for a Blackberry and Raspberry tavern lemonade. The lemonade was so sweet and bursting with flavour as the blackberry really shines through and gives off a dark candied taste.
My guest opted for the ginger tavern lemonade but described this lemonade as having a more bitter taste afterwards. He later switched to the blackberry and rosemary after.
For starters, we shared the masala-spiced Scotch egg with dahl relish. The presentation of the Scotch egg alone makes you not want to disturb its craftsmanship, as the Scotch egg is so artistic. However, once bitten inside the centre is soft and dewy with the egg being well seasoned and is slightly poached. Due to its Indian origin, the dahl relish sat well with the masala spices and made the scotch egg slightly spicy but still enjoyable to eat. This is a must-have from the menu!
Salmon is one of my favourite fishes, so I was bound to choose the smoked salmon with crème Fraiche and rye bread. I forgot to ask them to take off the crème Fraiche before serving, as I cannot eat crème, so overall it was not my favourite. I did enjoy the bread, although it was rye, it was still moist and savoury. The salmon needed a bit more flavour.
Lastly, we ordered thick fat chips, with bloody Mary salt, which sounds like a strange combination but you can actually taste the bloody Mary.
For my main, I had the duck leg with braised lentils. The duck leg shell was crispy on the outside but soft and broke easily once cut into. I loved how moist and full of flavour the inside of the duck leg is and tastes better once dipped in the braised lentil sauce. The braised lentil sauce also had pieces of finely chopped pork inside which soon became overwhelming. This dish brought back childhood memories of primary school dinners. However, this main is very filling, and I would recommend no starters when having this main.
My guest chose the ham and parsley pie with champ mash but decided to remove the mustard from his main. I managed to get a taste and this is a must-have dish! The pie is crusty on the outside but the inside of the pie is succulent, mixed with pieces of ham and parsley sauce. The mash compliments the pie as the taste is creamy and sweet.
Overall, the food at the Wigmore speaks for itself, as the dishes are British inspired and very rich in flavour. Definitely, a restaurant to try out if you want to taste authentic British food!
Price: ££
What to wear: Smart
(I wore a faux fur jacket, t-shirt, leather pants and heels)
Ambience: I went during the afternoon, so there were meeting and businessmen around.
5 stars.
The TO reviewer must have hit it on a bad day I found the food and wines realy excellent and the service very good more like a standard in a fine restaurant than a pub. I went for the veal pie or the devilled kidneys but neither were in the menu that day so check before you go whats on the menu that day.
On my second vist I chose the plaice with seaweed sauce and warm potato salad which was really excellent for £16.