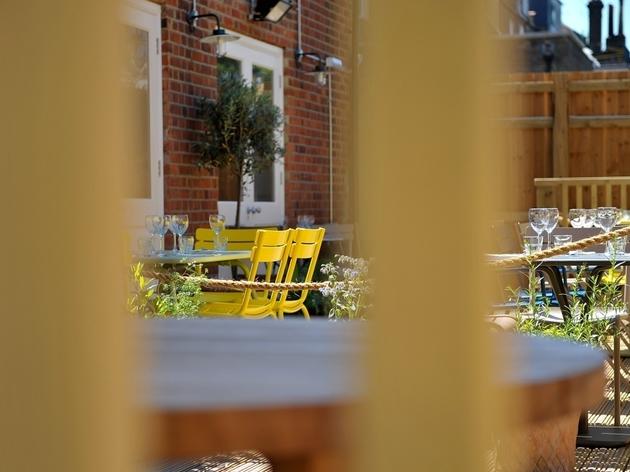 A popular local in an area that is under-supplied with good pubs and restaurants.
The area between Tufnell Park tube and Holloway Road is a long-standing restaurant desert. The refurbed Tufnell Park Tavern, opened in 2010 with a huge and attractive multi-roomed pub/deli/restaurant, has filled the gap and become a popular haunt for locals. The food is British and modern European, ranging from breakfast through a large selection of pizzas offered seven days a week through a full carte to standard Sunday roasts. The wine list is compact and notably good, with prices starting under £20. Try to go in fine weather and sit in the unusually spacious back garden, which is paved but decked out with lovely pots of culinary herbs.
Venue name:
Tufnell Park Tavern
Contact:
Address:
162 Tufnell Park Road
London
N7 0EE

Opening hours:
Open 8am-11pm Mon-Sat; 8am-10.30pm Sun. Meals served noon-3pm, 6-10pm Mon-Sat; noon-3pm, 6-9.30pm Sun
Transport:
Tube: Tufnell Park tube
Price:
Meal for two with wine and service: around £80.
Menu:
View Menu
Do you own this business?
You may be interested in:
Average User Rating
3.2 / 5
Rating Breakdown
5 star:

3

4 star:

4

3 star:

3

2 star:

1

1 star:

3
Great place to eat with a good atmosphere and friendly staff.
Reasonably tasty ( if borderline value for money) food, friendly staff if s bit chaotic, polish bar manager can be a bit unintentionally rude/thoughtless
My local pub, what can I say?
Warm, inviting, good food, good wine & nice people.
So grateful to have this place as my local -- part wine bar, part restaurant, part coffee shop, Tufnell Park Tavern never disappoints. My partner and I are there regularly twice a week, one afternoon with our laptops for coffee or hot chocolate on the day we both work from home, and one night for pints or wine and dinner with friends. Everyone in the area should pay it a visit. No one else should come. We don't want it getting too crowded, do we?
we arrived 21:35 on a saturday evening (5 Oct 14) , I hadn't eaten al day so was looking forward to my meal. We were told the kitchen closed at 22.00 but they would serve us anyway, we placed our order but were told we couldn't sit in the restaurant (where the tables were clean and with candle's and a few other people were sitting) and that the chef already had her jacket on. Instead we were asked to sit on a very dirty table in the pub (without candle). when we asked if it could be cleaned the barmaid didn't seem too happy about it and roughly asked us to lift our glasses. When the food came it was over-salted so extremely that it was hurting the top of my mouth to eat it (which I was trying out of hunger). This seemed almost as though it had been deliberate as it was the same on both plates, and the food underneath the salt tasted ok, Deliberate or otherwise - horrible service and horrible experience/food.
Massively OVERPRICED for what you get. It's on a goldmine here but lazy cooking and ridiculously overpriced menu means that an average family meal with 2 under 5s can reach £100, without alcohol.
The TPT looks very nice but it vastly overpriced for what it is. Tufnell Park is full of young families who can't stray very far. The TPT picks a lot of these people up and charges them through the nose. £4 for a run of the mill lager and £6.50 for soup and a roll (they charge a pound for the roll - nice). Or how does a Roast Beef on a sunday for £15.50 grab you - these are West End top end prices and the food and service is variable at best. Its cynical. Which is a shame as it is in a nice spot and as I say it looks and feels like a good gastropub.
Great food, ambience and value for money, especially the £11 weekday deal. The 'daycare' atmosphere mentioned below is only applicable on weekends - come on a week night and it is a friendly and relaxing place in which to while away the post-work hours. Agree they could do with having a few more ales on tap, but the food more than makes up for that. Recommend their patatas bravas with aioli (bar snack) and have had good fish and stews (not always elegant looking but taste great!).
No complaints about 2 courses for £11! Great food...Seabass on the new menu a real winner and choc dessert a perfect finisher...light and just lovely! Real summer flavours...just a shame about the weather! Keep it up, TPT! You've new fans and we'll be bringing friends next time...!
A pub that serves pizza "all day" but that runs out of dough at 5pm on a Sunday!?!?! A pub that runs out of Diet Coke ever.... Come on... surely that's bad management?? Today's experience only supports my opinion of the TPT based on previous generally negative experiences at the TPT. Huge , lovely refurbished buidling but with expensivefairly sub-standard food, expensive drinks, a general feel that it doubles as a daycare centre, total lack of intimacy when sat at a table and previous statements about the lack of attentiveness of staff certainly mirror my experiences. The "Deli" is a great idea, very poorly executed. I've been in 3 times now... coffee is particularly poor... (surely if you're going to serve coffee in this kind of environment you must realise the difference between good coffee and bad coffee and train your staff to make the former?), On all of my experiences of visiting the "Deli", staff have appeared to be either chatting amongst themselves and seemingly ignoring customers who are waiting to be served or ignoring the mountains of tables that are begging to be cleared. The TPT has the potential to be awesome. Its management (or lack of) appears to be missing the opportunity such a fantastic location offers. Try the junction Tavern 200 yards up the road. MUCH better environment, food and drink and really fantastic staff.