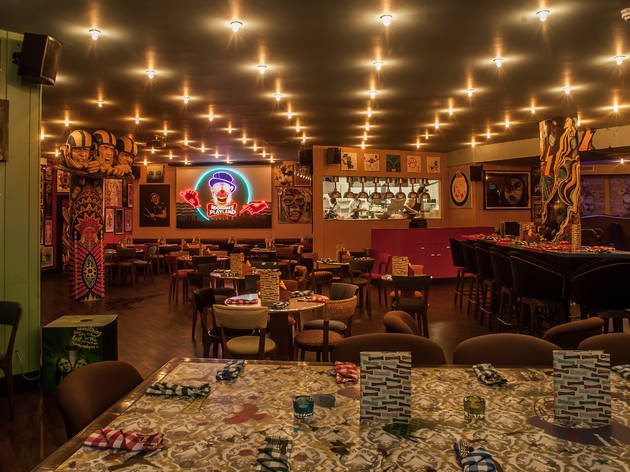 A Shoreditch bar, restaurant, party spot and gallery. Expect food and drinks influenced by New York, an aesthetic with a nod or two to urban art, and DJs dropping everything from deep house and 90s garage to soul, funk and 80s classics - all on a Funktion One.
Venue name:
Far Rockaway
Contact:
Address:
97-113 Curtain Road
London
EC2A 3BS

Price:
£25 and under
Do you own this business?
You may be interested in:
Average User Rating
2.6 / 5
Rating Breakdown
5 star:

1

4 star:

0

3 star:

3

2 star:

1

1 star:

2
I guess this bar might have had a rough start in 2013 but they've def upped their game since then. It's a huge space right on Curtain Rd with personality and atmosphere. The pizzas are massive and delicious with loads of unique options for toppings. Overall a great bar/ restaurant option for dinner & drinks with a group of friends.
I went here twice on Saturday (pre and post dinner) because we could see there were empty tables. I now know why. Despite only being open 5 minutes, word has spread about the shambles that is Far Rock Away. So visit No.1 on Saturday was for drink. We found a nice sofa right next the massive comic book collection they have available for guests – a nice touch. Went to the bar to order drinks, only to be greeted by a barman swearing and cursing a colleague for, I understand, having phoned him earlier to wake him up to start his shift – it was 7pm!! I ordered 1 beer, 1 cocktail and 1 glass of wine. How long is a reasonable amount of time to wait for 3 drinks considering I was the only one at the bar? I waited 5 (during which time he kept disappearing behind a closed door, mid cocktail making, to I assume continue chastising his colleague for waking him up) before I asked him if I should try getting served at another bar and save him the trouble. So, after about 10 minutes I was served the drinks. Normal beer, a strawberry cocktail and a glass of wine - £4.50 for the beer (standard), £9 for the cocktail (ok, again nothing unusual there) £9.80 for a glass of white wine!!! WOW! Went for dinner a couple doors down, and came back at around 2330. Everywhere else had queues an hour long, so we chanced Far Rock again. Mistake. Should have got a can and sat on the cold wet pavement. Something happened in the time we went for dinner. It was as if the bar had been lifted and placed into Chelmsford! Essex boys everywhere! And no, no Essex girls. Wall to wall sausage! We had a drink and called it a night. Won't be back and suggest you don't even try it!
Huge disappointment. We went for dinner after reserving a table for 4 in advance, we got sitted down and then had to wait over 15 minutes for someone to come take our order. After we catched the attention of a few waitress and have been completely ignored, even with a snobby attitude, one of us stood up and went to a bunch of waiting staff who were doing nothing and asked to come take our order. After other 15mins we received our drink, with mistakes. We had to return a beer as we asked for lager and recieved pale ale. Once th food arrived we just wanted to laugh at the portion: two of us ordered the mac n cheese, which is on the menu for 10£ and in the category "main events". the portion of mac n cheese was not more than a small side. Is the same size that you get in Byron for like 4pounds and at The Diner for like 3£, and they are both better quality. The caesar salad was embarassing as well, two pieces of chicken thrown there with no sense of presentation, and a portion that was smaller than a regular salad in any fast food, but here it's 12£. Ridicolous. The whole experience was just awful. I will not recommend this to anyone. Plenty of places in the area make better food and provide a bette service.
Food quite average and over priced considering the quality. Pizzas are huge and decent, burgers really not worth the money. The bar looks great though and i imagine it would have a really good atmosphere on a Friday or Saturday night.