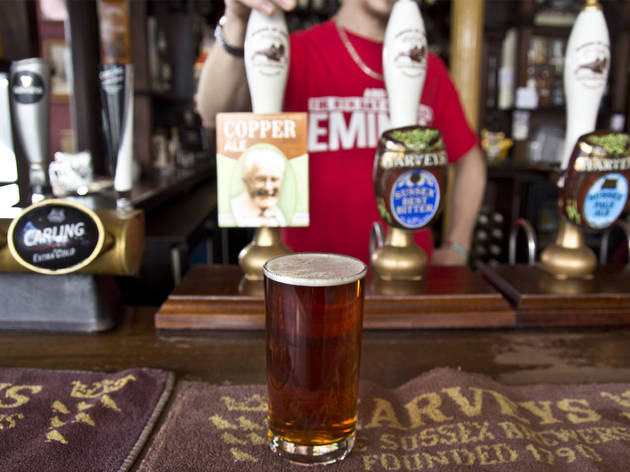 1/6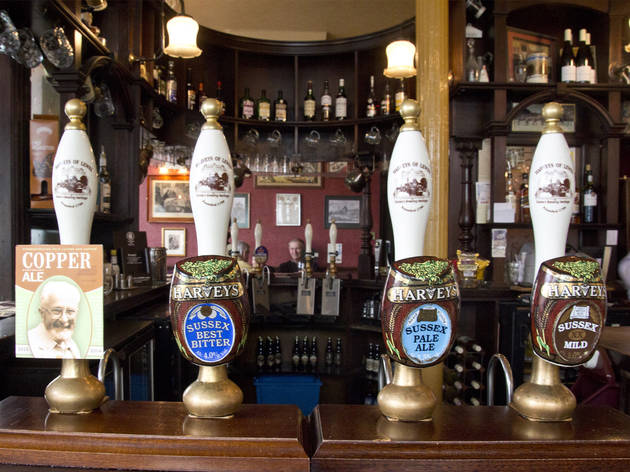 2/6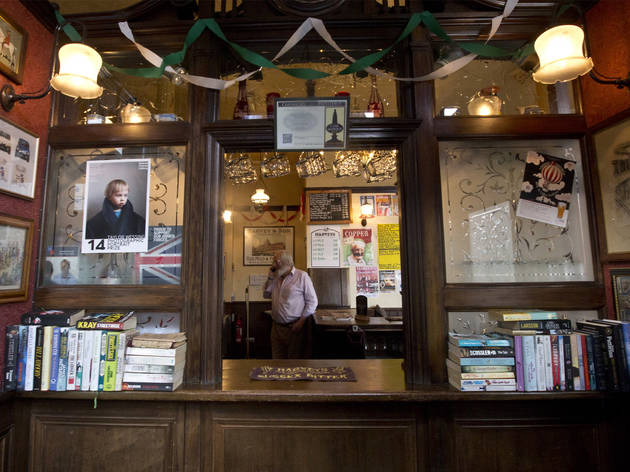 3/6
4/6
5/6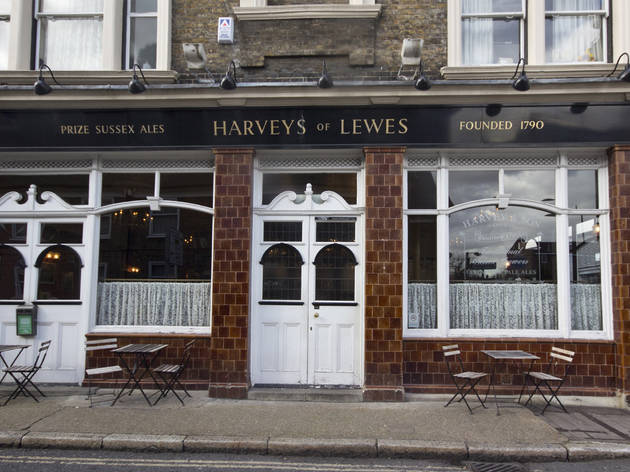 6/6
Perfectly treading the line between old man boozer and cutesy retro watering hole, this Victorian corner pub's a lovely blend of the scruffy and the pretty. Charming net curtains are strung halfway down the ceiling-high windows, a dozen pieces of vintage china are mounted above the bar, and to move through the pub, you have to step through immaculately maintained dark wooden doors holding pretty etched glass windows. There's a huge jar of pickled eggs atop the scuffed wooden bar, a Royal British Legion book sale in the lobby and the food menu is marker-penned on to a yellow piece of paper on the wall.
Given a drinks selection largely consisting of ales from Harvey's brewery in Sussex (which runs the pub), drinkers are largely men in their thirties and older. But the most important thing about this charming, characterful boozer: it's curiously unbothered by the crowds you'll find in other Borough pubs. So it's perfect for a quiet few pints.
Venue name:
Royal Oak
Contact:
Address:
44 Tabard Street
London
SE1 4JU

Opening hours:
Open 11am-11.30pm Mon-Sat; noon-6pm Sun. Food served noon-3pm, 5-9.45pm Mon- Sat; noon-4.45pm Sun
Transport:
Tube: Borough tube
Do you own this business?
Average User Rating
3.8 / 5
Rating Breakdown
5 star:

7

4 star:

2

3 star:

3

2 star:

2

1 star:

1
Super friendly staff, provided drinking water for another punter's dog and I love an animal friendly pub. Worth a visit!
I have known this pub for years, and the beer is always excellent, and the place charming and low key. However, last night things to a turn which seemed strange to me and my comrades - last orders was called at 10.15pm. We asked what time the pub was closing. About 11, we were told. Then how come last orders is so early? Really, no satisfactory answer. But by 11.05 the surly bar staff were asking us to leave, and wiping the table around our glasses as we finished up our cherished drinks. I had travelled from NW London for a late meet-up with friends, so it was disappointing to be made to feel that we'd missed the party. Harvey's website says it is open until 11pm, but perhaps it should add the proviso that you can't actually get a pint for the last half hour or more of opening time. Strange.
Excellent beer, food, and ambience, together with a sociable clientele and attentive bar staff, a fine recipe for a relaxing and enjoyable evening. A splendid haunt.
Proper old fashioned pub type pub!No nasty music or zak,no nasty electronic gambling machines,just good old sociability coupled with a pleasant host who serves really good quality real ale! A place where regulars include the eccentric but also offers a warm welcome to complete strangers.Young trendies might feel out of place here but it is a paradise for oldies like me (59).
Spent a very pleasant evening here last night with two old friends; my previous visit was many years ago. The beer was indeed excellent - I used to work near Lewes, so was very glad to be drinking Harvey's again too - and the food was also very decent. My steak and kidney pudding was excellent. One friend had the hake and also loved it, although friend No. 3 was slightly sniffy about his burger. You can't win 'em all, I suppose. But what a joy to be able to spend a lovely evening with good mates in an old London boozer, full of character and - utter bliss! - in the absence of canned "musak" and fruit machines. The bar staff drew the well-kept beer very well and the service overall was excellent. Highly recommended.
Two of us had roast beef & salt beef sandwiches, cooked & cured on the premises. Good size & at £5.25 apiece good value compared to flash tourist pubs. The chips we ordered were surplus to requirements! Excellent Harveys & good conversation with Frank the landlord.
An excellent little pub, which is like stepping into a 40s timewarp. A London outpost of traditional Sussex brewers Harvey's whose beers might not pack the hop punch of rivals like Dark Star, but are very charming and satisfying in their own way: their Mild and Old Ale are particularly top-notch. Don't expect much else other than the odd guest ale, and a few taps of cooking lager no-one in their right mind would choose over the house beers. No airs or graces, or restaurant pretensions here, which may explain why a few of the reviewers below didn't have such a great time (if you want a restaurant, go to one.) I've only eaten here once, and found the game pie to be spectacular, though the side veg of canteen standard.
Wow this is a truly terrible pub! I was very disappointed. I had read that the Sunday roast here were worth a try so I called and booked a table for 2, I rocked up at 10 to 2 and waited at the bar to be served, attempted to make eye contact with anyone one of the people who appeared to be bar staff very few of whom were actually serving, they were mostly just hurrying around without actually apparently achieving anything. If there is one thing the staff are capable of it is an ability to totally ignore the customers and then be surprised when you have to say excuse me very loudly when they have been polishing a glass for 5 minutes less than 2 feet from a bunch of thirsty customers. Anyway I booked, I waited, I waved for attention, had a word with the girl who finally responded asking for a pint and which table was the one I reserved, she said she would look into it, she then went and stood at the other end of the bar and did nothing, she did not even bother to pour my pint, I went over and asked what was happening she walked away without saying anything, I then asked another bartender who appeared and he just said the table was taken. I have never been so rudely treated in my life and I hope you don't have the misfortune to go to this pub!
I like this pub, it's not fancy, it's a proper boozer, which sometimes is just what you want in London. The food is good, nice large portions, and never had a problem with the beer either. It's a great place to go with a few mates for a quiet catch up or something like that. This is not the pub to go to for a wild night out or a date.
I'm almost glad that people like Ciaran don't like it. Helps keep this great pub the way it is. Great pubs are ones with character and local history, and the clientele is definitely part of it. If you don't get it, you don't. Unremarkable? How so? If you want "kicks" this is not the sort of place for you. The fact that this pub is run by people who know better to keep it the way it is proves they're worth their salt and the five star rating. Well kept ales and honest food. A gem in this urban wasteland filled with gimmicks and marketing junk.
A potentially good pub with a pleasant atmosphere and a decent range of ales. However, service is somewhat lackadaisical and it took several minutes after arriving to even be noticed by the bar staff. When, after 3 rounds, we got a 'cloudy' half-pint of Harvey's Best, response involved a lot of wandering about, consultijg the manager who seems to spend most of his time in front of the bar and eventually changing the barrel afer which another cloudy half-pint was delivered. This process took a good 15 minutes. After 10 minutes of settling down, the drink looked no better and this was drawn to the attention of the staff member collecting glasses. Response was to simply collect the deficient drink and do nothing else. It was only on leaving that my companion requested a refund which was given without argument. Potentially a nice pub but I shan't be going there again.
What? It's just a normal boozer... the food was barely ok, not 'excellent' at all. Nothing wrong with the place, its just very unremarkable. I took the tube to get there beacuse I thought it would be worth the effort. Very dodgy review by TimeOut
Snap up exclusive discounts in London
Time Out's handpicked deals — hurry, they won't be around for long...