It's been featured in countless books, films and TV shows, but while Big Ben might be one of the world's most famous landmarks, how much do you really know about the old bonger? With this month marking 158 years since the iconic chimes of the great clock boomed out into the London air for the first time, here are 16 remarkable facts about everyone's favourite clock.
1. Ben was originally supposed to be called Royal Victoria, after Queen Victoria.
2. The tower ain't called Big Ben. The proper way to refer to it is as the Elizabeth Tower. Formerly known as the Great Clock Tower, the British landmark was renamed in honour of Queen Elizabeth II's Diamond Jubilee.
3. The Elizabeth Tower sways. Yes, like its unofficial cousin in Pisa, it leans – by about 0.22 metres towards the northwest – which results in an inclination of about 1/250. If you look at it continuously for about 20 minutes, you'll probably notice it.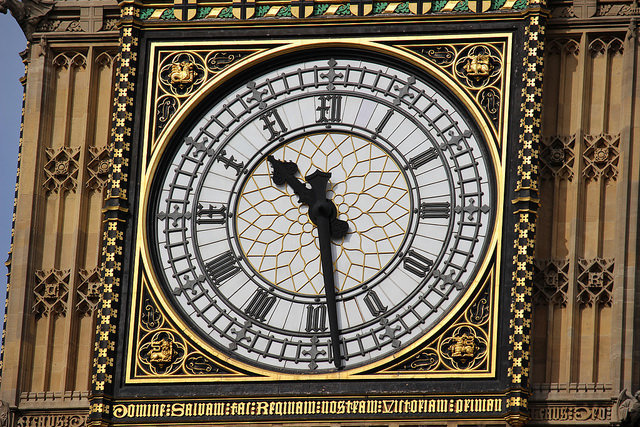 4. Ever spotted those pretty Latin words under the clock faces but had no clue what they mean? From left to right they read: 'Domine salvam fac reginam nostram Victoriam Primam', which means 'O Lord, keep safe our Queen Victoria the First.'
5. Ben has his own unofficial Twitter account. He only tweets about his bongs, though, so don't get too excited. And with 483K followers, who are we to judge his lack of retweetability? Follow him @big_ben_clock.
6. There's a prison inside the Elizabeth Tower. Walk 114 steps up inside the tower and you'll find the Prison Room. When MPs were naughty, they'd be thrown inside to reflect upon their debauchery. It was last used in 1880 when atheist MP Charles Bradlaugh refused to swear allegiance to the Crown on the Bible. And if you were wondering, he was released after being cooped up for a single night.
7. So far, Big Ben
has rung through the reigns of six monarchs.
8. Big Ben is rather heavy. If you put him on a scale, he would weigh a hefty 13.7 tonnes – roughly the same as a small elephant. He stands 7.2 feet (2.2 metres) tall and has a diameter of 8.9 feet (2.7 metres). Oh, and the hammer that smashes him on the hour weighs a woof-worthy 200kg.

9. From

bottom to top, it took 16 years to build the Elizabeth Tower.
10. If you've ever walked past the clock tower at night and spotted a light above one of the clock faces and wondered 'What on earth is that?', here's the answer. The little beam comes from the Ayrton Light which is illuminated when Parliament is in session after hours. Bet you really didn't know that.
11. There's a hidden musical number behind Ben's world-famous chimes. The small 'quarter bells' that you hear just before the clock reaches the hour are tuned to the pitch of G sharp, F sharp, E sharp and B sharp.
The sequence is popularly known as the Cambridge chimes and supposedly borrowed lyrics from Handel's 'Messiah':
'All through this hour,
Lord be my guide,
And by Thy power,
No foot shall slide'
Sing it aloud with Ben's chimes and all will make sense.
12. The first Big Ben was cast by Warners of Norton, near Stockton-on-Tees. Unfortunately, it cracked during testing, so a second one was made right here in London at the Whitechapel Bell Foundry. Don't feel too bad for the first Ben, though: parts of the original were melted into the one that bongs away now.
13. Ben was the largest bell in the country until the 17-ton Great Paul was hung in St Paul's Cathedral in 1881.
14. The master clock keeper (yes, that's an actual job) and his posse check the Great Clock's accuracy three times a week. They do this by adding or removing pre-decimal pennies to the clock's pendulum – adding one speeds it up, removing one slows it down. And here's the extra goss. In between all the pennies you'll find two silver coins sitting on the pendulum. One is a 1977 Silver Jubilee coin commemorating Her Maj's 25 years on the throne and the other commemorates Big Ben's 150th anniversary, celebrated in 2009.
15. Speaking of Big Ben's timekeeping… Back in 1949, the poor clock slowed down by four-and-a-half minutes when a flock of starlings decided to take up residence on one of the minute hands.
16. There are precisely 312 pieces of shiny glass in each of the four clock dials. And in case you're wondering, each clock face is washed by a team of abseilers every five years. They do it dirt cheaply, apparently.
Featured image: Manish Prabhune
Need a quick kip? Check out the best hotels near Big Ben.