Commuting polar bears, hoverboarding thieves and marauding mayors: 2015 was another bonkers year in London. Kate Lloyd looks at the last 12 months in pictures
January
This year London celebrated eye-popping artworks, fun in the sun (and the rain), and the arrival of thousands of new Londoners all eager to see the best of the city. But there was sadness as well as joy. On January 7, 12 people were murdered in a capital much like ours when terrorists attacked the offices of Charlie Hebdo in Paris. The same day, hundreds of Londoners headed to Trafalgar Square to pay tribute to those who died.

In much lighter news, a lucky few of us got a glimpse of the eight-foot animatronic polar bear that strolled through London during the final few days of January. It even rode the tube. (Cue loads of jokes about the Arctic Circle line.)
February
This was a month of literal highs and lows, with cool stuff happening in London both above and below ground. Underground, Crossrail workers discovered 5,000 human remains in an ancient burial ground under Liverpool Street. Tombstones dating back to 1665 were uncovered and skeletons belonging to both a Lord Mayor (Sir Ambrose Nicholas) and a notorious criminal (John Lambe) were found.
Way up in the air, artist Warren Elsmore exhibited miniature versions of London's most famous landmarks at the top of the 80-metre ArcelorMittal Orbit. 'Bricks in the Sky' featured models of Big Ben and Battersea Power Station as well as buses and black cabs. Plus, in a meta twist, there was even a two-metre version of the red spiral tower itself. Things are looking up!
March
This was when 2015 started to get weird. The fourth plinth in Trafalgar Square became home to a sculpture of a horse skeleton. Created by German artist Hans Haacke, the work is meant to be a 'comment on history, power and money', but it's mainly just creepy.

Plus, we all started building up to the fullest solar eclipse in the UK since 1999 on the morning of March 19. We were promised a city plunged into darkness, a sun so bright that it would burn our eyes if we looked directly at it and dramatic astrological consequences. Unfortunately, in classic London style, all we actually got was a gloomy grey sky. How disappointing.
April
Thousands of London's weed smokers marked 4/20 Day by rolling up to a pro-cannabis rally in Hyde Park. Because this is London, not California, it literally rained on their parade. The rest of April remained a bit mind-bending. For a start, in what's now known as 'London's Greatest High-Carb Mystery', someone in Peckham found a model of the Taj Mahal made out of toast on a street corner. Then Shoreditch got a pop-up 'owl bar' serving juice and giving visitors the chance to hold one of the swivel-headed birds of prey.
On a darker note, around 2,000 people were evacuated from Holborn on April 5 when a 24-hour fire in a service tunnel under Kingsway filled the area with smoke. Was it anything to do with the secret spy passages that are rumoured to exist under there? We can only speculate…
May
Eduardo Landa
In May, you'd have found us posing below the giant pointing finger outside the National Gallery, because nothing says 'Instagram gold' quite like a divine digit. In transport news, London's cabbies were driven to distraction by what they perceived as Uber's unfair business model – and they showed displeasure by creating a big cab jam in Westminster. We were also getting used to our new government (although some of us got bored very quickly), and taking pictures of the swimming pond in King's Cross. Europe's first man-made natural pond opened on May 22. This being London, the water was a bit nippy.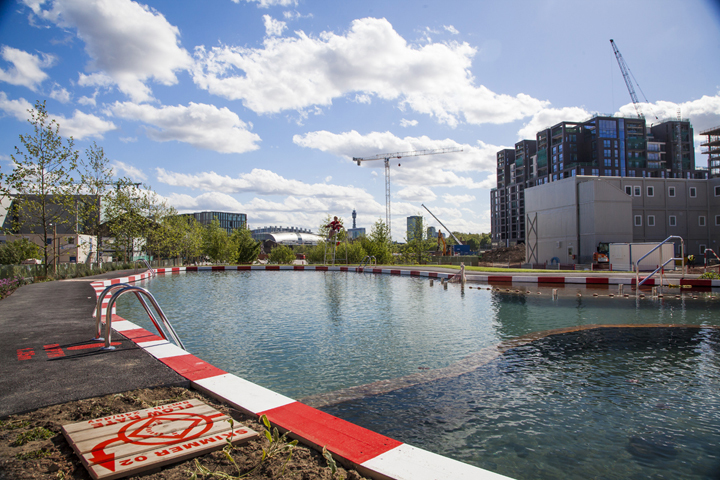 Rob Greig
June
David Levene
The Hayward Gallery became home to 'Decision' from artist Carsten Holler, featuring two huge slides, flying machines and a pile of pills – and we all went mad for it. Other childish events that became insanely popular were an adult-sized ball pit in a west London gallery, hipster crazy golf and, of course, dayglo breakfast cereal. Yes, 2015 really was the year Londoners became big kids.
July
Andrea Vail
Ah July, the hazy summer month when the whole of London came to a standstill. When we strolled into work late, it wasn't because of week-night pub garden sessions though (okay, maybe partly because of that), but because we were stuck in commuter hell thanks to a tube strike on July 8 and 9. It was the first of a number of walk-outs during the summer and was blamed on disputes over the operation of the night tube. And, in further evidence that Londoners are regressing, Alexandra Palace became the home of a 150-metre inflatable water slide on July 25. Who fancies a Ribena?
August
On August 27, French artist Charles Pétillon installed 100,000 white balloons in Covent Garden, making the top floor of the market look like a summer snowscape, while the following weekend Notting Hill Carnival swapped the usual sunshine for a weekend of torrential rain. Spirits remained resolutely undampened. The Selfridges Christmas shop opened on August 6 this year, allowing us to stock up on baubles and tinsel roughly five months before the season of goodwill. August was a month that was very confused about its identity.

September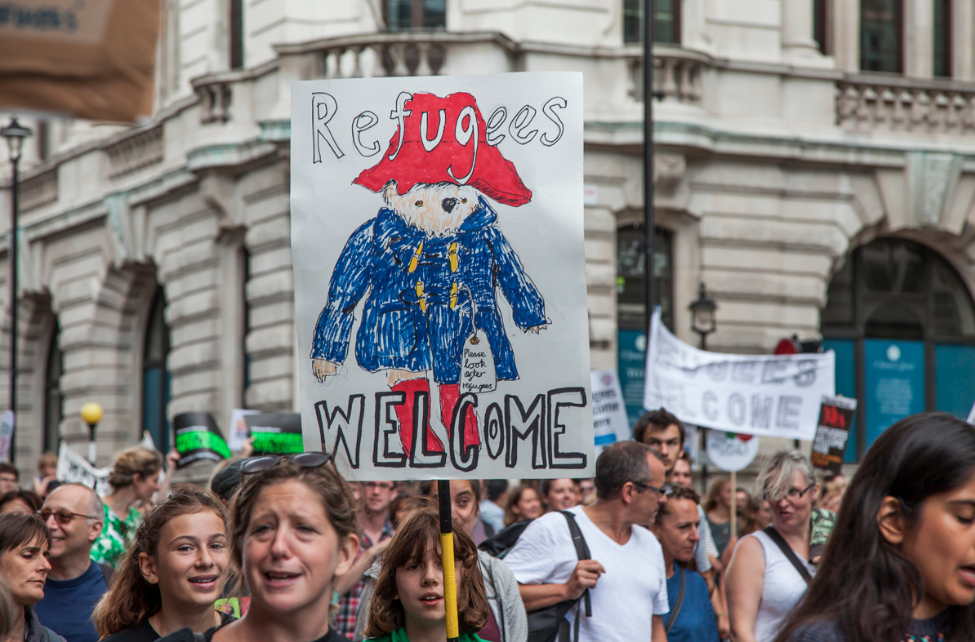 Rob Greig
As we headed into autumn, Londoners came together to help out with the refugee crisis. Volunteer-led organisation CalAid collected donations of clothes and camping equipment around the city, and businesses including the Coach & Horses pub planned trips to the camps in Calais and Lesbos to help out. On September 12, tens of thousands of people marched through London demanding we give more refugees a home in the UK. The feeling of togetherness didn't last long. An anti-gentrification protest by Class War divided opinion at the end of the month, when campaigners wearing pig masks attacked Shoreditch's Cereal Killer Café with bricks and paint. One person was arrested, although whether or not they ended up doing porridge, we're not sure.
October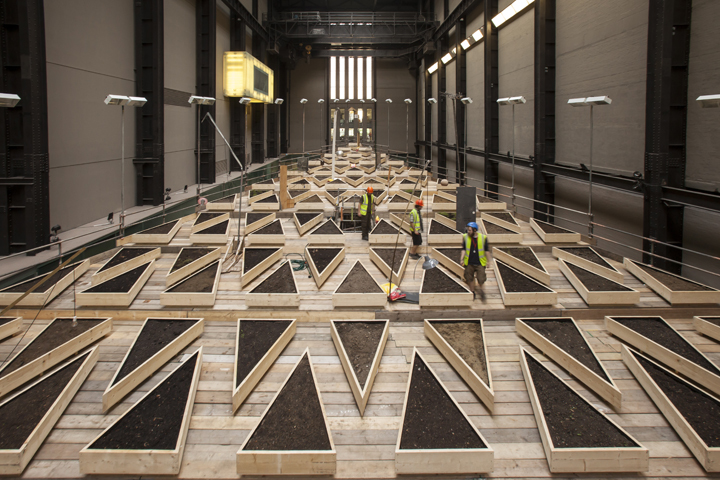 Rob Greig
In October, Abraham Cruzvillegas unveiled his Tate Modern Turbine Hall installation, Empty Lot: a series of beds of earth lifted from sites around London. The fun was in waiting to see what grew – weeds, mostly, which isn't surprising, as this shot from a few weeks later shows. And over at the ExCel, Londoners indulged their love of showing off at Comic Con: here's the Incredible Hulk doing his best to terrify a small child.
November

Londoners love a protest, and here's protest at its most prosaic: a cyclist letting our mayor know just what he thinks of him at a press stunt to promote a new Cycle Superhighway. Other demonstrations included feminist group Sisters Uncut dyeing Trafalgar Square's fountains blood-red. And more terrible news from a beleaguered city very near London, when terrorists conducted a series of shootings and bombings in Paris, leaving 130 dead and 89 more injured. London responded by turning many of its landmarks red, white and blue.
December

Time for a bit of Christmas cheer: an enormous tree appeared in St Pancras station made entirely of stuffed Disney toys. Awww. This year started with Londoners showing solidarity in the face of terrorism and in December we once again revealed our Blitz spirit. When two people were stabbed at Leytonstone station on December 5 by a man apparently shouting 'This is for Syria', one Londoner stood over the attacker and shouted 'You ain't no Muslim bruv'. His words trended worldwide. And when a man on a hoverboard allegedly stole a crate of Lucozade from a Co-op on Streatham High Road, peak 2015 had been reached. Happy new year, everyone!