Ed Marshall
Forget the West End: for a really uniquely London retail adventure seek out the city's one-of-a-kind shops. Here are our ten favourites.
Try walking past this dusty Islington shop without peeking inside. Go on, we dare you. It's nearly impossible because it's filled with an exotic menagerie of head-turning taxidermied animals. Some of which - such as a zebra or shark - you've probably never seen in real life, let alone up close and personal. Access is by appointment only; services on offer include pet stuffing and restoration, but note - they only work on animals that have died of natural causes. So thankfully you won't be seeing Cecil the Lion in here any time soon.
BEST BUY: Don't want to say goodbye to dear Felix? Get Stuffed will immortalise your faithful feline friend from £500.
105 Essex Rd, N1 2SL. Tube: Angel.
This is the only shop in Europe that's dedicated to selling the cute animal toys and their accompanying tiny houses and furniture. Open since 1993 and hidden in a residential area where Highbury meets Finsbury Park, it's aimed at collectors, but children will be making their Christmas lists as soon as they step through the door. You can tell the clientele here are real enthusiasts: there's even a colour-coded sticker system that tells you which products are import-only or soon going out of stock. It's a true London curiosity and utterly charming.
BEST BUY: Ensure your Sylvanian Family celebrate the festive season in style with the Christmas set, including a tree, decorations, cards, presents and a tiny Santa outfit. Adorable! £19.99.
68 Mountgrove Rd, N5 2LT.􀀀 Tube: Arsenal.
One of London's most atmospheric bookshops, Daunt's Marylebone flagship store is pretty as a picture and a world away from WH Smith. The Edwardian building is packed to the rafters with volumes - the elegant back room runs over three floors, with the mezzanine level dedicated to maps. From the vaulted ceiling to the William Morris prints and stained-glass windows, the store's fixtures and fittings are pleasingly old-fashioned. Particularly worthy of a browse is the vast travel section: ordered by country, it's enough to induce wanderlust in the most home-loving of Londoners.
BEST BUY: 'The Traveller' is a trio of evocative novels for the keen tourer, including 'Twilight in Italy', 'The Land Where the Lemons Grow' and 'The Crossing Place'. £34.
83 Marylebone High St, W1U 4QW. 􀀀Tube: Baker St.
G Baldwin & Co has been 'purveyors of natural products since 1844', making it one of London's oldest apothecaries. It's an Elephant & Castle institution and retains its nostalgic atmosphere, with a tinkling brass counter bell and shelves brimming with intriguing tinctures, tonics and remedies. Alongside the old-style lotions and potions, you'll also find a thoroughly modern edit of health and wellbeing fripperies, from an alphabet of vitamins to posh supplements and detox teas.
BEST BUY: Swedish Bitters is a herbal remedy created in the eighteenth century by doctor Claus Samst. He lived until he was 104, so perhaps they're worth a shot. £7.15.
171-173 Walworth Rd, SE17 1RW. 􀀀Tube: Elephant & Castle.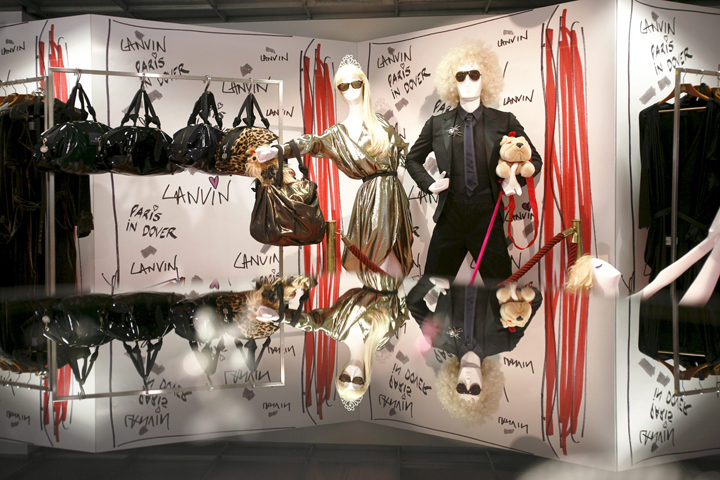 Comme des Garáons designer Rei Kawakubo's six-storey space combines the edgy energy of London's indoor markets - concrete floors, tills housed in corrugated-iron shacks, Portaloo dressing rooms - with rarefied labels, and there's really nowhere else like it in the city. It's worth a trip even if the price tags are more than you can stretch to: window shop and have a sit-down in the Rose Bakery on the top floor. You never know who you might bump into: Time Out's favourite trashy filmmaker John Waters pays a visit whenever he's in town.
BEST BUY: Undercover's PVC Croque Madame pouch. It's a tiny clutch bag adorned with a photo of an egg and ham sandwich. Because... well why not? £75.
17-18 Dover St, W1S 4LT. 􀀀Tube: Green Park.
A stockist of quality goods for monsters of every kind, this agreeably gruesome little shop is just the ticket for vampires, werewolves and humans on the prowl for something a little different. Pick up a box of Cubed Earwax (£5), some Fang Floss (£3) or a pot of Tinned Fear (£8), which contains black-and-white humbugs and short stories by the likes of David Nicholls, Nick Hornby and Zadie Smith. Proceeds from the shop help support the Ministry of Stories - an initiative that sees professional writers mentor young people in the art of story creation.
BEST BUY: A jar of daylight - said to be the perfect remedy for vampires with Seasonal Affective Disorder. £22.
159 Hoxton St, N1 6PJ. Tube: Hoxton Overground.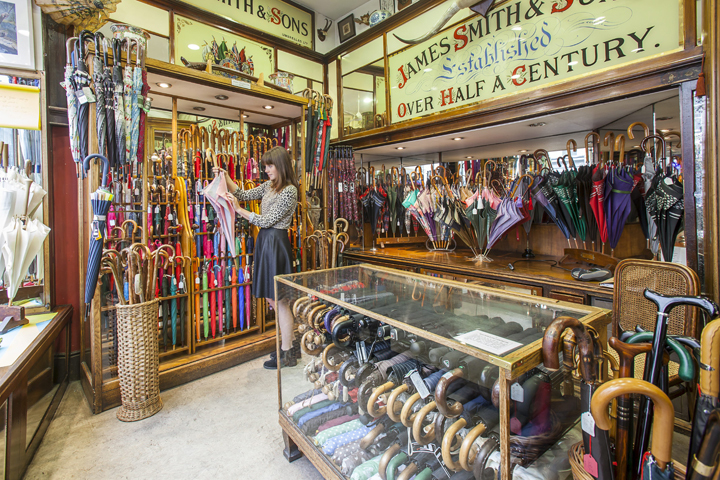 Rob Greig
There's one essential accessory for life in London, and it's not a Burberry mac, a Mulberry tote or a corgi-print tea towel: it's an umbrella. James Smith & Sons has been selling them from this charming New Oxford Street spot for over 150 years. The gilt shopfront has remained unchanged, and the customer service is old-school too. As well as an array of ceremonial umbrellas, there are high-tech folding models and beautifully designed everyday styles. Just don't leave your new purchase on the tube.
BEST BUY: For those few days of glorious weather in London each year you'll need a 'sun umbrella'. Yes, that's a parasol to you and me. From £65.
53 New Oxford St, WC1A 1BL. 􀀀Tube: Holborn.
Who can resist a shop that sells only buttons? Strangely, this small timewarp of an emporium sits just a stone's throw from the mainstream drag of Oxford Street. It's been here since 2009, but the business dates back to the 1950s, having operated across various shops and market stalls. If you've been staring forlornly at an incomplete coat or suit for years, wondering where to find a missing button, this is the place to start. And you'll be supporting a unique independent business in the process. A fasten-ating place.
BEST BUY: Didn't know there was a button specifically designed for the Queen's Diamond Jubilee? Now you do. £5.90.
76 Marylebone Lane, W1U 2PR. Tube:􀀀 Bond St.
Photo courtesy Independent London
Almost everything on display in this colourful cave of marvels is available to purchase, from the artfully mismatched wallpaper down to the animal lamps. It's hard to pin down what FFLF actually is ('curious products for curious people', it claims), but if you're looking for a nifty gift or an item to wow, this is where you'll find it, including kaleidoscopic coasters, circus-themed jewellery and a 'Dalston disco cushion' made of stuffed toys.
BEST BUY: Stick the Snail cushion - a weird but cute lambswool character designed by Donna Wilson. £39.95.
6 Bradbury St, N16 8JN. Tube: Dalston Kingsland Overground.
At Choccywoccydoodah everything you thought you knew about cakes and chocolate is turned upside down. How about biting into a sparkling unicorn? Or a fat chocolate ballerina? Such brilliance comes at a price though - the unicorn is £200 - so for something a little kinder to the purse, head to the cafe for a frothing mug of cocoa.
BEST BUY: A giant 1kg slab of chocolate stuffed with marshmallows. £19.99.
30-32 Foubert's Place, W1F 7PS. 􀀀Tube: Oxford Circus.
Contributors: Miriam Bouteba, Dave Calhoun, Danielle Goldstein, Katie Rosseinsky.