Given the amount of tourists who gather excitedly around London Underground signs taking selfies, it's fair to say that the tube has become a London landmark in itself. But did you know that four of London's most famous structures are also secretly hidden within the tube seat patterns? Yep, you spend hours every week with your bum parked on one of the tube's seats (if you're lucky enough to snag one), but it might have escaped your notice that what you're sitting on isn't just a load of abstract geometric shapes and primary colours. Let's start with the easiest one. Even if you are half-asleep, you'd struggle to miss that the big old red circle with the white triangle inside represents the London eye. But some of the others are trickier to spot.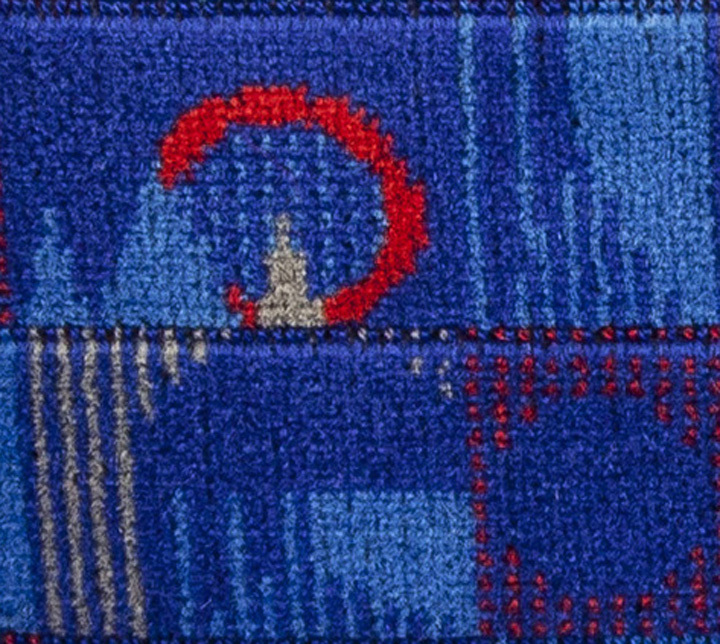 Rob Greig
If you look closely you'll also see St Paul's Cathedral - its dome is just underneath the London Eye, with the white triangle doubling up as the building's highest point. Big Ben is also lurking in there somewhere, with its clock face outlined in red dots and a blue triangle on top.
Any guesses for what the last one is? No? Okay, we'll tell you. You'd have to be pretty eagle-eyed to notice, but those three blue and white triangles on the top left and right (below) represent the two towers of Tower Bridge. Sneaky.
Rob Greig
The pattern first appeared on the tube back in 2010, when London underground's seats got a well-needed facelift as design firm WallaceSewell beat 350 competitors to design the new tube seat pattern, or moquette, as it is also known. It was rolled out on the Central Line and has appeared on all new tubes since then. Who knew there was so much of London's history buried in those dusty old seats?
Find out more about the moquettes and watch a video on the Londonist blog.
In other tube news, Covent Garden station has fully re-opened.