Next week, London's first 'naked restaurant' opens. As you may remember, the idea behind The Bunyadi is a kinda back-to-nature vibe, where staff and customers are unclothed, phones are banned and there's no electricity – with food being cooked over a fire and light coming from candles. A full week ahead of the public launch, we stripped off and went to eat dinner with unclothed guests.
First, you pull aside the velvet curtain and enter The Bunyadi's bar area, which could easily be a high-end spa. After ordering a drink, you're ushered into a private changing room and instructed to remove your clothes, put all worldly possessions in a locker and change into a robe. Back into the bar, guests sipped cocktails and made small talk in white towelling robes. But instead of a post-facial glow, there was a pre-naked glow about the place; each guest eyeing the door, gearing up to be called through to the restaurant to dine in the buff.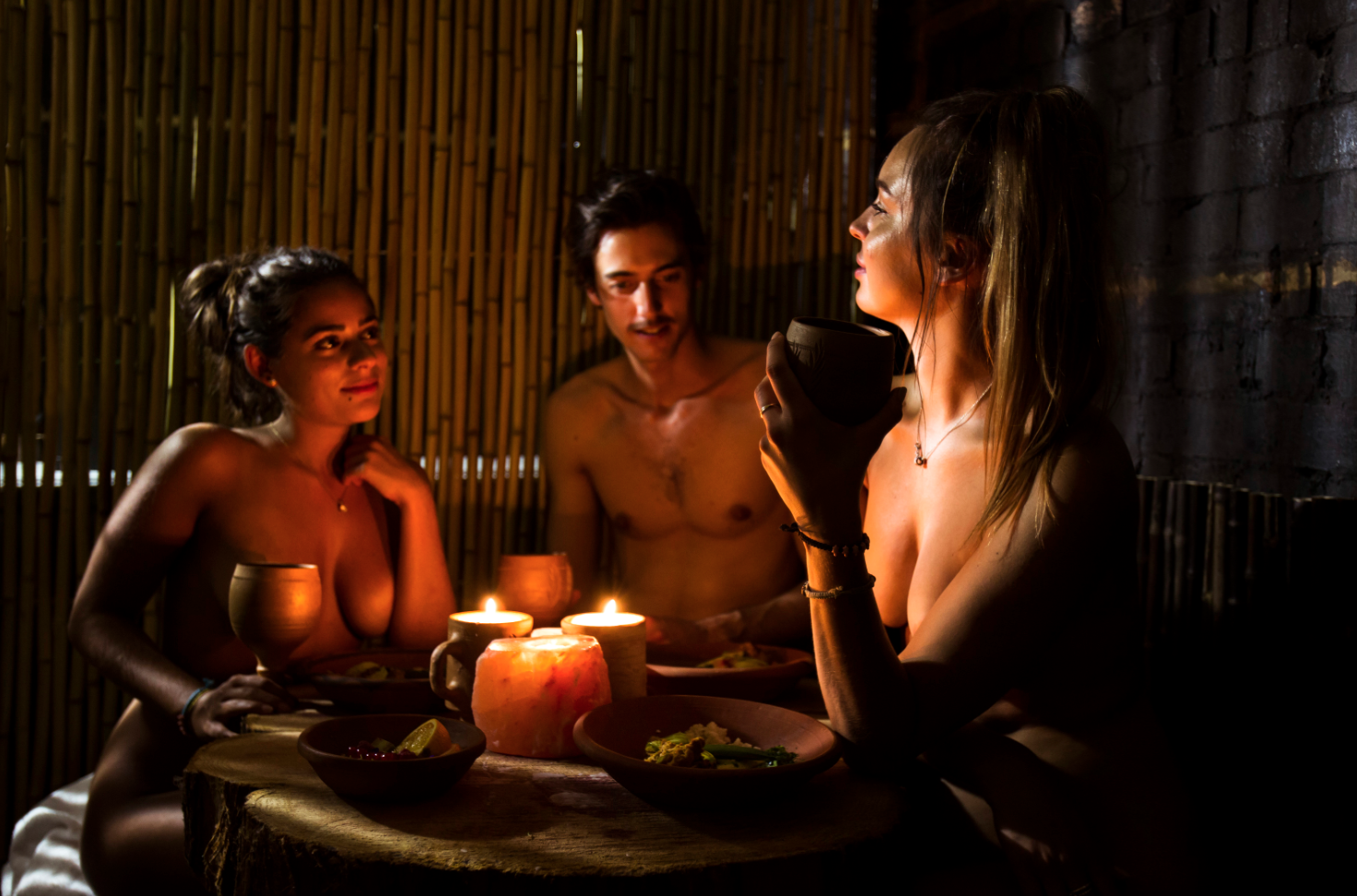 Our waitress wore nothing but a well-placed fig leaf and a smile as she lead us to our booth, where we threw off our robes with gusto (obvs). The five-course menu (just about visible in the candlelight) stays true to the au naturel concept; ingredients are either raw or cooked on a wood grill and diners choose between vegan or non-vegan – think cured salmon with seaweed salad and sun-dried tomato-stuffed courgette flowers. It's all served on Flintstones-esque clay crockery with edible cutlery (spoons made out of bread or veg) and the (very drinkable) organic, preservative-free wines made the whole experience more pleasant. I'll admit, I probably laughed a little too hard when the waitress dropped a plate of ice on my poor companion's leg.
London's first foray into naked dining would have made for selfie gold, but as a technology-free zone, phones stayed firmly in lockers. With such low lighting and bamboo partitioning between dining groups, we barely saw anyone else's bits (much to our disappointment). Like its 40,000-long waiting list, the idea of a naked restaurant is pretty mind-boggling and the excitement in the air matched the buzz. If you're the kind of person who goes to restaurants entirely based on their menu, this probably isn't for you: the food isn't so much the point as having a ball in your birthday suit, and the sophisticated, semi-darkness provided the perfect setting to do so. If you're a fan of the odd skinny-dipping session but haven't yet graduated to naked dinner parties, though, The Bunyadi will be just the right side of tit-illating.
The Bunyadi launches on June 11. Five-course set menus cost £55-£65. Find out more at thebunyadi.com.