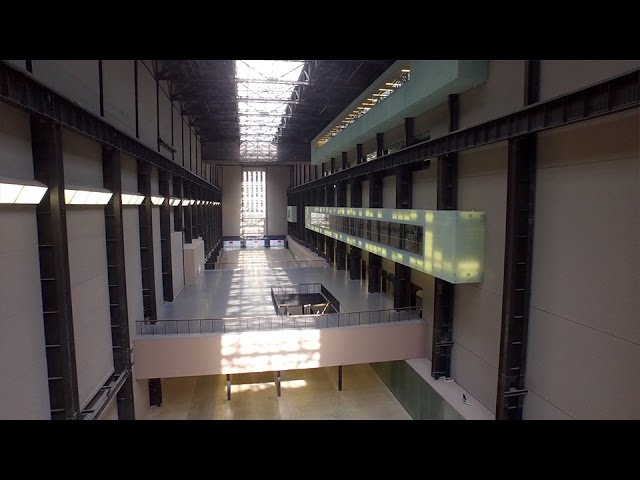 Philippe Parreno is the next artist creating the Hyundai Commission for Tate Modern's vast Turbine Hall. It's shrouded in secrecy and we have no idea what to expect. The French artist has done everything from buying the rights to a Japanese anime character, to creating a 90-minute portrait of former Real Madrid player Zinedine Zidane during a game of football. The Tate's website promises a 'spectacular choreography of acoustics, lighting, flying objects and film… a universe of inter-related and connected events and parallel realities.' But the exact details have been shrouded in mystery. Luckily, the gallery has also dropped a 45-second 'trailer' of what's to come. So we've hit the pause button and indulged in some speculation.
Weird science
By the looks of it, there'll be some bio-reactors in the commission. At least 12 of them. They're devices designed to contain biological matter for growth and experimentation. If that sounds a bit crackpot-scientist, then that's hardly a surprise; Parreno has continuously made work that touches on science fiction – including a piece that resembles an imagined alien landscape.
Nina Conti
Yep, that's a picture of the stand-up and 'Live at the Apollo' star, who's pretty much jumpstarted the comedic art of ventriloquism with her mischievous dummies. Here, Conti's wearing the mask she likes to attach to audience members' faces before putting all manner of words in their mouths. Yes, you heard right. Audience participation. Be afraid. Be very afraid.
Serious technology
We didn't have a clue what an Optek Control 4000 was, so we decided to check out Optek's website. And after 20 seconds of skim-reading intensive research, we don't have much more of a clue. But we *think* it's something to do with measuring light. And guess what? Bio-reactors are often used to grow stuff by having their contents exposed to light. The plot thickens.
Floating stuff
The Tate has promised 'flying objects' in the show, so it's probably safe to use assume these canisters of helium will be involved. One of Parreno's ongoing projects involves helium balloons in the shape of wordless speech bubbles, so perhaps we'll get more of these. Or maybe Nina Conti's put in a request.
Just… big. Lots of big.
When the blueprints get rolled out, you know something epic is in store. And Parreno isn't exactly a miniaturist. In 2013, he became the first artist to fill the vast Palais de Tokyo in Paris. He's collaborated with filmmakers, musicians, performers and scientists. And he always makes work with the site and its audience in mind. We're excited.
Philippe Parreno's Hyundai Commission opens at Tate Modern on Oct 4. Until then, find more art in London.