It's time for the full-on fest, the two-day Victoria Park party that is Lovebox. Here's who to see and when to see them according to festival experts Nick Levine and Oliver Keens.
GET THE APP: Download the free Lovebox app.
QUICK: Snap up the last remaining Lovebox tickets here.
FRIDAY
Noon
Book the afternoon off work so you can swap the office for Vicky Park. Then start your Lovebox weekender with a sweet treat from Los Churros Amigos and something chilled from one of the bars.
1pm
For the second year running, London superclub Fabric is hosting its own tent at Lovebox. Huge effort goes into recreating the club's peerless sonics every time, so we definitely recommend popping in for sets from resident DJ Terry Francis, Polish techno maestro Kink and sweet-fingered lord of the dance Seth Troxler. Drop by the Big Top and toast Fabric's recent reopening in style.
2.20pm
Head over to the Noisey stage to check out super-hyped singer-songwriter Rex Orange County. Nineteen-year-old Alex O'Connor actually comes from Surrey, but his genre-blurring indie tunes shimmer with Californian sunshine.
4pm
Might be time to get a bit more physical right about now. Endorphin-rushing American hip hop label Soulection take over the Kopparberg Urban Forest, so it could be a good place for a nu-school shimmy. There's also a sweet new rollerdisco this year, so make an effort to sync up your roll with a set from fast-rising DJ Madam X.
4.40pm
Time to migrate back to the Noisey stage for box-fresh beats from Kaytranada, the quite brilliant Canadian producer and DJ.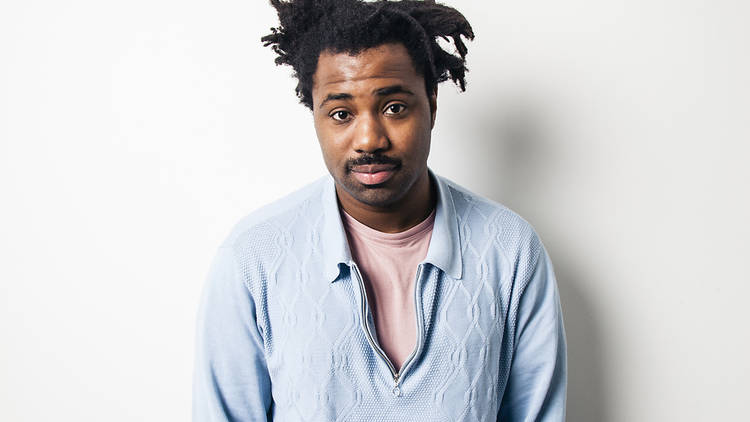 5.30pm
Fresh Prince's old buddy Jazzy Jeff will be tearing it up on the outdoor Corona Sunsets stage, right about now. Altogether now: 'Boom! Shake-shake-shake the room...'
6.20pm
Guys, it's decision time: do you want sublime modern soul from Sampha (pictured above) on the Noisey stage, or super-inventive electro tunes from Jamie xx on the Main Stage? If you're a strong runner, you could catch highlights from both.
8pm
Now it's time for some musical enrichment. Solange will be performing songs from her gorgeous 'A Seat at the Table' album over at the Noisey Stage. Word from the festival circuit suggests this one could get a little bit spiritual.
9.25pm
Make your way to the Main Stage for Frank Ocean's potentially legendary headline set. The boy wonder is one of today's most enigmatic and mesmerising artists, and this is his first London performance since 2013, so expect to join a massive and devoted crowd. Among songs from 2012's game-changing 'Channel Orange' and last year's chart-topping (and more challenging) 'Blonde', don't be surprised if he also slips in a cover of The Jackson 5's 'Never Can Say Goodbye'. And prepare for an eruption if he sings his endlessly affecting love song 'Forrest Gump'.
10.45pm
That's it for Victoria Park, but head to official afterparties at Oval Space, Village Underground, Mangle and Fabric. Which one will Frank be at? Now, that would be telling…
SATURDAY
Noon
If you're recovering from a hefty Friday, why not bite the bullet and get stuck into some Reggae Aerobics at the Bandstand stage? Just don't expect slow vintage reggae sounds –this is 1,000bpm dancehall stuff you'll be throwing your body too. You've been warned.
2.45m
Once you've shaken yourself awake, we definitely recommend heading to the Noisey tent for New Gen – basically one of the coolest projects in music this year. It's the vision of blogger-turned-Diddy-esque mogul Caroline SM, who assembled the freshest names in London music – Bonkaz and the 67 crew especially – on one record. Their slot will be essential for those who have followed the New Gen story so far, or indeed anyone seeking a handy bulletin from London's underground right now.
4pm
Coming straight outta Dalston, ace club crew Work It continue to build on their '90s R&B revival roots with this huge all-day takeover of Kopparberg Urban Forest. As well as resident DJs such as Siobhan Bell, Work It are even letting some of the boys have a go on the decks too – like Trevor Nelson and Jazzie B.
6.20pm
Time to check in with London rhyme royalty. Head to the Main Stage for Kano, who has been in the form of his life since last year's comeback album, 'Made in the Manor'. Expect gun fingers for snarling grime bangers like '3 Wheel-ups', 'Garage Skank' and 'New Banger', and hopefully more tender moments like 'A Roadman's Hymn' nestled in there too.
7pm
Sure you know Kurupt FM from the telly – as the fictional pirate radio crew from BBC's wickedly funny 'People Just Do Nothing'. But they can really lay on a show live too. Their Champagne Steamroom shows are a mad, lol-sy journey through British bass history and are well worth a trip up to the Noisey stage. They'll segue very nicely into a show from Andy C – the D&B pioneer who's established one of the most hype shows in dance today.
8.30pm
Of course, if drum 'n' bass doesn't float your boat, you'd do worse than heading to Fabric's tent right now. Ricardo Villalobos's late-night sets at the Clerkenwell club are the stuff of unrivalled legend. It'll be well worth making a dive bomb into Fabric's tent to catch the Chilean techno general bringing things to the boil – especially at an unusually early time in the evening too.
9.25pm
For the final rinse out of the day, step to Chase & Status's closing show on the Main Stage. Either as DJs or with their lavish live set – which they're bringing out to the park today – C&S never leave a crowd hanging. It should make for a rowdy end to a top, top weekend.