A poet first and foremost, Leonard Cohen never shied away from tackling sex, death and religion head-on. As the sad news spreads of the Canadian singer-songwriter's death today – on Remembrance Day, no less – people will be seeking out his music. We've pulled together five key songs from the man who poured his life into dark, sensual and witty lyrics.
Suzanne
Cohen was 33 when he released his first album 'Songs of Leonard Cohen' a debut that included the deeply emotional and profound 'So Long, Marianne', and 'Suzanne', songs that formed the cornerstone of his timeless sound. He was snapped up by Columbia records talent scout John Hammond, the same guy signed Bob Dylan, Aretha Franklin and Bruce Springsteen.
You can get a fantastic insight into Cohen's refreshing world view in this live performance of 'Suzanne' as he explains unwittingly signing away the rights to this massive hit: 'I thought that was perfectly justified because it would be wrong to write this song and get rich from it too'
So Long, Marianne
Five years after releasing 'So Long, Marianne', a love song like no other, Cohen became too 'broken up' with emotion while performing it to a German crowd. His affair with Marianne Ihlen has become a thing of myth, in part because of the great warmth and respect they continued to express for each other, long after splitting. When Cohen heard that Marianne was dying earlier this year his extremely tender letter was widely shared:
'Well Marianne, it's come to this time when we are really so old and our bodies are falling apart and I think I will follow you very soon. Know that I am so close behind you that if you stretch out your hand, I think you can reach mine. And you know that I've always loved you for your beauty and your wisdom, but I don't need to say anything more about that because you know all about that. But now, I just want to wish you a very good journey. Goodbye old friend. Endless love, see you down the road.'
Chelsea Hotel #2
Cohen's tribute to fellow musician Janis Joplin, who died of an overdose in 1970, has become infamous for one line referencing a sex act but look beyond that and Cohen's way with words shines.
'And that was called love for the workers in song
probably still is for those of them left.
Ah but you got away, didn't you babe,
you just turned your back on the crowd,
you got away, I never once heard you say,
I need you, I don't need you,
I need you, I don't need you
and all of that jiving around.'
Hallelujah
A song that took four years to hone and has been covered over 400 times (and counting) and that's not including the numerous versions on YouTube. Jeff Buckley's version was one of the most notable, and drew legions more fans to Cohen's music just as he was living as a monk in California. He left the monastery in 2001 crediting the time as helping with his depression and with a re-energised approach to music, releasing a flurry of albums.
You Want It Darker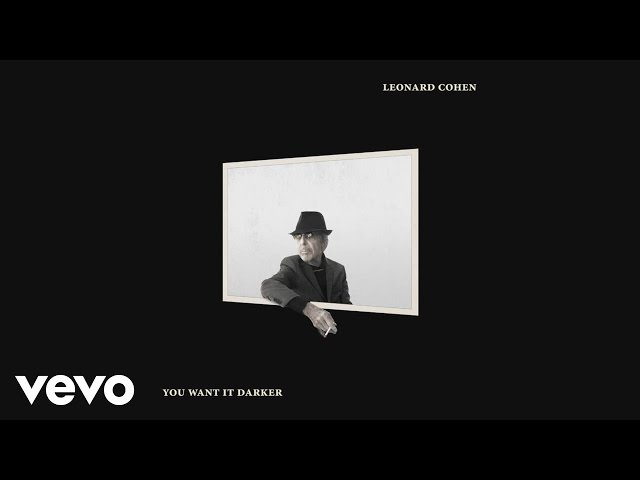 Through six decades of music-making Cohen was a consistently authentic voice who provided a path on ageing, hating and loving. A few weeks ago, at the age of 82, he released 'You Want It Darker', his fourteenth, and as it turns out, last studio album. A housebound Cohen recorded songs from his living room sending them to his son Adam, who produced each track. The title song is an intense apocalyptic sermon, delivered in his lower-than-low rumbling tones.
'They're lining up the prisoners
And the guards are taking aim
I struggled with some demons
They were middle class and tame
I didn't know I had permission
to murder and to maim
You want it darker
Hineni, hineni
I'm ready, my lord'
Cohen wasn't afraid to completely open himself up to the world. And the world responded with accolades, including the Grammy lifetime achievement award and induction into the Rock and Roll Hall of Fame. That astonishing level of stripped-back honesty and continuous searching inspired not only generations of musicians but countless unheard conversations with listeners – billions of thoughts and images sparked by a turn of phrase, simple plea or question.
For a man who has been described as 'The Poet Laureate of Pessimism', 'The Godfather of Gloom' and 'The Prince of Bummers', he was instinctually fuelled and ultimately excited by life.