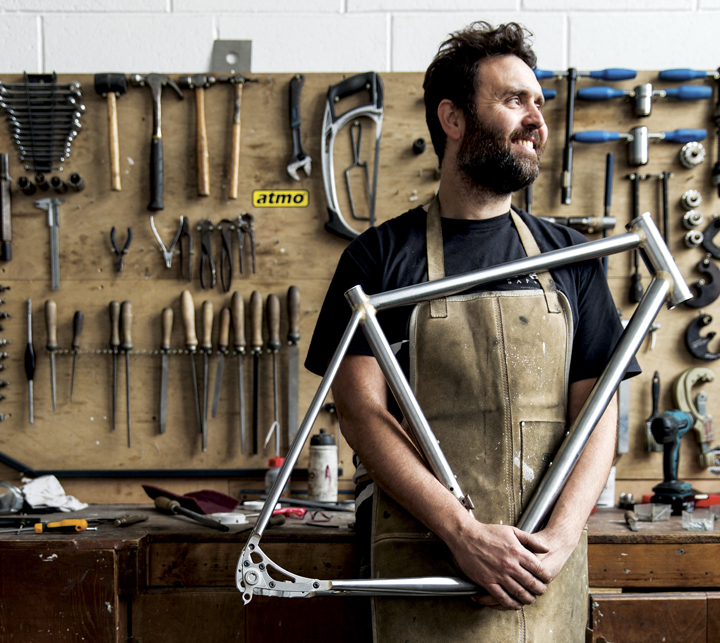 Scott Chasserot
Matthew Sowter, 38, bicycle framebuilder and owner of Saffron Frameworks
In short, what is it you do?
'I design and fabricate custom bicycle frames, and I assemble the finished bikes. Each project throws up new challenges, but it's very much a collaborative effort with the customer, which means that I am open to building anything: track bikes, mountain bikes, single-speed, cyclocross...'
Have you always worked with bicycles?
'No. About five-and-a-half years ago, I was living in South Africa, working as a chef and doing a lot of amateur bike racing. Then I got chronic fatigue syndrome and was unable to race. I had to figure out what I wanted to do with my life. I came across an interview with a framebuilder in Italy by the name of Darren Crisp. Something clicked. So I badgered Darren with phone calls for advice, and then went off and did a welding course.'
What goes into the process of making a custom bicycle?
'It starts with a consultation. Then the customer goes to a bike-fitting specialist who measures their body with lasers. From that, we build the bicycle frame and weld it together. While the frame is sent off to be painted, the other parts ñ wheels, gears, saddle - all get ordered in from different suppliers. After the frame comes back, we assemble the complete bike.'
What skills do you need for the job?
'You need a strong eye for design, and you have to be fastidious and strong-willed in your standards. You also have to put your heart and soul into each bike you make.'
And is there anything that really grinds your gears?
'Polishing metal - I absolutely hate it! I've also occasionally been down to A&E to have bits of metal taken out of my eye. That's always fun.'
Do you ever wish you could back-pedal and do something else?
'No. This is the first time in my life that I have been satisfied with what I am doing.'
Hours: up to 70 per week
Starting salary: £20k-ish
Qualifications: no formal requirements
Interview by Sammy Robson
Or why not become a record label manager?