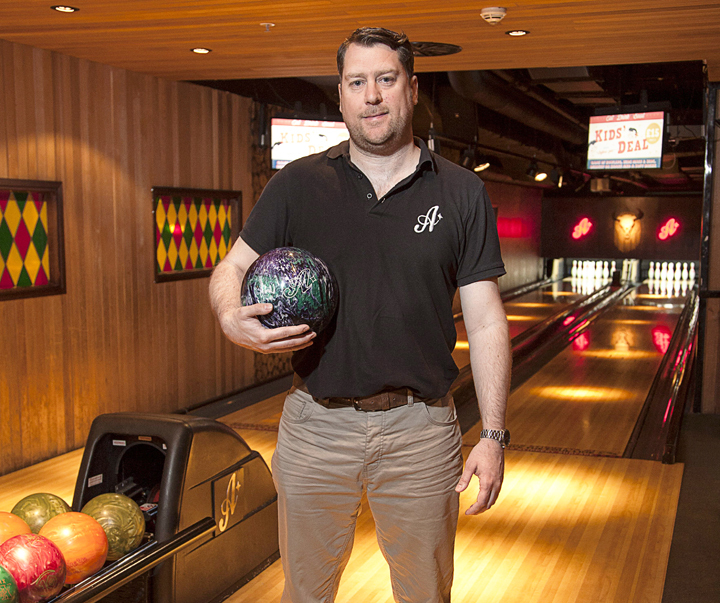 Andy Parsons
Stuart Groombridge 40, group technical manager at All Star Lanes
What the blinking heck is a bowling technician?
'Our primary responsibility is the bowling lanes. The technician will prep front of house, which includes cleaning, setting up the karaoke and games consoles, and dressing the lanes. "Dressing" is when we send machines down to remove the old oil and put a new layer down, which protects the surface of the lane from the impact of bowling balls.'
Is that an average day for you?
'I deal with the maintenance issues of the buildings and the machines in the venues. I look after the whole All Star Lanes group, so I travel to the four in London and the one in Manchester.'
Ever been hit by a wayward ball?
'No, but a technician at another company got hit by a pin in a very delicate area. He had to crawl to the workshop and then got wheeled out into an ambulance. But that was years ago: it wouldn't happen now.'
Whoa, are you living the dream?
'I wouldn't say that, but it's interesting. I've seen a lot of bowling tournaments and met a lot of famous people along the way.'
Ooh, like who?
'Recently I met Prince Harry – he was a nice guy – Katy Perry, Jessie J, Brad Pitt, David Beckham and his family, and Rihanna and Lady Gaga in Manchester. They all got fairly low scores. Prince Harry did okay.'
Any nightmare situations?
'There aren't really any, but I'm well known for being grumpy when people call the pins "skittles". Skittles aren't even remotely the same. This is proper full-scale, full- spec ten-pin bowling. They are pins!'
You're clearly passionate. What's your favourite thing about the job?
'For me, it's people not realising the effort that goes into ten-pin bowling and being able to come and have a great time. It's a good feeling knowing we can provide that service.'
Hour: 50hrsp/w
Starting salary: £16-£18k pa
Qualifications: Not necessary