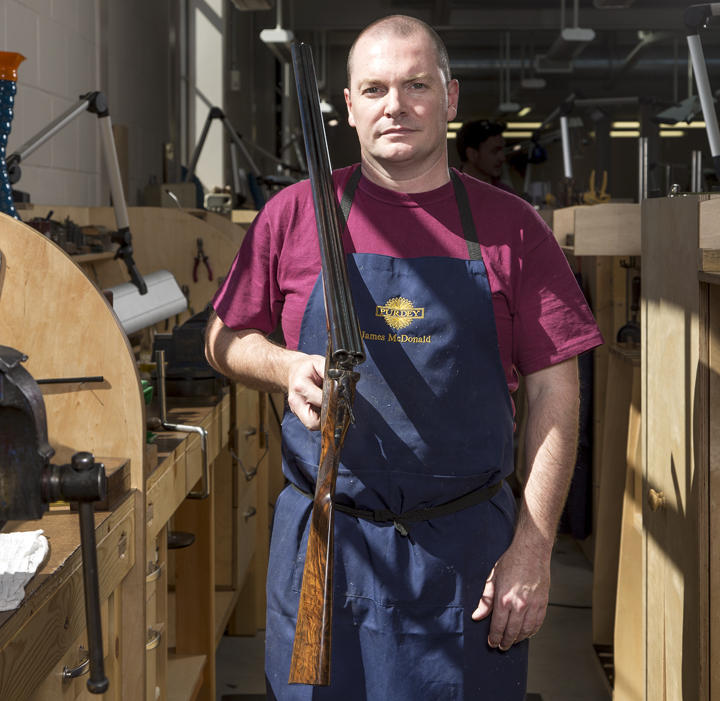 James McDonald, 46, gun finisher at Purdey explains how he got into making guns
Guns are dangerous and cool - was that the appeal?
'I wanted to be a carpenter when I was a kid. But then I saw an advert for a gunmaker on the school's career board, which seemed really cool. I even took the ad off the board so no one else could see it! I started work at Purdey three weeks later. I've been here 30 years now.'
You must love what you do. Er, what exactly is it that you do?
'I take all the parts made by the other departments - the stock-makers, the actioners, the barrel-makers, the ejector men - and make them work together as one gun. Basically, I fine-tune everyone else's work. Our guns are all hand-finished. It gives them a bit of personality.'
Is it satisfying work?
'I like the fact that a customer can trace every single person who worked on their gun. They just ask us for the records. And I love it when a customer comes in to pick up their gun; just the big smile they have on their face is enough sometimes.'
What kind of people buy your guns?
'Extremely rich ones! The Queen, Prince Philip and Prince Charles all have Purdey guns. But most of our customers are based in America. Our best guns start at £78,000 and they can go up and up.'
Do the owners actually shoot them or are they just for show?
'There are a few collectors who will never shoot a gun. They'll have lots of gold put on them, very ornate engravings for their collection. But I'd say 95 percent of our guns are well used.'
What's the oddest gun you've built?
'One of our customers lost an arm in an accident and asked us to make a special gun for him. It had to have the right balance because he could only use one hand. We had to alter the stock quite drastically so that he was able to pull it into his shoulder and shoot. Apparently he was still a decent shot.'
Hours: 38hrs p/w
Starting salary: 'Top secret'
Qualifications: Five-year apprenticeship with a 'gaffer'
Or why not become a braider?
James McDonald was an apprentice supported by The Gunmakers Company Charitable Trust.