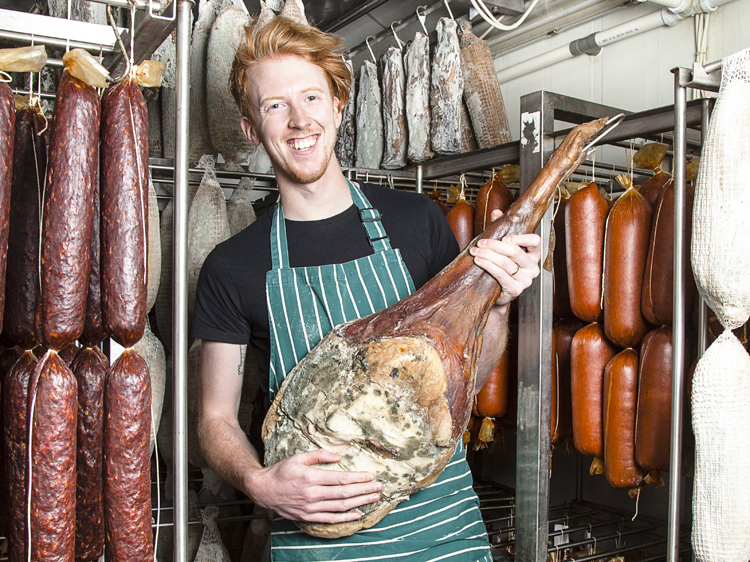 Matt Hill, 26, butcher, charcutier and co-founder of Cobble Lane Cured
You must need a strong stomach to handle meat all day, every day.
'I don't think so, it's not dirty work. It's one of those jobs that people seem to find compelling; they're interested in how you cut up a pig or a quarter of beef and knowing where all the muscles are.'
Is that what attracted you to the job?
'I started working in my village butcher shop when I was 13. I really enjoyed working there and helping out – cleaning, slicing bacon and filling sausages.'
So then you decided to make a career out of it?
'Basically we – my colleagues Adam and Mat, and my wife Lucy – had been thinking of doing something on the street-food scene and got lucky. We met an Italian guy who had built beautiful premises to start his own salami-making business but didn't really know how to use it, so he wanted to sell. And we jumped at it.'
What's the best thing about being in the meat-curing business?
'The welfare of animals in this country is second to none, so we wanted to make something from this meat that's a little more valuable than conventional products and uses the whole animal well. We've developed a range of products that means we use everything – and that's the most satisfying thing.'
How does your typical day pan out?
'I usually get to work at about six and the first thing I do is put the kettle on. Then there will be meat deliveries and we'll usually make one product for the whole day. So if it's salami, we'll make salami for ten hours, making 500kg of it in one go.'
You must go home reeking of it.
'When we all finish work and go to The Taproom, we must absolutely stink. We supply them with smoked kabanos, which is a snack sausage, so quite often they joke to the customers: "Those guys make it, that's why they smell like it." '
Hours: 50 per week
Starting salary: £16,000 pa
Qualifications: Butchery training