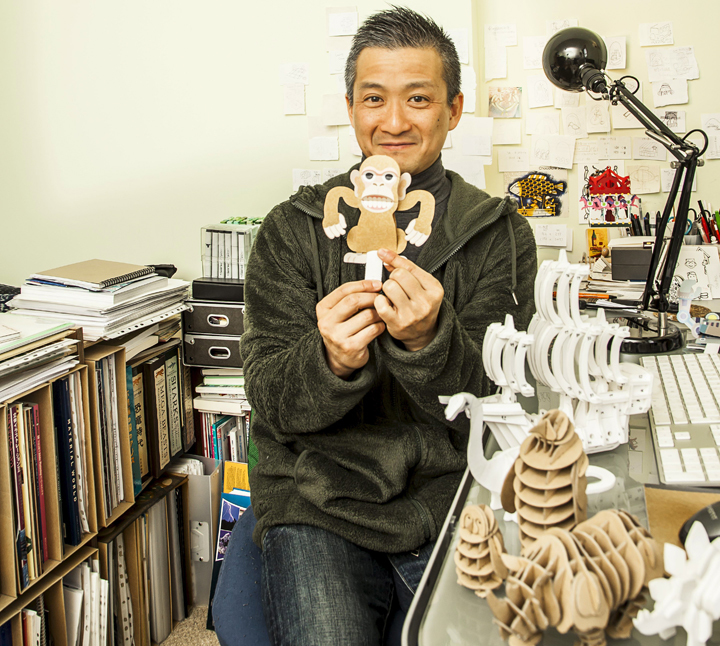 Rob Greig
Sato Hisao, 48, freelance toy designer
How do you become a toymaker?
'I studied industrial design and became a watch designer. But I always felt like they weren't really my designs. So I quit, moved to the UK and studied at the Royal College of Art to learn product design. People call my designs toys, but I never imagined I was making toys; they're just something fun to make people happy. They are "objects for happiness".'
Do you have a favourite 'object for happiness' that you've made?
'The monkey from my books, because it's the first model I made at the very beginning of my freelance career.'
Can books really be toys?
'Each book has 12 characters: some are easy to make and others difficult, so it's interesting for small children as well as adults. Each model has a paper bar in the centre that you can push up or down to move it.'
Isn't paper a bit flimsy for toys?
'I use strong paper, because kids should be able to play with it. If I wanted to make a prototype of a wooden toy, I'd need to use heavy machines, but paper needs only scissors, so I can make it at home without worrying about noise or dust.'
What's a typical day like for you?
'I wake up early and have a relaxed breakfast. Then, around 9am, I start trying to make something - sometimes without any purpose. When I'm busy I keep it up all day long; otherwise I finish around lunchtime and go to the park or the cinema.'
What's the best part of your job?
'Getting people interested in crafts through my work. When I was a kid I was a typical boy who liked drawing and making creations. If I had never had that chance, maybe I wouldnít have concentrated on design so much and I might have been very boring. So to be able to pass the baton makes me very happy.'
Hours: 40 hours per week
Starting salary: Varies
Qualifications: Design degree
Sato's 'Make & Move' books are published by Laurence King at £8.95 each.