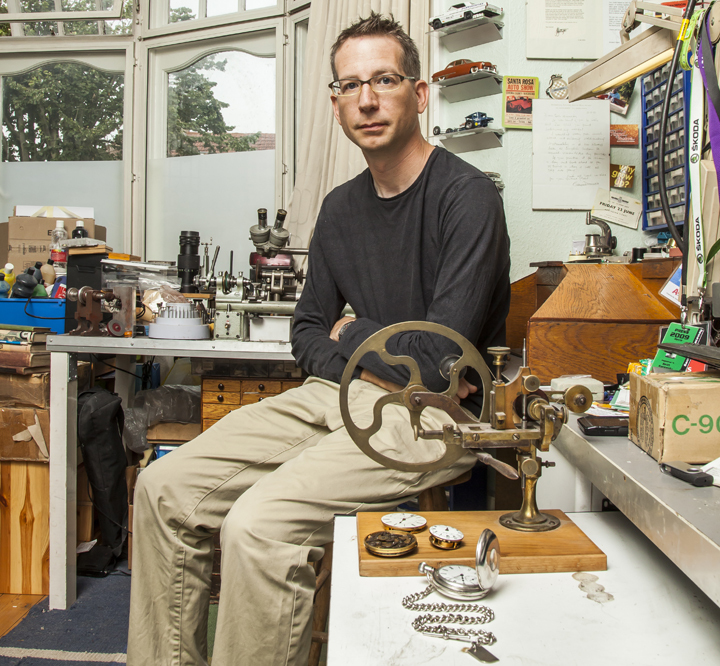 Rob Greig
Seth Kennedy, 40, antiquarian horologist explains how he became a watchmaker
When did you decide it was, er, time to get into watchmaking?
'My background is in mechanical engineering. I did a degree and had a couple of jobs but ended up redundant and on the dole. It was the result of a chance conversation that I was introduced to the antique watch world. It was about 12 years ago that I started.'
What do you do day-to-day?
'I need to be capable of reproducing anything you find in a watch. In a lot of the old pieces, it's as simple as filing a piece out of some metal. Not only does it have to fit and work properly, but it has to look right as well. I have to make small wheels, repair cases and hinges. That kind of thing.'
Is there any truth to the image of watchmakers as lonely figures cooped up in a small workshop, slaving away over tiny cogs?
'I don't think anyone would disagree with that! We're probably all a bit strange in one way or another. It's quite solitary work. You need concentration. There is that typical view of being hunched over a workbench with an eyeglass stuck in your face.'
What are the best parts of your job?
'Working on a complicated watch and then putting it back together ñ when you see it ticking away again, that's always brilliant. And I love taking a very old watch to pieces, and being able to tell that it hasn't been taken apart in a long time, and finding parts inside that no one other than the maker would ever have seen.'
Do you work long hours? When do you usually clock off?
'I don't work full-time hours, just because of the way my life works. I could do - I'm self-employed - but I have other interests and my family. I could sit at the bench 20 hours a day if I wanted, but I don't.'
Do you ever think: I wish I was doing something else?
'I do really enjoy watchmaking. It's often fascinating, and I'm always astonished by what people have made in the past. No, I couldn't go back to a regular job.'
By Sammy Robson.
Hours: 'Varies.'
Starting salary: 'No more than the high teens.'
Qualifications: 'Dedication and patience!'
Or why not become a meat smoker?