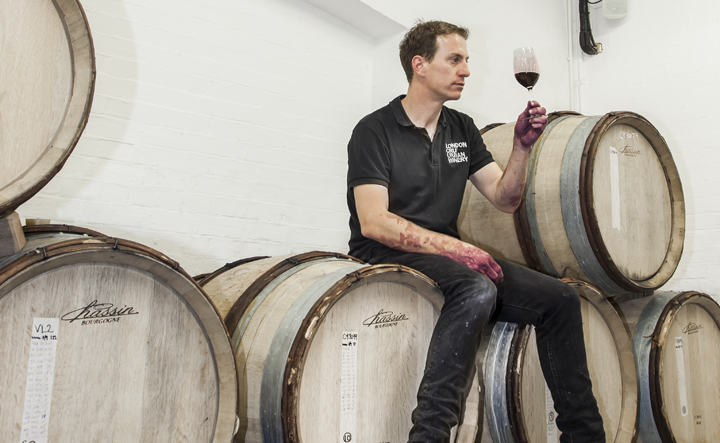 Rob Greig
Gavin Monery, 38, winemaker at London Cru
How did you become a winemaker?
'I was working as a structural engineer on various construction projects and one of them ended up being a winery. The chief winemaker at that place offered me a job for the harvest. I came in at the bottom rung as a cellar hand and I never left. In 2012, a guy called Adam Green came up with the idea for London Cru and I jumped at the chance to be involved.'
Is it London's only winery?
'Weíre the only people crazy enough to do it! There's someone else who does allotment grapes, but they're only making a few hundred bottles a year. We make 25,000. We work with vineyards in France and Italy, supervising the handpicking. Everything is put in a refrigerated truck and driven back to London. It takes 36 hours to get it back, so it's a very fast journey for the grapes.'
How is the wine made once it's here?
'The processes are different, but with whites, for instance, we press them straight away in a basket press. We ferment the juice with yeast and the sugar metabolises into alcohol. Once that's done we mature the wine in a tank or barrels. The whole time weíre doing that weíre monitoring the grapes. There's a lot of cleaning of equipment. Essentially, I'm an industrial cleaner. It's probably 70 percent cleaning!'
So how often are winemakers drunk?
'It's the wine industry, so people can drink a lot when their shift is finished. Over the years, in other places, I've seen plenty of people liquored up to the gills. There's a lot of heavy machinery, so drinking on the job is severely frowned upon.'
What's the best part of the job?
'Tasting your own wine after you've put one or two years' work into it. You've taken it from fresh grapes and matured and bottled it. Seeing the culmination of all of that work is genuinely satisfying. I don't think I could go back to structural engineering. Wine and structural engineering is a terrible mix! You'd never have anything square - everything would be on the piss!'
Interview by Sammy Robson.
Or why not become a pawnbroker?