Sadiq Khan is transforming Trafalgar Square into London's biggest cinema on February 26. The mayor announced today that he's hosting the UK premiere of 'The Salesman', the Oscar-nominated Iranian film by Asghar Farhadi, who fell victim to Donald Trump's travel ban.
The screening is taking place on Oscars night, just hours before the glitzy bash in LA. Up to 10,000 people are expected to fill Trafalgar Square for the event, which the mayor is calling a celebration of our city's diversity and tolerance. 'Londoners have always prided themselves on their openness to the world,' he said. 'And what better way to do that than to come together to watch this powerful film in one of the world's most famous public spaces.'
This is the latest example of the mayor putting his money where his mouth is following the EU referendum, loudly and proudly telling the world that London is open to everyone. Khan is organising the screening with a group of London filmmakers and actors, including director Mike Leigh and the supermodel and actor Lily Cole.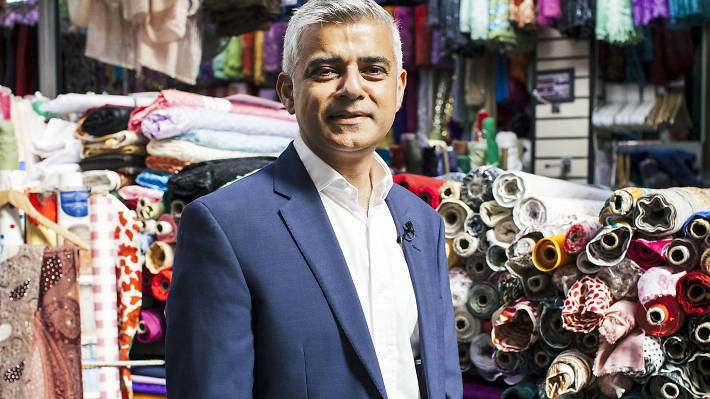 It's not known yet if Farhadi himself will be in London on February 26, but he described the screening as 'a symbol of unity against the division and separation of people'. Farhadi has previously said that he will not be attending the Oscars even if he's exempted from Donald Trump's order, which affects citizens from seven predominantly Muslim countries, including Iran. After judges overturned the ban in the courts last week, Trump has said that a 'brand new order' may be issued, possibly this week.
The free screening begins at 4.30pm. Doors open at 3pm, and it's expected to be busy, so get there early and listen to readings and speeches by filmmakers, including Mike Leigh, an old friend of Farhadi, who is urging Londoners to show up in force: 'We must show solidarity with Asghar and his principles, and against divisiveness and hate.'
Sadiq Khan recently spoken out about Donald Trump's travel ban.
And remember when Sadiq told us a rude joke?