Good grub makes us happy - but for some, it does a whole lot more. Kate Lloyd speaks to the Londoners transforming their lives through cooking and the food champions who are helping them do it.
Mazí Mas is a roaming restaurant that serves food inspired by a different country each night of the week. Its chefs are migrant women who have struggled to find work.
Nikandre Kopcke, 29, founder
'My godmother was the inspiration for Mazí Mas. She was a Greek immigrant in the USA who dreamed of opening a bakery, but her husband didn't think it was appropriate. We opened in 2012 and have seven chefs, all female migrants, who cook dishes from their home countries.
'Food is a way you maintain a connection to home; it keeps you closely connected to a culture. The women I work with stuggle to get jobs in the UK. They've faced racial discrimination and can't necessarily speak fluent English. They're mothers without a recent employment history. If you take time out of your career to have a child and you're not a privileged white woman, chances are it'll be hard to go back to work. Our kitchen manager was unemployed for eight years - imagine what that does for your confidence, especially when you're in a new country without a social network for support.
'But now the women have each other. You look in the kitchen and you think: This is what London should look like. We're pushing to open a permanent restaurant in the next 12 months. Then I want this to be replicated around the world.'
Marlith Tenazoa Del Aguila, 59, chef
'When I'm cooking, it's like I'm travelling back to Peru. I lived in the Amazon until 2003. It's beautiful there and I was very happy, but I wanted to separate from my husband. I went to live in Belgium to get away from him, then Barcelona and then London three years ago.
'When I moved here, to help my daughter, I was only speaking Spanish, so I felt very isolated. My only friends were members of the Peruvian community who I met through my daughter. Then I bumped into someone from Mazí Mas at a health and safety course, and I joined the team.
'It's very different to a normal restaurant. In the kitchen, we dance to music and laugh. One of the funniest moment was when I was preparing a stew, talking away to a colleague, and was so absorbed by the conversation that I poured sugar in the pan instead of salt!
'The restaurant gives me more chances to practise my English. I'm very proud to be able to show people my Peruvian food and culture. I prepare it with love and I'm really happy when people tell me how much they like it. In my free time, I'm working on a book of poems that capture the everyday life of wherever I am. I started it in Belgium and I'm still writing it now in London. One day, when I go back to Peru, I hope to publish it there.'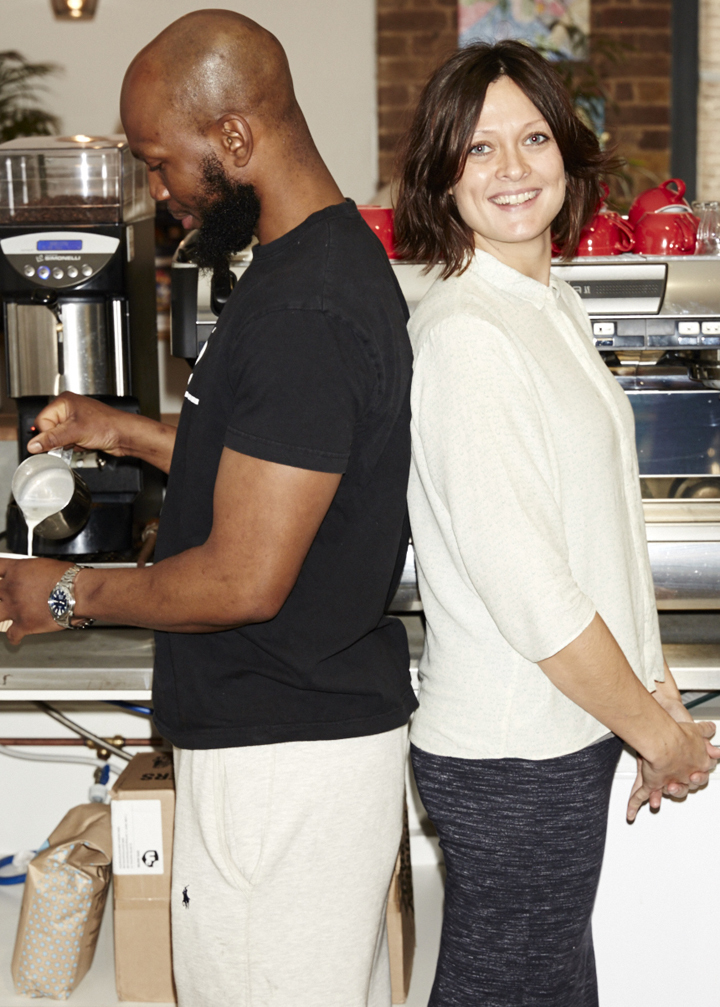 Ed Miles
Café From Crisis on Commercial Street is run by homeless charity Crisis. It offers 16-week training programmes in the kitchen and café to help get homeless people and ex-offenders into work.
Alana Cookman, 33, head of cafés
'I love working in hospitality. I grew up in a Welsh seaside town, so there were always jobs going in ice-cream parlours and fish 'n' chip shops. I joined the Café From Crisis six years ago and worked my way up from the kitchen to managing the London café to running three cafés across the country.
'In restaurants and cafés, your workmates end up becoming your family. Food and drink unite loads of different people. You don't need to have been to university to progress, you just need a good attitude. We try to create that environment at the Café From Crisis, especially since trainees might not have the most stable backgrounds. We want people to feel equal and part of the team. Running the cafés has been hard. I've definitely had to become a lot more resilient, but I'm focused on getting people into employment.'
Kurt McLean, 30, trainee barista
'I started making coffee when I was serving a four-year sentence in Brixton Prison. I worked at Bad Boys Bakery, the prison-run café, and taught myself how to use the machine. My mentor from Switchback, a charity that helps male offenders, told me about Café From Crisis.
'Here, I get training from an experienced barista, and I've learnt how to make flat whites and macchiatos. It's taken me a while to get to grips with "latte art", though. It's not as easy as it looks, pouring milk on to the espresso in that way. There are always crazy things happening with our coffee-jug-rinser. It's really sensitive and we can get sprayed with water! But most of our customers are regular, and very understanding if anything goes wrong.
'I want to become a coffee-machine engineer. I've always been interested in mechanics. In the UK, ex-cons aren't given a fair second chance to prove themselves. We try and be honest by disclosing our convictions but are then often turned away from employment even though we really want to work. I hope I get a job after this.'
Scott Chasserot
A cooking-based charity that runs workshops at hostels, Beyond Food also gives apprenticeships to people who have been homeless or are at risk of being homeless. The apprentices' restaurant, Brigade, is in London Bridge.
Simon Boyle, 43, founder
'I've always had a deep frustration that people not only become homeless but stay homeless, and I've spent a lot of time researching why. I used to run a private dining company but when the Boxing Day tsunami hit Sri Lanka in 2004, I went out there to start a relief camp. When I got back I decided to use my cooking skills to help people. I launched Beyond Food and Brigade the same year.
'We go into hostels to teach personal wellbeing, using food to inspire and motivate people - it's a pretty powerful medium. We also run 13-month kitchen apprenticeships for people who have been homeless or who are at risk of becoming homeless. The first thing we teach people is a mackerel salad with manuka honey. It sounds very highbrow, but it's actually an easy, tasty dish that really feeds your brain.
'The apprentices train at Brigade before going to do work experience at industry leaders like The Savoy. We want them to go on to be head chefs. Everyone should be able to cook, but people lack those skills; and if you lack the ability to look after yourself, you're more likely to spiral.'
Dawn Preston, 54, apprentice
'I spent my first salary from Beyond Food on a proper shortbread biscuit from Waitrose. I've been unemployed since I was 18 and have experienced domestic violence, homelessness and problems with booze and drugs. I found out about the apprenticeship when I went to see my key worker after having a relapse.
'It's easy for me to get back into "oh, I can't be bothered today", but since I started the programme I love getting up. Over the seven weeks I've been here, I've helped make starters, ice cream and cakes. There's definitely something therapeutic about cooking. I'm doing things I wouldn't have dared try before, like making bread using yeast and learning about how it expands. When you see the finished loaf, you're like: wow.
'My family came into the restaurant the other day and the team told them how great I was doing. My 12-year-old son ate a huge burger. When one of the team asked if he liked it, he looked up and replied: "Yes, chef!"'
Find more foodie do-gooders at London's best community cafés