After a storming debut year in 2016, Sunfall returns to Lambeth's Brockwell Park this Saturday, hoping to build on the goodwill it received for its great vibe and great sound quality spread across four stages last year. Organised by the people behind London clubs XOYO, The Nest and Phonox, plus teams from Croatian festivals Outlook and Dimensions, it's a trove of A-list talent, so here's how we suggest navigating your day…
12.30pm, Main Stage
It's hard to overstate how much an event like this – full of adventurous DJs playing global, freewheeling beats – owes to Gilles Peterson. His spearheading of the acid jazz movement in the '80s opened up clubby dancefloors to a myriad of sounds beyond a standard 'hnntz-hnntz'. Show the man some love as he spins for the next 90 minutes.
1.30pm, West Stage
Many one-day festivals take a good few hours to bring out some really big names, but not Sunfall. Head down after a swift lunch for one of many DJ delights today. Mister Theo Parrish is one of Detroit's most famed musical exports, and a totemic figure in underground house circles. He's a seriously seasoned spinner, so expect all manner of vibes – from raw funk to silken house – as he plays a marathon four-and-a-half hour set.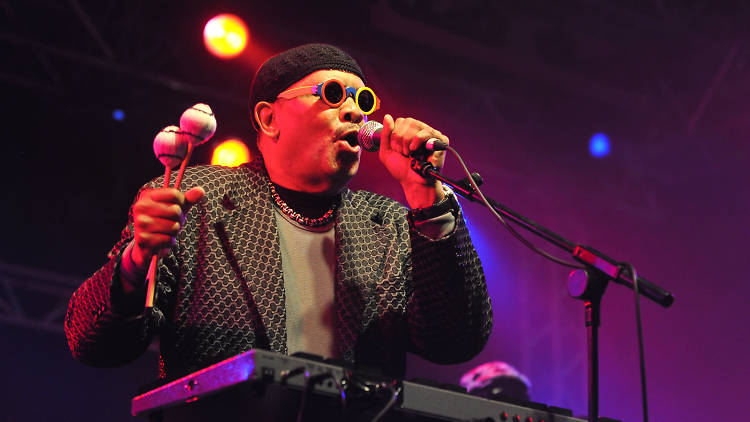 4.15pm, Main Stage
Without fail, make sure you are present, correct, fully stretched out and lithe for the king of jazz-funk, the 76-year-old vibes general Roy Ayers (pictured above). Expect beaming faces everywhere for 'Everybody Loves the Sunshine' and expect a whole lot of grooving for seminal hits such as 'Searching' and 'Running Away'. Marvel at that old-school showmanship too. Swit swoo.
6pm, West Stage
Time for a real lesson in DJ disruption now from a titan of American hip hop. His production credits stretch across more than 60 albums and collabs with everyone from Kanye to Erykah Badu, so his legend status is draw enough. Beware: Madlib's DJ style is not for everyone – expect raw mixing and auteur levels of selection, but if the vibes are right, and the crowd are locked in, it will be a wild trip.
7.15pm, Main Stage
Sunfall really prides itself on its sonics. From sound-dampening tent walls to insulate the music, to precision hanging of Martin speakers, the dedication to hi-fi festivalling was a real talking point last year. Nowhere will this be more appreciated than for the delicate jazzy textures of Floating Points' live show. We're hoping to hear it all – from those feather-light cymbal taps to thick waves of synthy punch.
7.30pm, South Stage
It's time to party down again, people. Chicago's The Black Madonna (pictured above) is simply one of the hottest DJs to break through in years, as those who passed through her XOYO residency earlier this year will know. Tonight she'll be playing back-to-back with a legend-in-the-making: current Phonox resident HAAi.
8.30pm, Main Stage
Rather magically, weather services currently estimate the sun to go down on August 12 at exactly 8.29pm. Perfect vibes, then, for the first London appearance in 20 years from Chicago house pioneer Larry Heard, aka Mr Fingers – whose oceanically deep, love-imbued and hugely influential back catalogue will offer a perfect finale… until afterparty time!
Afterparties
Once the sun goes down on the park, the action moves to eight different afterparties all across London. Some are sold out already, so book quickly for these beauties:
Dimensions at Brixton Electric
Follow headliner Larry Heard as he plays into the night alongside a live set from future funker Amp Fiddler.
Rhythm Section at Five Miles
Local hero Bradley Zero joins Beautiful Swimmers (pictured above) on the decks.
Coop at XOYO
Madlib joins a bill of wonky hip hop disciples, such as Eric Lau and Henry Wu.
Outlook x Southbound at Brixton Jamm
The place with all the bass, thanks to sets from 4Hero, DBridge and Special Request.