When Valentine's Day rears its crimson head, we all have a habit of looking for romance in the wrong places. Forget the 14 of February, here are ten great London locations that are romantic all year round (and you won't need to scramble for a last-minute booking).
Have you ever seen London's skyline at 360°? At Tate Modern's viewing terrace, you can see everything from Canary Wharf to Wembley. Bankside SE19TG. Mon-Thurs 10am-6pm, Fri and Sat 10am-10pm. Free entry.
For the maturing millennial, a visit to Little Venice means reassuring flashbacks to 'Rosie and Jim'. A curiously quiet part of London's inner city, its dinky canals are lined with Narrowboats with names like 'Misty Morn'. Nearest tube: Warwick Avenue.
Londoners have been freezing their nips and gnads off in Hyde Park's Serpentine Lido for over 100 years. Being part-submerged in the water while looking out over a major art gallery is as beautiful as it is surreal. Hyde Park, W22UH. Open 10am-6pm (last entry 5.30pm) every day in June, July and August. £4.80.
Thanks to the idiosyncratic construction of St Paul's Dome, when you whisper sweet nothings on the curving wall of this gallery, your words will be heard on the opposite side, so keep it clean. St Paul's Churchyard, EC4M8AD. Mon-Fri, 8.30am-4.30pm. £18.
The survival of Wilton's, the oldest grand music hall on the planet, is one of London's mini miracles. Created from a mash up of five Georgian houses, the place aches with history, with a paint-stripped frontage and jaw-dropping interior. 1 Graces Alley, Whitechapel, E18JB. Mon-Sat, 5pm-11pm.
Nothing remedies a Sunday hungover like the olfactory-attack that is a walk down Columbia Road Flower Market. Get there early enough, and it's like stepping into a Klimt painting, only there are places to buy Pastel de Nata. Columbia Road, E27RJ. Sundays, 8am-2pm. Free.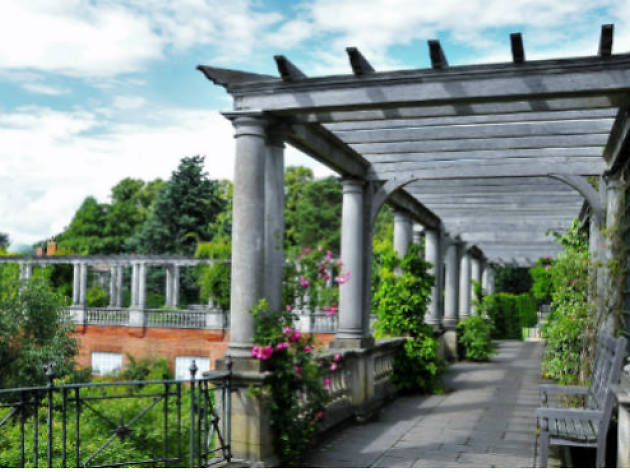 Give it the full Brontë with a wistful walk through Hampstead's Pergola, a raised walkway overgrown with vines and wisteria, overlooking the West Heath. The Pergola, Inverforth Cl, NW37EX. Free.
Open your eyes, look up to the skies and seeeee… Astronomy is the best kind of escapism, so put things into perspective by peering through the Great Equatorial Telescope at the Royal Observatory or tour the night sky at the Peter Harrison Planetarium. Blackheath Ave, SE10, 8XJ. Open daily 10am-5pm. £9.50.
This area is now fenced off by Thames Water, but a community group 'Friends of Nunhead Reservoir' are campaigning for the organisation to make it a designated public space. Nunhead Reservoir, Linden Grove (next to Nunhead Cemetery) SE15.
Formally the Courtyard Garden, the John Madejski outdoor space at the V&A is a proper oasis, and it basically has one of its own: the garden's main feature is an oval pool surrounded by green space to get supine. Cromwell Rd, Knightsbridge, SW72RL. Daily 10am-5.45pm, Fri 10am-10pm. Free.
Find more quirky Valentine's inspiration in our round-up of alternative romantic things to do in London.
And, if you MUST make a plan for Feb 14, see our Valentine's Day guide for all the events, parties and restaurants you'll need.