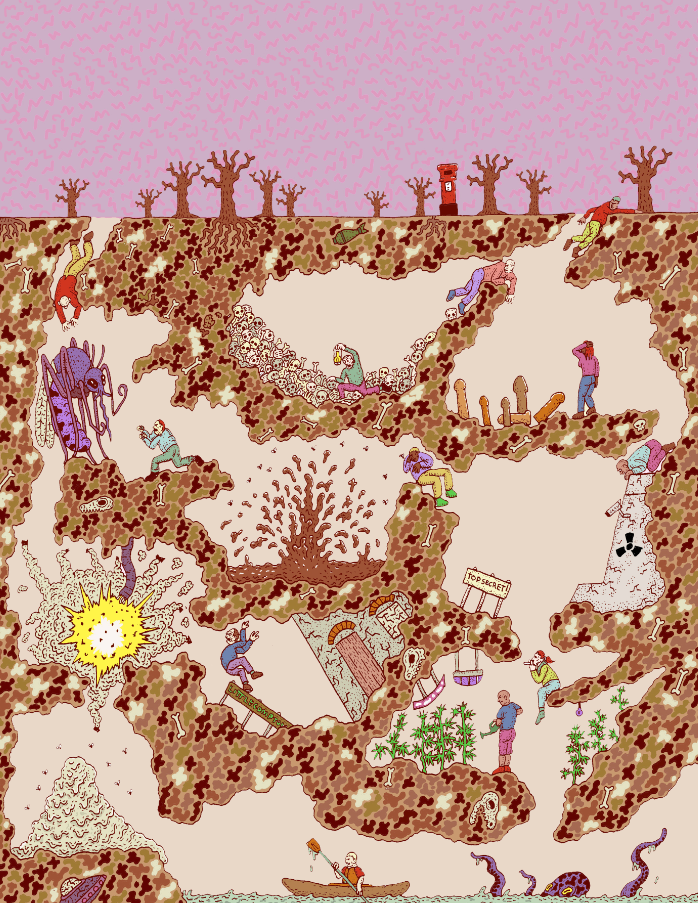 Think you know London's streets like the back of your hand? What about the stuff that's under them? Alexi Duggins finds out what's lurking in London's depths.
Blood-sucking beasties
The tube system has its own distinct species of mosquito which has spent the last 150 years evolving in puddles enriched by our discarded sandwiches and shedded skin. Sucks. Literally.
Plague-ravaged bodies
In the 1660s, 100,000 bodies were piled into plague pits too quickly for records to be kept, but reports suggest there are up to 36 pits under locations
such as Soho Square, Islington Green and Aldgate tube.
Tiny penises
Roman-era Londoners wore bronze dongs the size of two-pence pieces as amulets. Archaeologists reckon hundreds of these good luck cocks are currently making sweet, sweet miniature love to our city's soil.
Explosive death
Malfunctioning underground electricity cables, leaking gas pipes and buildups of rainwater mean that around 150 London streets have erupted into fireballs in the last four years. And it will take another decade to fix the lurking problem. Tread softly now!
Erupting rivers of poo
Sure, everyone knows there are sewers under the city. Duh. But what you might not know is that the overflow system runs straight into the Thames. So guess what happens when it rains? Yep. Subterranean poo fountains!
A military citadel
So shadowy and secretive that we should probably self-destruct after typing this, the government's underground defence bunker, Pindar, is where Cameron and co will flee should the missile-shaped poo hit Britain's fan. All we know is that it cost £126.3m, has teleconferencing facilities and is full of massive metal blast doors.
A whole Central London street
Stand on the traffic island outside the Molly Moggs pub on Tottenham Court Road and look down into the grate. You'll see a sign for Little Compton Street, which existed until around 1896, when Charing Cross Road was built over it.
Bus-sized lumps of concealed grease
Pretty much every year Thames Water unearths a ten-ish-tonne mountain of cooking oil that has solidified with wet wipes to shatter an entire sewer under its weight. Yum.
Lost rivers
There are 21 rivers that used to flow across London. They filled the Serpentine. They were dammed to create the Hampstead Heath ponds. And thanks to clever diversions, they now exist entirely below our feet.
A drugs empire
Thanks to a Sky News report in January 2014, we know that there's a cannabis bunker under south London that grows £1m worth of weed a year. Its exact location? Afraid we're going to have to puff, puff, pass on that one.
Want more underground fun? Here's London's top ten underground stations.
Image: © Alex Jenkins