Rob Greig
'Welcome refugees!' Those short, powerful words rung out across central London on Saturday, as thousands of people marched through the city in support of the refugees around the world.
The march ran from Park Lane to Downing Street, where activists listened to speeches from the likes of newly-elected Labour leader Jeremy Corbyn.
I joined the protest to talk to Londoners about why they were taking part.
Rob Greig
Thaer, 39, Oxford (far left)
'Our family is still in Syria. Our people have been killed for five years. This is a 'welcome' to my people and to my family, telling them to come to the UK to be safe. Thousands of Syrian children have been killed now. The world is watching, but no one seems to care.'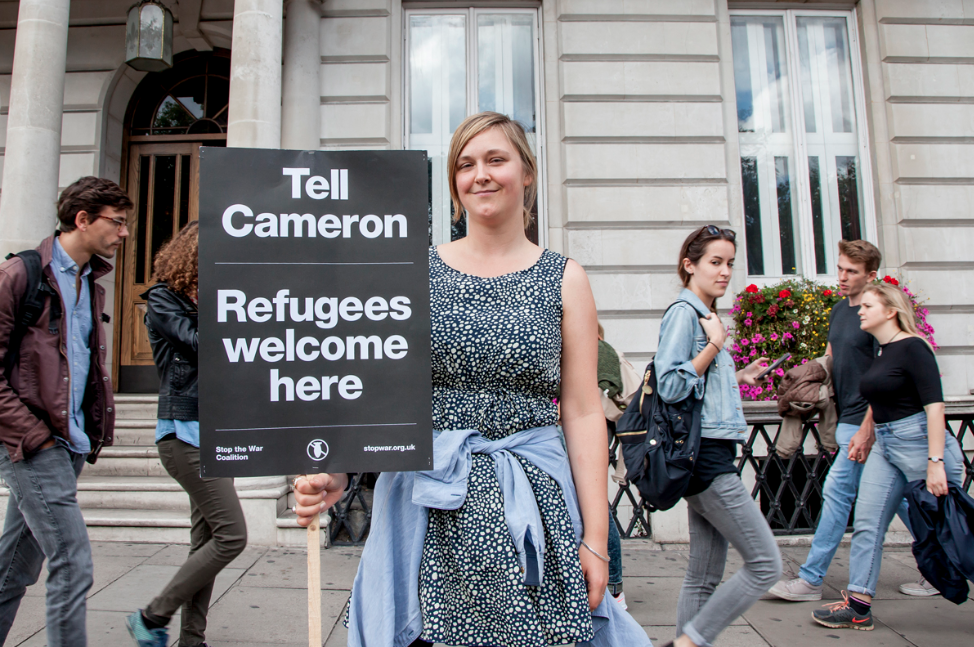 Rob Greig
Martha, 32, Hackney
'I used to be a mentor for an Iranian refugee. Refugee mentors help refugees integrate into society in the UK; teach them how to access employment benefit, how to sign up to a doctor and about cultural differences. I'm here because I'm unhappy with the way the UK treats people who come here seeking asylum. They're being persecuted in their countries and we put them in detention centres or deport them. In this country there's a lot of this rhetoric about 'us' and 'them', but it's one world. If we had a conflict we'd be in exactly the same situation as them.'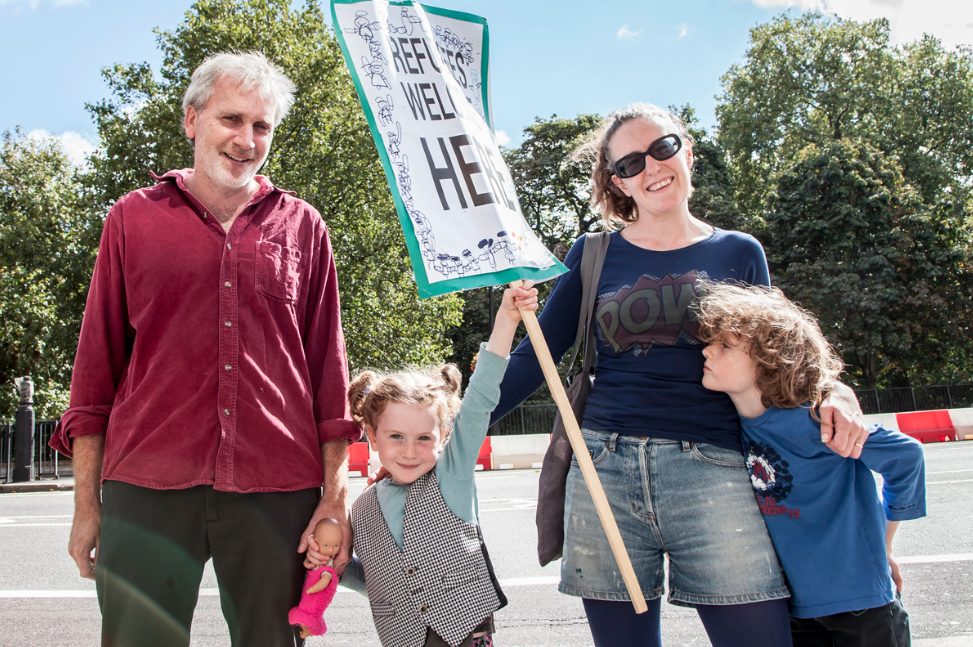 Rob Greig
Izzy, 40, Lewisham (centre)
'We are appalled at what is happening in Calais and we know that the refugee situation has been happening for a long a time. We're glad that people are suddenly starting to take notice now. We've done local fundraising for the refugees in Lewisham with a group called 'Friends of Mountsfield Park'.
'The kids are quite used to marches. In fact, our banner is an austerity march banner with a refugee sign over it. We know that footfall at marches does make a difference because we saved Lewisham Hospital with marches. Every single person that comes to something like this helps get the word out there.'
Rob Greig
Annabel, 38, Hackney
'I've always been very interested in immigration and I've always found it a bit depressing how negative the rhetoric about it is from politicians, but this is the first time I've actually got involved. We feel like it's repellent for us to shut the door on people when they're fleeing from terrible, frightening situations. There's obviously enough room here for them.'
Rachel, 13, Islington (centre)
'It's important that people who are in danger have somewhere to go. Other countries in Europe are taking refugees, so it's unfair if we don't. The government should let more refugees in because there's lots of people who would take them into their houses.'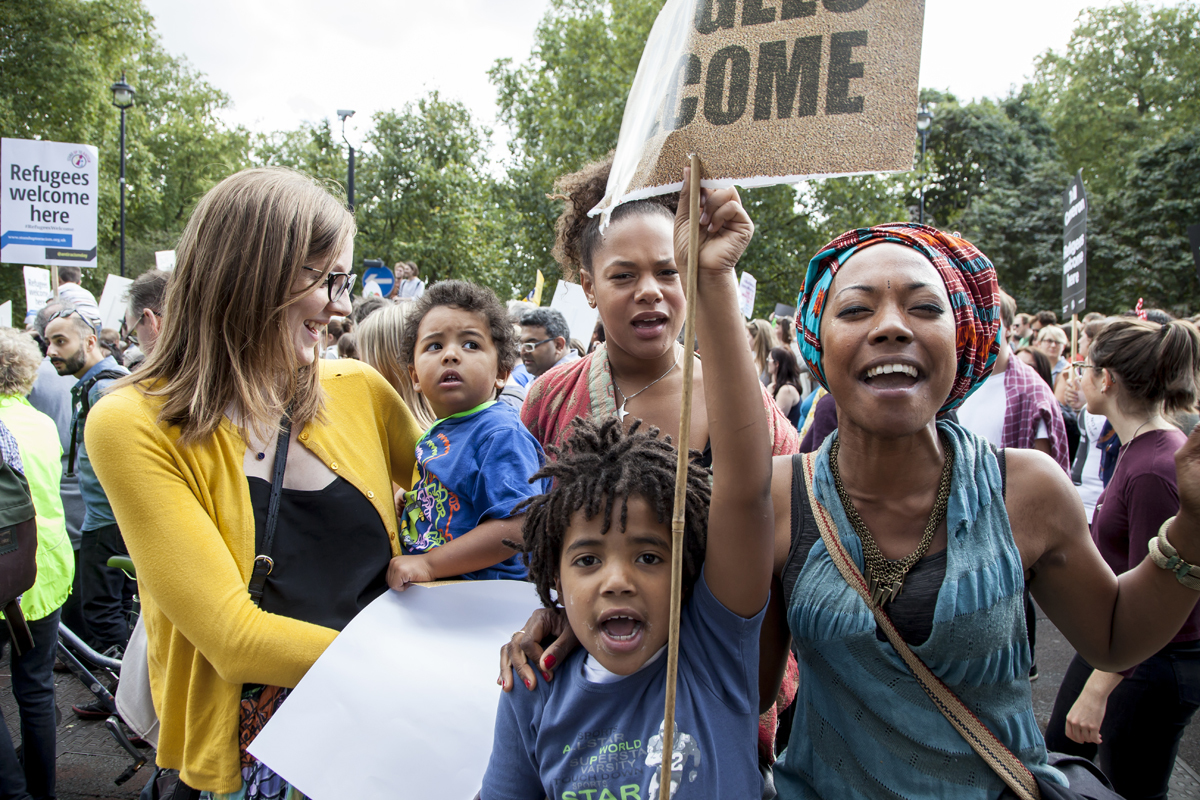 Rob Greig
Sunshine, 31, Tooting
'We've come to support all of the people who are running away from war torn countries and want to come here. I've been to other marches, but this is the most beautiful I've ever been to because it's full of children. My boys are having a wonderful time. They're the next generation, so for them to see this is inspiring.'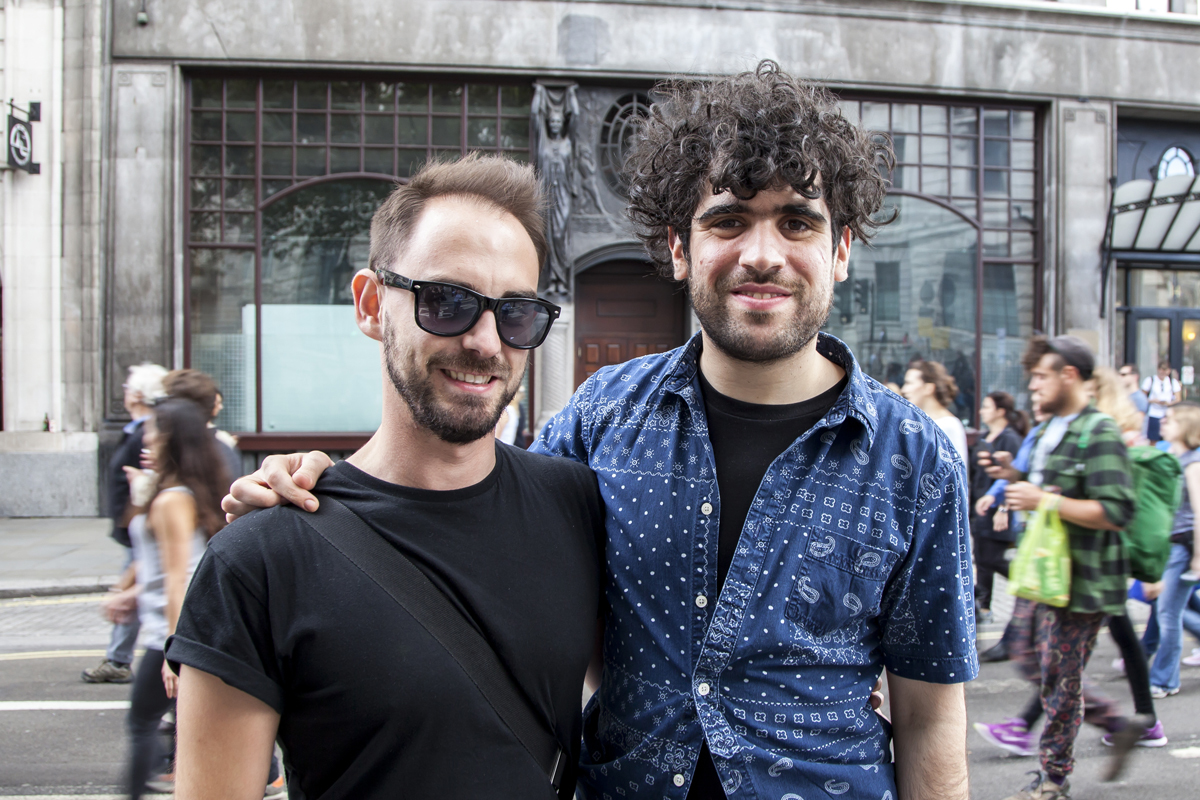 Rob Greig
Sam, 26, Stoke Newington (right)
'I'm a fourth generation immigrant, and I still feel like an immigrant myself, so I feel like it's my duty to come out here and raise my voice. I think the government's response to the refugee crisis has been completely inadequate.'
Scott, 28, Seven Sisters (left)
'I followed the refugee stories in the news last week and I found myself crying so much at what was happening. The image of the toddler on the beach just completely floored me. I've found it really moving to watch the British people change their tune, even the way the Daily Mail has changed the way they're reporting stories. The public mood has come to a point, and I want to take part in an expression of that public mood.'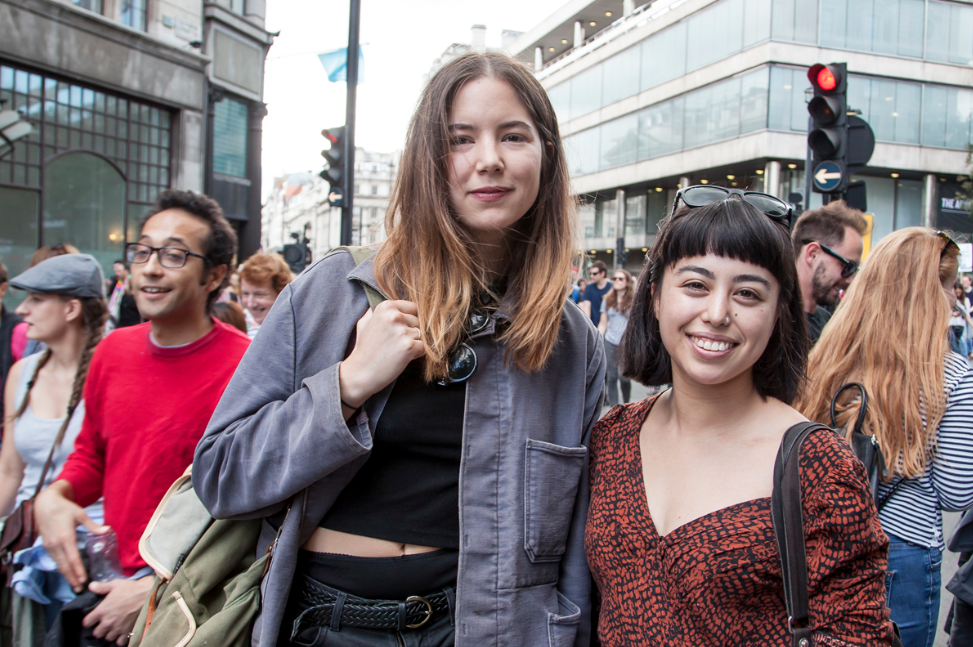 Rob Greig
Anna, 31, Brockley (right)
'I'm from Australia, and the issues surrounding refugees and asylum have been ongoing for politicians back there over the past 15 years. The country takes very few refugees, compared to even the UK. I've been able to move easily from one country to another and I'm very aware of the privileged position that I'm in. I've also come from a background where members of my family have grown up in very different positions, where they've not had access to travel as widely or get an Australian or British passport. The prospect of being a refugee without any papers at all is a terrifying one.'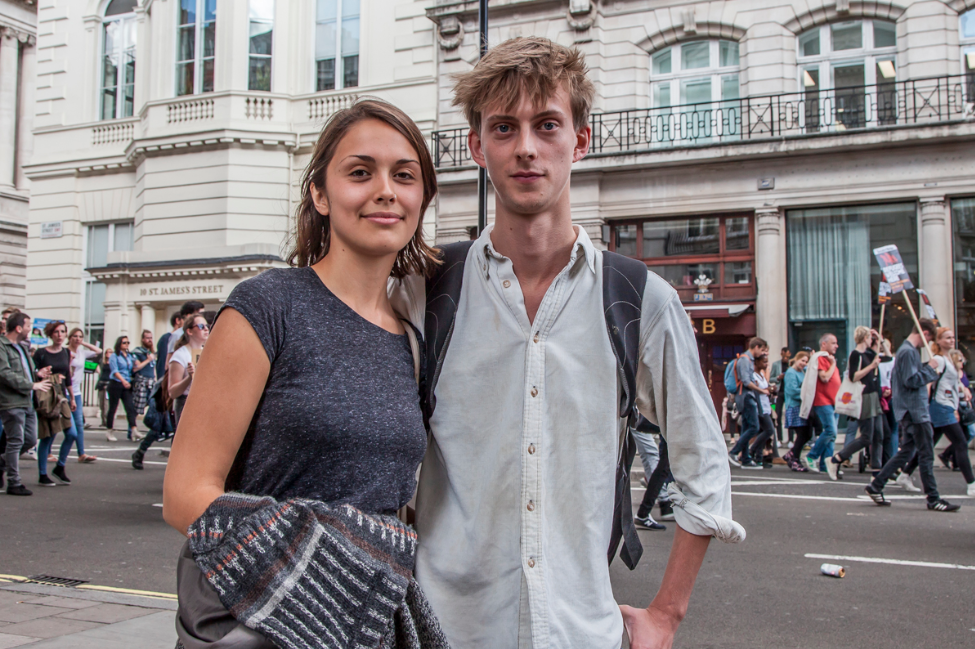 Rob Greig
James, 23, west London
'I used to go on a lot of marches but I stopped after the pro-Palestine march in 2009. I felt like nothing was happening and nothing was changing. I just lost all hope in them and felt like I was proved right by the student marches. This time it's different. I feel like even if the march doesn't make a difference in policy at the moment, it can make a difference in the mental landscape of people.'
Didhi, 24, Harrow
'The only other time when I've seen an atmosphere like this is Gay Pride. It's brilliant to see so many people from all walks of life rallying around a cause and supporting something that matters. London's such a big, diverse city, but the city's at its greatest when we all come together like this.'