It's no wonder the city's skyline is transforming at an alarming rate. Buildings are built by builders, builders run on tea, and London, right now, is positively swimming in hot, sploshy char. But, beyond the obvious tea configurations (strong with one sugar when you're hungover, lots of milk when you're feeling sad), which of the gazillion blends on offer in the capital's teashops and hotels are worth exploring?
To find out, we booked a table for two with a leviathan of the city's tea-drinking scene: John Bentley, a builder from Earlsfield. The setting: the Lancaster London hotel, where the 14-brew-strong tea list covers everything from floral pick-me-ups to heavily spiced concoctions from the Far East.
Formerly a military man, John is now the logistics manager for a property maintenance firm. Like all connoisseurs, John is modest about his tasting skills and, perhaps fearing he'll baffle us, holds back on the jargon when explaining how he likes his morning brew. 'Just, y'know, normal. Bit of milk,' he says with a cool shrug, eyeing up the finger sandwiches. What will he make of these exotic blends?
Photo: Rob Greig
English Breakfast
They say
'Blended with three different types of Assam leaf, this is a well-rounded, full-bodied breakfast tea.'
John says
'Yeah, that's a nice cup of tea, that is. Tastes a bit more luxurious than what I usually drink in the morning, but that could be down to the surroundings. It's nice here, isn't it?'
Kenilworth Ceylon
They say
'Kenilworth tea is famous for its rich, full-bodied flavour. Perfect for any time.'
John says
'Ceylon – that was the old British colony of Sri Lanka, wasn't it? Is this from Sri Lanka? It is?! Wow. Yeah, tastes the same as the last one.'
Sapphire Earl Grey
They say
'This rich, delicate yet full-bodied Earl Grey is given an innovative twist with bergamot and blue malva flowers.'
John says
'Just a dash of milk, thanks. I usually have an Earl Grey on a Saturday with my brunch, as a treat. This tastes exactly the same as the one I have. Top marks.'
White Pear and Ginger
They say
'A white tea with juicy pear and a hint of ginger zing on the finish, for a delicate and delightful infusion.'
John says
'This one smells a bit gingery, but tastes bizarre. I think maybe it needs to brew longer. Or maybe my palate's gotten confused by all this tea.'
Egyptian Mint
They say
'Refreshing, cooling and flavourful notes are well rounded with no bitter aftertaste. Perfect for cleansing the palate.'
John says
'Oooh, I like that a lot. It's really refreshing. Might be a few eyebrows raised if I started drinking it at work, though.'
Organic Jasmine
They say
'A floral, aromatic Chinese green tea, delicately scented with jasmine petals.'
John says
'I'm not a massive fan of green tea – gives me a headache. This one smells a bit perfumey, I suppose. Blimey, I'm gonna get a lot of work done this afternoon with all this caffeine in me, aren't I?'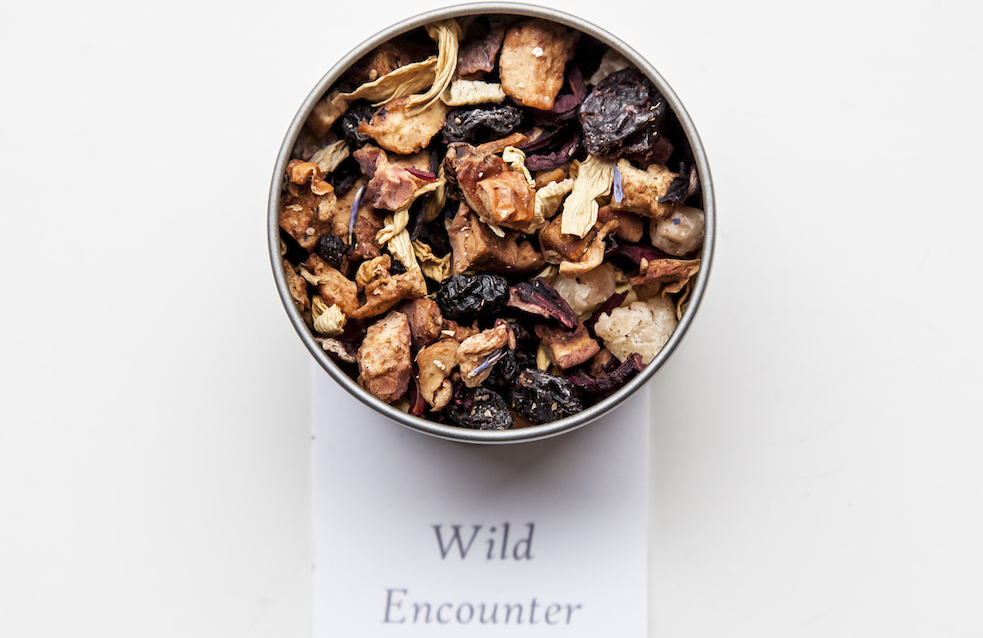 Photo: Rob Greig
Wild Encounter
They say
'This caffeine-free herbal blend will send your taste buds reeling.'
John says
'Ooh, I can smell that I'm going to enjoy this one. The aroma's great – a bit like Ribena. The taste gets more intense the more you have.'
Organic Darjeeling
They say
'Referred to as the champagne of teas, this comes from one of the oldest plantations in India and delivers exceptional character and exquisite flavour.'
John says
'Yeah, it doesn't smell of champagne. It smells of tea. And tastes basically of warm water. For a fancy tea, this is very disappointing.'
Spiced Chai
They say
'A blend of robust black Indian teas, combined with exotic spices.'
John says
'I'm definitely getting the spices. This is like the tea I used to drink when I was working as security in Iraq. Although nothing's making much sense at this point, really – I've had a lot of tea.'
Spicy Rooibos
They say
'Fresh with subtle, warming spice notes. A real energiser and afternoon treat.'
John says
'Okay, another spicy one then. Smells like… is that… cinnamon? It is? Really? Bloody hell, I've become a tea expert.'
Many thanks to John Bentley, Aspect and the Lancaster London hotel.
Feeling thirsty? Here's our new and updated guide to London's best afternoon teas.