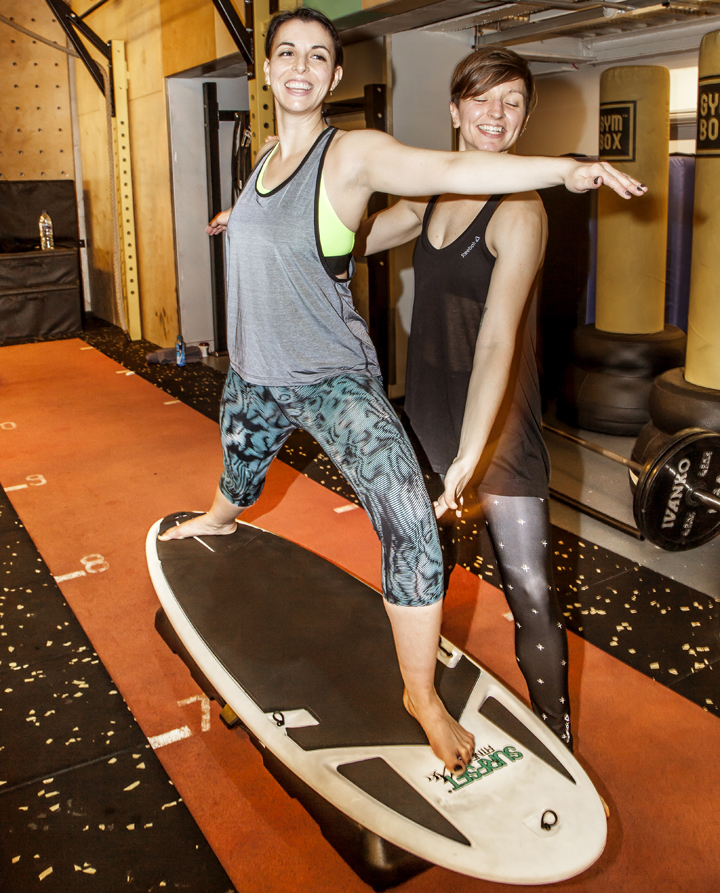 Rob Greig
Spinning? Boring. Treadmill? Triple boring! It's time to try one of these sports of a different sort. How about... surfset yoga?
Take one gym-shy, catastrophically clumsy journalist, plonk her on a surfboard, add a hefty pinch of yoga, and you have all the ingredients for some quality slapstick.
That's what I discover at surfset yoga - a class based entirely on dry land which mixes surfing moves and yoga shapes. You're put on a wobbly surfboard tethered with elastic, the idea being that it moves as though you're riding the waves: this simultaneously makes you focus on your balance and engages your core. The class involves performing a series of classic yoga moves: so, a downward dog, but all at sea. A downward seadog! Despite having some experience of yoga it quickly emerges that I'm no Hawaiian goddess. Simply staying on the bloody board proves enough of a challenge.
Before the class I'm worried that it will be full of the worst kind of Instagram exercisers. However, my fears of being surrounded by juicing junkies are allayed; it's a group of apparently ordinary people squeezing in a spot of lunchtime exercise. And the fit-as-a-flea instructor is unashamedly enthusiastic without being annoying.
Despite this workout being designed to target your core muscles, it isn't high intensity; in fact, if you're even slightly less hopeless than me, you may find it relaxing. When I manage to balance for long enough to look around the class I see the other participants finding their inner zen while performing impressive headstands. The class also features a happy ending (no, not that kind): a five-minute chillout with plinky-plonk music in the background as we concentrate on breathing and relaxing: no mean feat in London. Namaste, dude!
Great if... you want to relax your mind while working your core.
Avoid if... you have all the co-ordination of a newborn deer.
Gymbox, 20 Farringdon Rd, EC1M 3AP. 􀀀 Farringdon. Membership varies depending on package.
Or why not jump around at London's trampoline park?