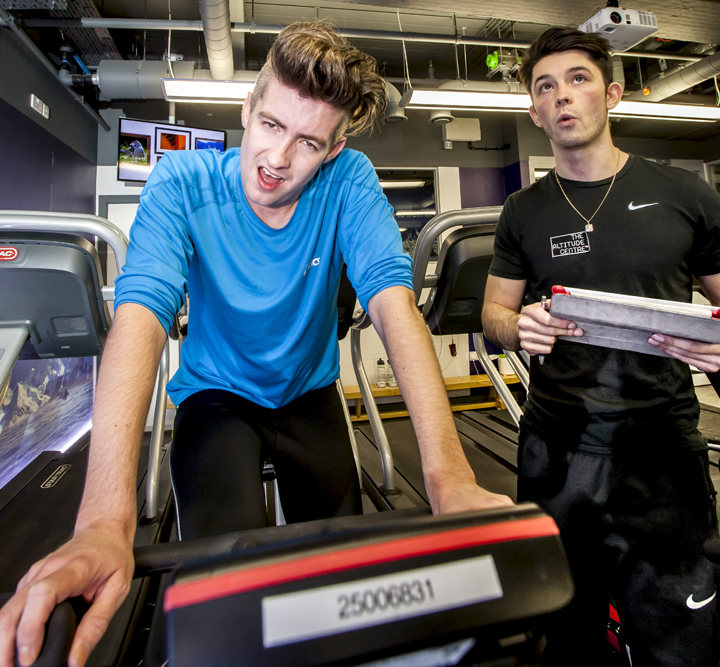 Rob Greig
Spinning? Boring. Treadmill? Triple boring! It's time to try one of these sports of a different sort. Andy Hill gets into thin air at The Altitude Centre
It's the first working day of 2016, and I'm less than 30 hours past the conclusion of what can only be described as 'an epic New Year bender'. Or 'squalid tequila binge'. That works too.
I'm at The Altitude Centre, which specialises in putting athletes and City workers alike through their paces in a reduced-oxygen environment. Arriving with a bad stomach and aching joints, I'm already severely depleted. I want my mum.
Instead, I'm in the hands of trainer Piers Chen, a clean-cut guy in pristine gym kit, putting my own cobbled-together get-up (borrowed T-shirt, Primark plimsolls, musical Christmas socks) to shame. 'Shall we?' he trills, and leads me to the studio.
Via a peculiar sort of airlock we enter what looks like a standard gym. Not so. 'We extract around a quarter of the oxygen,' explains Piers, 'to simulate training at 2,700 metres.' I'm acutely aware of the 40-odd fags I've smoked over the past few days as my host straps a heart monitor to my chest and I mount one of the bikes.
Pro athletes frequently train at high altitudes, the logic being that if you can perform under those challenging conditions, regular sea-level competition should be a breeze. Part of the reason Kenyans so utterly dominate the world of long-distance running is because they always train at high altitudes. Mo Farah himself attends The Altitude Centre when not in the Alps.
'You're doing great,' Piers assures me as we crack on with an intense half-hour workout, climaxing with a thigh-punishing sprint. Well, so he says. At one point the on-screen heart monitor flashes red. That can't be good, can it?
Despite every fibre in my being screaming during the workout, I am ecstatic to have completed it. Receiving the data by email later even inspires me to ponder how I can do better next time. Laying off the tequila shots might be a good start.
Great if... you're looking to take your workout to the next level
Avoid if... you still have a nightclub stamp on the back of your hand.
The Altitude Centre, 6 Trump St, EC2V 8AF. 􀀀Bank. From £29.