You've probably already heard the news - the rainbow bagel has hit just London and everyone is going wild for it. So far there's only two bakeries making them so we thought it was only right to give them both a try. Here's what some hungry Time Outers made of each:
Rob Greig
'It was a regular bagel, with added gimmick.'
'Looked like a leprechaun's anus, tasted like a slightly artificial bagel. Win-win.'
'With my eyes closed, it tasted like a normal bagel. Eyes open, it was like eating tie-dyed unicorn flesh sprinkled with pixie dust.'
'Looked like it was going to taste like a doughy ball of e-numbers, but pretty much just tasted like a normal bagel. Although putting salt beef anywhere near it would just seem wrong.'
'Even with the fruit added, there was little difference to a normal sweet bagel… apart from looking like a nasty rolled up sock.'
Watch the full process of how they're made here.
RINKOFF BAKERY - 80p or £2.50 with pink marshmallow and Oreo cream cheese filling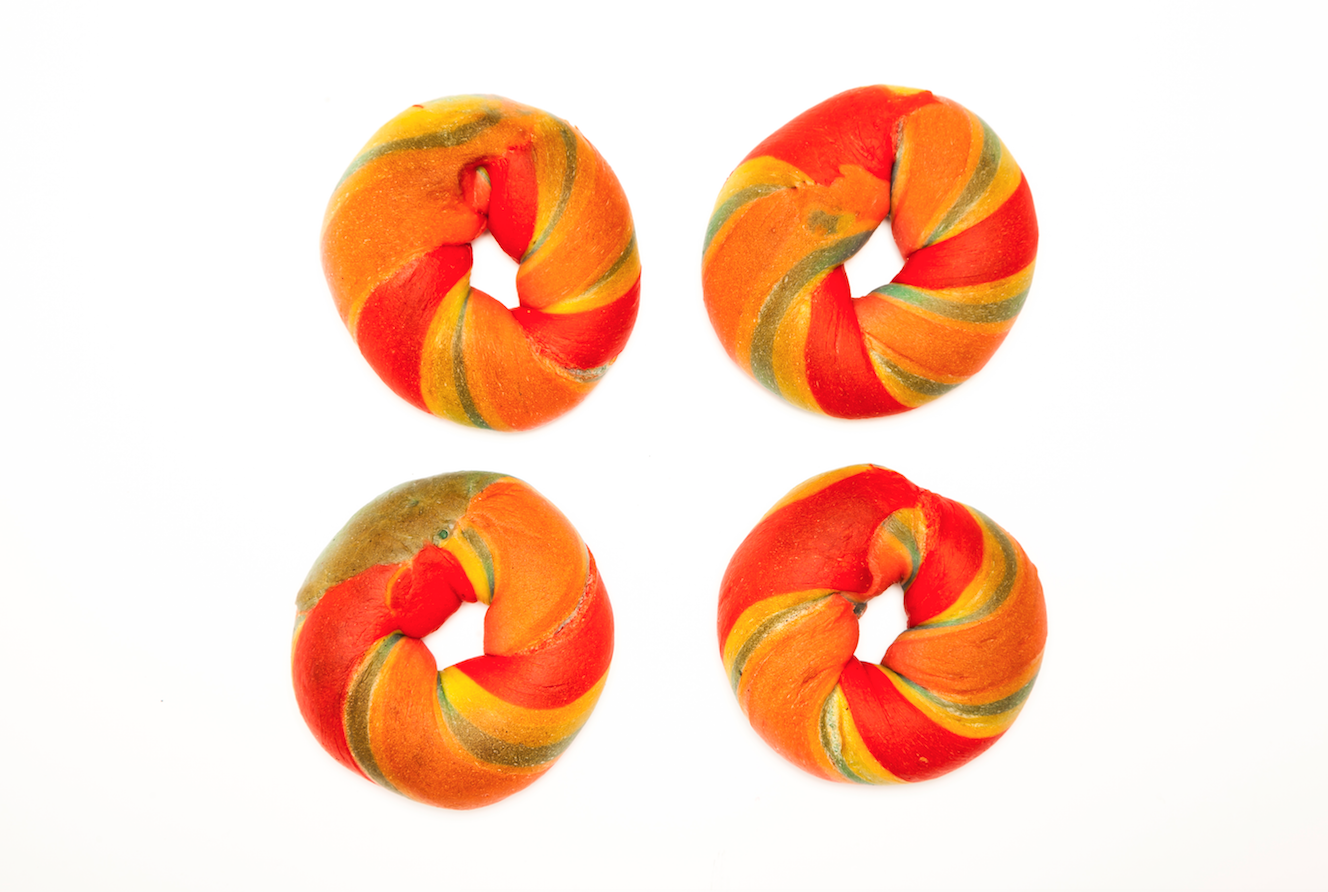 Rob Greig
'More aesthetically pleasing than the other – they've managed to get the colours into an actual pattern so it doesn't just look like nine year old's Play Doh experiment gone wrong. Still tastes like normal a bagel though.'
'Looked nicer… felt more designed, and tasted like it was made of better stuff. Except the abundance of E numbers, obvs.'
'These look and taste more like a regular shop bagel, less of a technicolour mutant – its texture and taste aren't as dominating as the other and probably would suit any topping.'
'Tasted a bit like soap'
Behind the scenes of the rainbow bagel #rainbowbagel #london pic.twitter.com/YAQnW6NcnM

— Rinkoff bakery (@Rinkoffbakery) February 24, 2016

So there you have it. At the end of the day, they're both multi-coloured winners and they both look frickin' cool. It's not really about what they taste like, anyway. This is a FEAST FOR YOUR EYES instead.